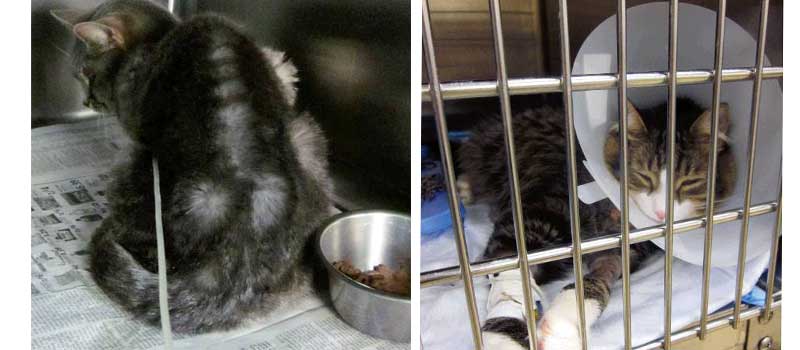 Pain-scoring patients is considered standard of care in human medicine, but our profession hasn't broadly embraced the concept. Yet it is quick, easy and beneficial.
Simply said, a pain score is a subjective number that gauges a patient's pain intensity based on behavioral and physiological parameters. Several pain scales are available, such as the Visual Analog Scale, the Colorado Pain Scale and the Glasgow Composite Pain Scale.
Let's focus on the Colorado scale, which uses five numbers, from 0 to 4.
With practice, attributing a pain score to cats and dogs will become second nature to you and your team. It shouldn't be much more complicated than attributing a body condition score to a patient.
An Anytime Guide
Pain-scoring is not reserved for surgical patients. It may be used with any patient suffering from a medical, traumatic or chronic condition such as osteoarthritis, pancreatitis and cancer. Team members who follow patients before, during and after surgical or dental procedures are in an ideal position to pain-score patients.
When using the scale, observe patients before analgesics are given and before any procedure is performed, including restraint for blood sampling or catheter placement. Every patient has a specific pain threshold.
Of course, our patients sometimes excel at not showing signs of pain. We all have encountered a young Lab hit by a car. Despite extensive open wounds and fractured bones, he might be wagging his tail. The same applies to cats that may be purring despite significant trauma. Therefore, expected pain levels for a particular surgery or condition are taken into account when we give a pain score.
Why Use a Scale?
Implementing the pain score in your practice has multiple benefits:
It increases the entire team's awareness. Pain management protocols may be tailored based on a particular procedure or patient. We can modify pain medications as new findings unfold.A pain score of 0 or 1 should be our goal. A score of 2, 3 or 4 should lead you to immediately reassess the analgesic plan and better understand what is happening to your patient.
Any progressive clinic can benefit from pain-scoring every patient, just like weighing a patient, obtaining a TPR or determining the body condition score.
A pain score is not a static number. It is a dynamic concept that evolves over time depending on multiple factors such as patient characteristics, procedures performed, pain medication protocol, dosing schedules and use of CRIs.You should have an entry in your treatment sheet to re-evaluate patients' pain scores every few hours.
In human medicine, the pain score is called the fifth vital sign. TPR and blood pressure are the first four vital signs. In veterinary medicine, since we don't routinely measure blood pressure, the pain score is sometimes called the fourth vital sign, in addition to TPR.
Endorsed by AAHA
The American Animal Hospital Association encourages its accredited members to pain-score every patient.
In a pain management white paper, the authors1 write: "The pain-scoring system should be incorporated into overall patient assessment, treatment and reassessment protocols, as well as staff and client educational materials."
Pain-scoring is an easy way to improve patient care by incorporating it into anesthesia protocols.
How to Obtain and Interpret CSU pain scales
Would you like to put Colorado State University's canine and feline pain scales to use in your hospital? For a free printable download, go here.
Here is how to read the Canine Acute Pain Scale:
Pain score: 0
No pain present. The patient is happy, acts normally, moves comfortably, has a normal appetite and (if applicable) does not bother the surgery site. TPR is normal.
Pain score: 1
Mild pain present. This is usually displayed by a slight limp, difficultly getting up or down, or a slight increase in TPR. The patient is eating, tail wagging or purring, and not depressed.
Pain score: 2
Moderate pain present. The patient shows sensitivity and may lick or chew at the surgical site or wound. The patient may vocalize, may refuse to eat and may seem depressed, and it has slow, shallow respirations.
Pain score: 3 
Severe pain present. Signs include depression, reluctance to move and sensitivity at the surgical site or wound. The patient will usually not eat, may vocalize and may lie down but not sleep.
Pain score: 4
Excruciating pain present. The patient shows all the signs described with a pain score of 3, in addition to intermittent panting, increased TPR—even at rest—constant vocalizing, profound depression, dilated pupils, aggressiveness and deep breathing.
References
PW Hellyer et al. "Canine Acute Pain Scale and Feline Acute Pain Scale" Colorado State University Veterinary Medical Center, 2006.
---
Dr. Phil Zeltzman is a board-certified veterinary surgeon and serial entrepreneur. His traveling surgery practice takes him all over eastern Pennsylvania and western New Jersey. Columnists' opinions do not necessarily reflect those of Veterinary Practice News.
Kelly Serfas, CVT, of Bethlehem, Pa., contributed to this article.
Originally published in the September 2016 issue of Veterinary Practice News. Did you enjoy this article? Then subscribe today!