Suggested Veterinary Products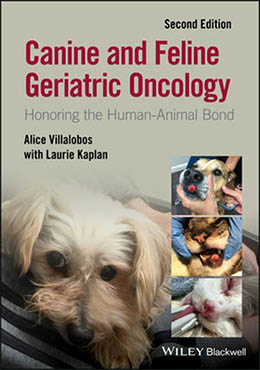 Canine and Feline Geriatric Oncology: Honoring the Human-Animal Bond, Second Edition by Alice Villalobos, DVM, with Laurie Kaplan, MSC, newly released by Wiley, provides a complete clinical approach to the most common neoplasias in geriatric dogs and cats.
The new text, fully updated and expanded with new and revised information, including new knowledge on palliative and hospice care and self-care techniques for carers, provides the tools needed to diagnose and treat aging pets with cancer and to help clients make the best decisions for themselves and their animals, addresses the "what-ifs" that often arise during interactions with clients of aging pets with cancer and helps to determine when a pet should enter the hospice phase, and features many vignettes and real-life case studies to demonstrate the issues faced by clinicians and owners dealing with older dogs and cats with cancer and end-of-life issues, according to the publisher.
Author Alice Villalobos, DVM, is a past president of the American Association of Human Animal Bond Veterinarians, president emeritus of the Society for Veterinary Medical Ethics, fellow emeritus of the National Academies of Practices, and a founding member of the Veterinary Cancer Society. She is director of Animal Oncology Consultation Service in Hermosa Beach and Woodland Hills, Calif., and director of Pawspice, an end-of-life care consultation clinic.
Laurie Kaplan, MSC, is a medical animal writer and author of Help Your Dog Fight Cancer: Empowerment for Dog Owners.