Numerous shelter animals continue to get healthy and find homes thanks to a partnership between the University of Wisconsin School of Veterinary Medicine and the Milwaukee Area Domestic Animal Control Commission (MADACC). The partnership also gives students in the junior surgery program real-world experience since they help with spay/neuter surgeries and other related care.
The two groups aligned a little more than a year ago with the help of Kristen Cooley, CVT, VTS (Anesthesia), Instructional Specialist, Clinical Skills Training Center, UW School of Veterinary Medicine.
"I came on board in my current role in the fall of 2013 and we began working with MADACC in the spring of 2014 and haven't looked back," she said.
In fall 2014, the junior surgery program helped 79 animals and found homes for 30 of them, according to Cooley.
"This year, we've seen 151 dogs and cats and have found homes for at least 24 of them," said Cooley, noting that there could even be a few more.
Prior to the partnership, the junior surgery program staff worked mostly with shelters in the local Madison area. However, working with various shelters meant a higher risk of disease transfer and mixing up paperwork, according to Cooley.
"It's just easier to keep everybody from one shelter," she said.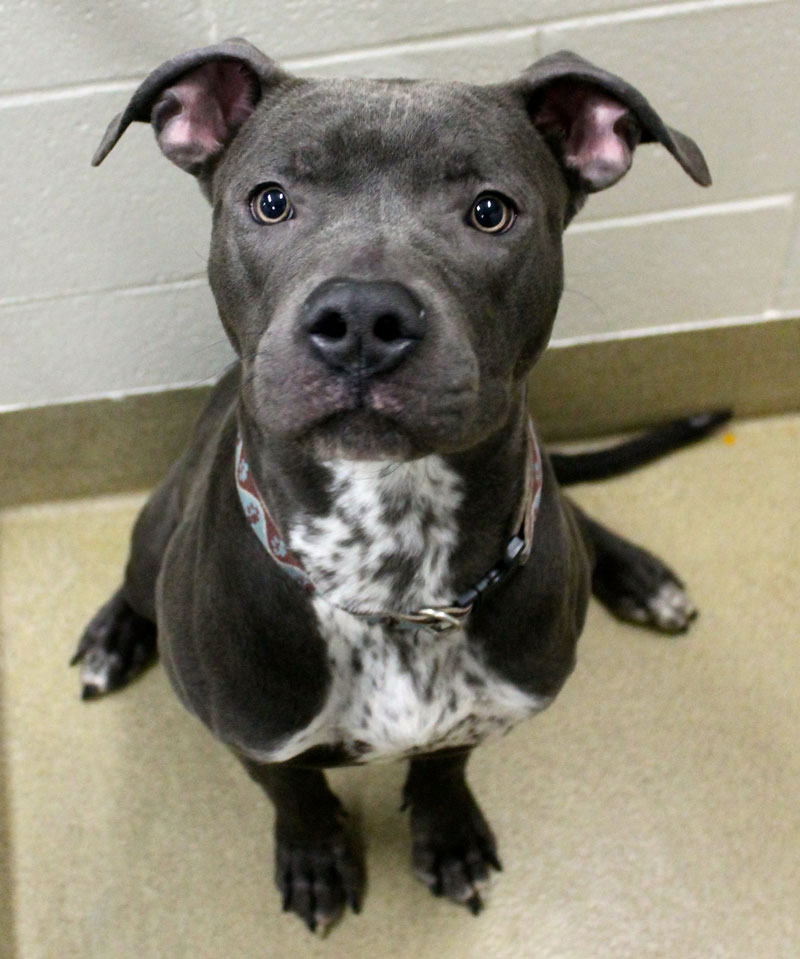 University of Wisconsin School of Veterinary Medicine
Adoption description for Seamus, a "youthful" 1-year-old Pittie mix: "Between his looks and his personality, what's not to love?! This sweet boy likes to think he is a lap dog, and will snuggle right up beside you! He is very laid back, and even knows to sit and stay!"
MADACC, which rescues and provides temporary shelter for more than 12,000 animals each year, was a great fit, despite the 75-mile distance. To facilitate transportation needs, the groups called upon Badger Rescue Animal Transport Service (BRATS). On Mondays, the service drives the animals from MADACC to the SVM where students do intake and conduct physical exams. On Tuesdays, surgeries are performed. Patients are monitored on Wednesday, and on Thursdays, un-adopted animals go back to Milwaukee or to other shelters via BRATS.
Although MADACC tries to send healthy animals, there are times when students have come across symptoms during the physical exam that require further diagnostics.
One such example is Babs, a spay patient that came into the program and was found to have a necrotic tail and a diaphragmatic hernia. Gift funds were used to pay for additional surgery performed at UW Veterinary Care, according to Cooley. Babs was later adopted by a SVM student. (It's not uncommon for students to adopt a patient, Cooley said.)
The program's goal may not be to focus on these extra things, but when they come up, it becomes a great learning experience, Cooley said. Students become very fond of the animals and take it upon themselves to make sure they receive great care, she added.
As such, Cooley said she hopes to soon include the SVM's shelter medicine program. Not only will students be able to gain spay/neuter surgical experience, they'll be able to help diagnosis patients using a shelter mindset, meaning that they'll have to find ways to help patients using minimum resources, much like in a shelter, she said.
In the meantime, students get creative to find homes for the animals they've helped. This includes creating adoption flyers that are circulated to all SVM faculty, staff and students. Program students are in charge of picking a name for the animal and writing a description to draw a potential adopter in. They come up with a weekly theme to help with creativity and to keep the process fun. For example, one week, the theme was "Rock Stars," eliciting names such as Jagger, Morrison, Billy Idol, Seamus, Axl Rose and Hendrix, to name a few.