Suggested Veterinary Products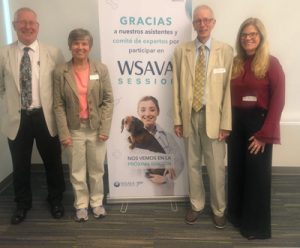 The World Small Animal Veterinary Association Vaccination Guidelines Group (VGG) held a series of meetings and continuing education sessions in Mexico as part of a first step in WSAVA's three-year project aimed at enhancing levels of understanding of infectious diseases among veterinarians across Latin America.
WSAVA committee members, including Michael Day, VGG chairman, emeritus professor, met with veterinary association leaders, academics, first-opinion practitioners, and government regulators in Mexico City, Guadalajara, and Monterrey.
They delivered three evening CE sessions and live-streamed the Mexico City session to share with registrants for 30 days after the presentation. Prior to the visit, the VGG conducted an online questionnaire to collect data on veterinary demographics, infectious disease occurrence, and vaccination protocols, and presented the results during the CE events.
"Mexican veterinarians are accustomed to the principle of annual revaccination of dogs and cats with multicomponent products, but those we spoke to were excited by the new concepts of less frequent and individualized vaccination, incorporated into a preventive healthcare package for pets," said Day. "Vaccine-preventable infectious diseases such as canine distemper and parvovirus infections, remain highly prevalent in Mexico.  Increasing herd immunity by improving vaccination coverage is clearly an important goal for the Mexican veterinary community."