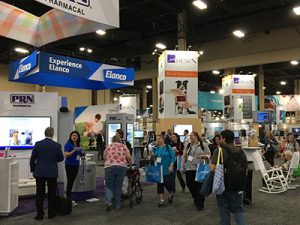 This year's Western Veterinary Conference (WVC) in Las Vegas, held March 4 to 8 at Las Vegas' Mandalay Bay Convention Center, was attended by almost 14,000 veterinary professionals from all 50 states and 27 countries.
Visitors sat in on more than 1,000 hours of scientific sessions and perused an exhibit hall featuring almost 520 companies.
"WVC hosted veterinary professionals from around the world for an inspirational week of education and networking designed to help them grow their skills and clinical offering," said W. Mark Hilton, DVM, DABVP, president of the WVC board of directors. "This year's event gave us an opportunity to celebrate 90 years of tradition and excellence in education, but also provided a vibrant platform to share experiences with colleagues, discover the latest products and services, and reignite our collective passion for serving the health and welfare of animals."
In addition to lectures, hands-on labs, and workshops, attendees were treated to music entertainment by Grammy award winners Jewel and Darius Rucker and Emmy-nominated actor and comedian Kevin Nealon. On the exhibit hall floor, the Learning Lounge hosted 34 CE sessions.
The Dr. W. Bruce Wren Food Animal Incentive Award was given to five recent post-graduates and the Dr. Jack Walther Leadership Award was given to 36 veterinary students from accredited veterinary colleges and schools. Additionally, six 2017 Continuing Educators of the Year and two Distinguished Service Award recipients were recognized.
The 2019 WVC conference is scheduled for March 3-7. Visit wvc.org for more information.