Suggested Veterinary Products
Zoetis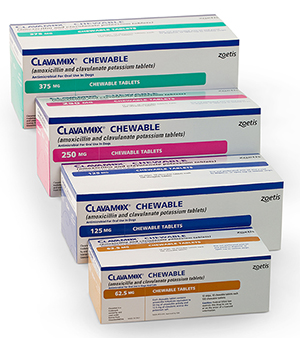 announced the commercial launch of Clavamox Chewable (amoxicillin and clavulanate potassium tablets), which is effective in treating skin infections in dogs and cats, periodontal infections in dogs, and urinary tract infections in cats, according to the company.
Clavamox Chewable features the same efficacy, dosing, and strengths as the original film-coated Clavamox Tablet; features the same pork-liver-flavored chewable base used in Rimadyl (carprofen) Chewable; and is available to all U.S. veterinarians, the manufacturer stated.
According to Zoetis, the palatability of Clavamox Chewable was established in a clinical trial that studied client-owned dogs at VCA veterinary hospitals across the U.S. and was conducted to a protocol approved by FDA's Center for Veterinary Medicine; a total of 1,567 doses were administered to 112 dogs, resulting in an 83 percent overall voluntary acceptance rate for Clavamox Chewable when offered from an empty bowl or owner's hand.
Clavamox Chewable is available in 62.5-, 125-, 250-, and 375-mg strengths and is packaged in boxes of 100 tablets. Clavamox Drops and original film-coated Clavamox Tablet formulations remain available for purchase by veterinarians.
For more information about Clavamox Chewable and full Prescribing Information, visit clavamoxchewable.com.