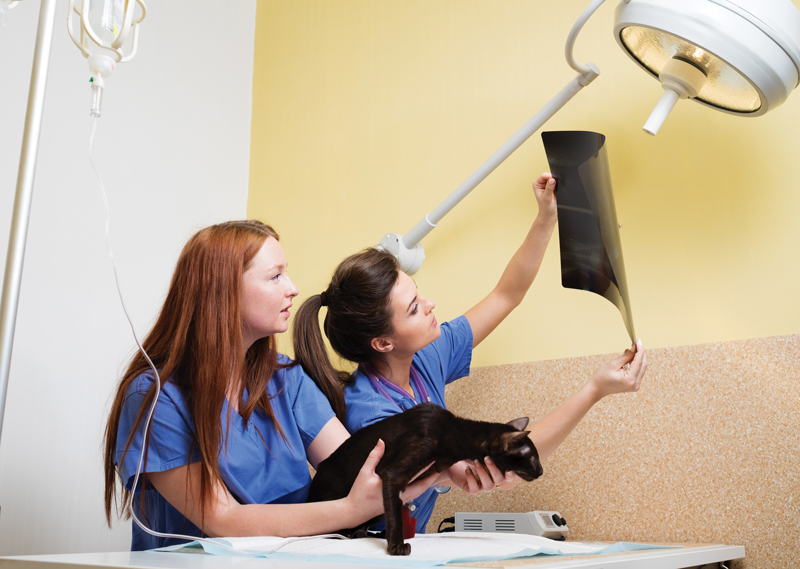 When surfers get rolled underwater by a breaking wave, they call it being in the washing machine. Veterinary medicine has been through the washing machine for the past 18 months, and it may never be quite the same. The shakeout has brought changes that seemed temporary at first, but may well become standard practice, as well as others that might not have come about as quickly without the pandemic. Ten veterinarians share their take on today's trends and what's ahead.
Two kinds of tech
Lori Teller, DVM, DABVP, clinical associate professor of telehealth, Texas A&M University College of Veterinary Medicine and Biosciences, sees improved use of technology as the biggest area of change, and not just for telemedicine. Artificial intelligence is being incorporated into algorithms for diagnostics.
"It's been going on in radiology for a while, but now we're also seeing it in clinical pathology, particularly in cytology," the AMVA president-elect says.  "It doesn't take the place of a human, but it can definitely augment some of our workflows."
Big data is becoming bigger, too, providing better information on incidence of disease, incidence of treatments, compliance, and more. "It could potentially help even with diagnoses of upcoming pandemics or just disease outbreaks that aren't pandemics," Dr. Teller says.
Further, improvements in how medications can be administered are not far away, Teller predicts. She envisions a day when a pet taking three different medications will, instead, be able to take them all in a single capsule, with doses fine-tuned to individual animals.
"When you think about chemotherapy, when you think about how we start targeting therapies to particular genetic diseases, where we really want to be specific in how we treat them, then being able to enter the drug combination and strength we want into a machine and say, 'Please create this capsule,' I think that's going to be pretty phenomenal."
Jessica Vogelsang, DVM, chief medical officer, for the American Animal Hospital Association (AAHA), hopes better use of technology and technicians are where veterinary medicine heading.
"I'm really glad to see conversations about using technology to improve the way we communicate," Dr. Vogelsang says. "I think that's so critical. One of the things I hope people continue to explore is when we talk about virtual care and what does it mean when we make ourselves available for people virtually, as opposed to having them come in the clinic, is leveraging the use of our technicians.
"There's so much more they could be doing with triage and with client communications," she continues. "I think that goes so much to this tension and job satisfaction conversation we're having. Those are the sorts of conversations around workflow that I hope people continue to have, because the people that have done it right are very, very pleased with their results, and the clients are happy, as well. It's really a pleasant thing to see."
Emily Tincher, DVM, director of veterinary relations for Nationwide, is a second-generation veterinarian who is comfortable with greater use of technology in practice.
"Communication styles and ways of accessing information have changed, and the profession is changing with it," she says.
Dr. Tincher also sees new roles for technicians in the future.
"We're starting to see greater utilization of paraprofessionals, as well as the rumblings of interest in a professional group between veterinarian and technician, the equivalent of a physician's assistant on the human side," she says. "Even if this never comes to pass, we will continue to see technicians play a greater role in delivering care. Empowering technicians to provide care to the maximal extent of their licensure is required to increase access to care and stabilize the workforce crisis we're currently experiencing."
A new virtual reality
Dave Bruyette, DVM, DACVIM, chief medical officer, Anivive, says continuing education is one aspect of veterinary medicine that may never be the same. The American College of Veterinary Internal Medicine (ACVIM) annual meeting was canceled two years in a row because of COVID and went virtual.
"Now there's active discussions about going forward in a post-COVID universe, we would like the meeting to have remote options for all or part of it," says Dr. Bruyette, an internal medicine specialist. The future of CE may be a hybrid event, with physical meetings in conjunction with virtual options. This can allow veterinarians to attend more courses or a different variety of courses at a time and place of their choice.
Practices may not go back to the old ways either, at least not entirely.
"They're going to have a clientele who's used to drop-offs, and drop-offs can be a very effective way of getting more patients in, in a timely manner, getting done what you need to do, and then talking to the owner at the end of the day," Bruyette says. "I just don't see it going back to a pre-pandemic world with the way we were doing business before. And I think telemedicine's just going to get bigger and bigger and bigger."
Finally, he hopes to see more people using pet health insurance. Seeing pets with coverage for traumatic injuries and unexpected illnesses can be a game-changer for specialists, he explains, because owners are more comfortable with giving the go-ahead for chemotherapy, endoscopy, or surgery.
"If you take finances out of the equation, adoption of these procedures is extremely high," Bruyette says. "I really would like to see more pet insurance get into more clinics because I think it'll help more pet owners, and it'll definitely help more dogs and cats."
Specialization increases
Joe Bartges, DVM, PhD, DACVIM, DACVN, professor of internal medicine, interventional radiology and nutrition, University of Georgia College of Veterinary Medicine, has seen increased demand for certain specialties and client interaction.
"Over the past couple of years, the demand for minimally invasive procedures and nutritional consults has increased, it seems. dramatically," he says. "There are likely many reasons, but I think a large underlying theme is owners are spending more time with their pets and they want to do more to keep them healthy and happy, which increases the owners' quality of life as well."
Dr. Bartges believes telemedicine is here to stay and should be embraced by more specialties.
"The nutrition, radiology, and clinical pathology specialties have been built on providing telemedicine consults and this could, I believe, be easily utilized in other specialties. The fact that pre-COVID, the American Veterinary Medical Association (AVMA) tried to shut telemedicine down and post-COVID the AVMA has guidelines shows the importance of this means of practice.
"However, there needs to be some relaxation of the doctor-patient-client relationship requirement so telemedicine can be developed further. Additionally, there needs to be some form of evaluation of programs and some requirements that should be developed to ensure a positive experience and the practice of excellent medicine," Bartges says.
Cheryl Brocki, DVM, vice president of veterinary relations for Vet's Best Friend, says training is trending. "More owners are interested in investing time and resources in training for their dogs."
Further, more veterinarians, technicians, and clients are seeking out Fear Free certifications.
"In particular, owners with rescued pets that have more anxiety are looking for solutions to ease the stress of their pets, and this includes at their wellness or sick visits," Dr. Brocki says. "We have seen a marked difference in the behavior of visiting cats by offering cat-only rooms with pheromone spray and places to hide."
She, too, notes greater adoption of technology.
"For post-visit or follow-up care, email, or texting have become popular methods of communication for clients and staff. Utilizing email and text has improved client relations and made things easier for our doctors."
Clients want more utilization of integrative and allopathic treatments. "Overall, there has been a higher demand for a more integrative approach to wellness, prevention, and treatment using physical therapy, chiropractic methods, therapeutic lasers, acupuncture, and Chinese herbs," Brocki says.
Jennifer Coates, DVM, Pet News Daily advisory board member, points out many pet health trends follow those that first arise in human medicine. One of those trends is use of cannabidiol for pets. "Veterinarians were initially limited in what they could legally recommend or even discuss with pet parents," Dr. Coates says. "Thankfully, clarification regarding the legality of CBD and the publication of some research into the safety and efficacy of using CBD in dogs has made these conversations much easier."
Chyrle Bonk, DVM, consultant for cat product design company Hepper.com, says, "Pet owners are looking for healthcare more similar to human medicine. They want all of the expensive equipment, intensive surgeries, and lifelong medications that humans have. This type of demand may be hard for smaller clinics to meet. This increases referrals to specialty clinics that are capable of these types of treatments and leaves general practitioners doing the majority of preventative health care and less of difficult diagnostics and treatments."
Linda Simon, MRCVS, a veterinary surgeon and consultant for FiveBarks, knows, whether veterinarians love it or hate it, Dr. Google means owners are more likely to play an active role in their pets' care.
"Decision-making on things like 'the best age to neuter,' 'whether or not to breed your pet,' and 'what to feed your dog' is now more of a collaborative discussion between owner and vet," she says.
"Owners nowadays like to be witness to what is going on and to feel like they are a part of all decision-making. This means, when possible, they want to be present for any procedures being carried out. While this isn't always practical or possible, it can help to host an annual 'behind the scenes' day for owners to come and have a look at what goes on in their vet clinic," Dr. Simon adds.
Stacy Choczynski Johnson, DVM, a strategic sales representative at Pumpkin Pet Insurance, says hospital design is changing, with special attention placed on separating species at entrances, in lobbies, and in exam rooms.
"This helps to reduce fear and anxiety, especially for feline patients."
Another design change is expansion of diagnostic suites, allowing veterinary hospitals to provide point of care diagnostics ranging from basic blood work to digital cytology to AI fecal analysis.
"This allows veterinarians to deliver prompt results and discuss treatment plans with the client directly," Dr. Johnson says. Advanced technology for diagnostics, availability of comprehensive pet insurance, and implementation of telehealth are all helping to build capacity in the veterinary field, she adds, allowing the profession to improve hospital workflow, improve accessibility to care for patients, and potentially provide respite to veterinary professionals.
Kim Campbell Thornton is a frequent and longtime contributor to Veterinary Practice News. She is a Southern California-based freelance writer who specializes in pet-related topics.