Every year for the past decade, Veterinary Practice News has hosted the annual "They Ate What?!" competition, where veterinarians send in the most eye-popping radiographs their practices have encountered.
In past years, our judges have seen plenty of balls in bellies. But not 26 golf balls in one Dobie belly. The radiograph and corresponding photo won first place for Gordon Schmucker, DVM, of Lisbon Veterinary Clinic in Lisbon, Ohio.
This year's contest was sponsored by Trupanion pet insurance of Seattle. The Veterinary Practice News editorial team judged the entries. First prize received $1,500; second, $1,000; and third, $500.
Mike Jones, DVM, of Woodland West Animal Hospital in Tulsa, Okla., won second place with his 10-week old Labrador, who had ingested the end of a fishing pole.
Theresa Taylor, DVM, of Cherryville Animal Hospital in Cherryville, N.C., won third place. Her radiograph found a door hinge in a 6-month-old Lab.
"Foreign body ingestions are among the most common high-dollar claims we cover," said Steve Weinrauch, BVMS, MRCVS, Trupanion's chief veterinary officer.
"It's our second most common claim for dogs and third most common for cats. Even my own family member, my dog Bug, had a foreign body surgery (a corn cob). No family is immune. That said, 26 golf balls takes it to another level and wins first prize. I'm glad that his tail is still wagging and hope never to see him at the top of the 'winners' list again!"
See the photographs for these and all our honorable mentions below.
Tell us your favorite X-ray with the hashtag #TheyAteWhat.
First Place: 26 Golf Balls, 1 Dog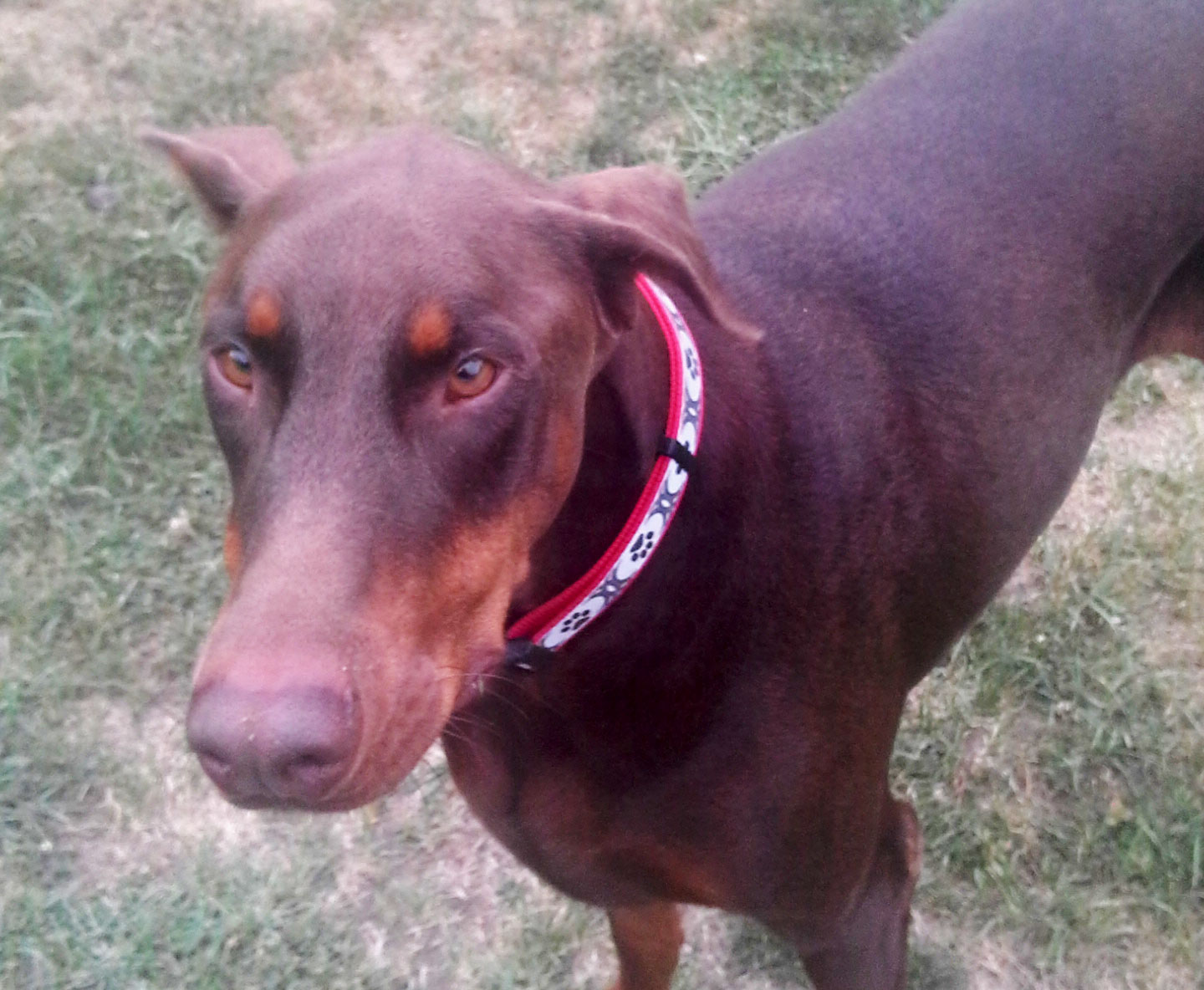 Courtesy jennifer branch
Zeus loves to chase golf balls, but no one realized he was eating them too.
Gordon Schmucker, DVM
Lisbon Veterinary Clinic, Lisbon, Ohio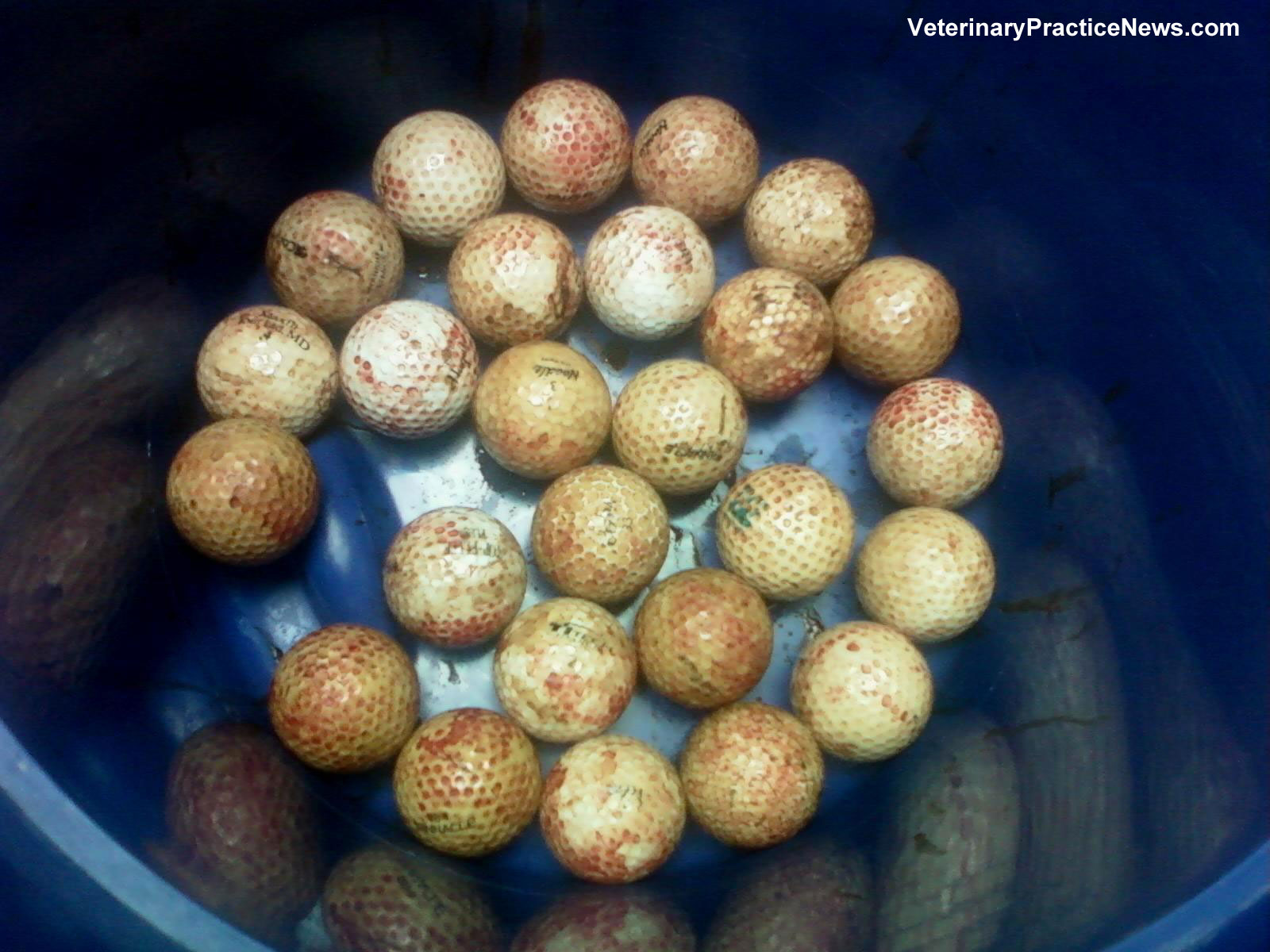 Zeus, a 1-year-old neutered red Doberman pinscher, had been vomiting for a couple of days. His activity level was normal, and he had a good appetite despite the vomiting. His abdomen palpated non-painfully and within normal limits. He was sent home on medical management of Cerenia, famotidine and sucralfate.
Zeus' owners called two days later because he still wasn't acting right and did not want to eat. Radiographs revealed at least 20 round radiodense foreign bodies in his stomach. Gastrotomy surgery led to the removal of 26 golf balls. He had bruising around the incision, but he healed well. His owners will be sure to count their golf balls more closely when he retrieves them from the driving range.
See Zeus' X-ray below: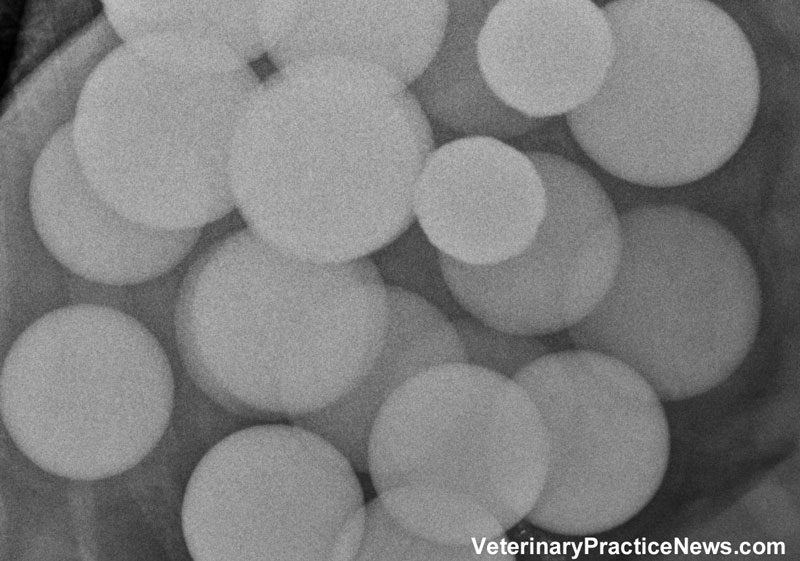 Find out more about Dr. Schmucker and Zeus' crazy X-ray here.
Second Place: Fishing for Dogs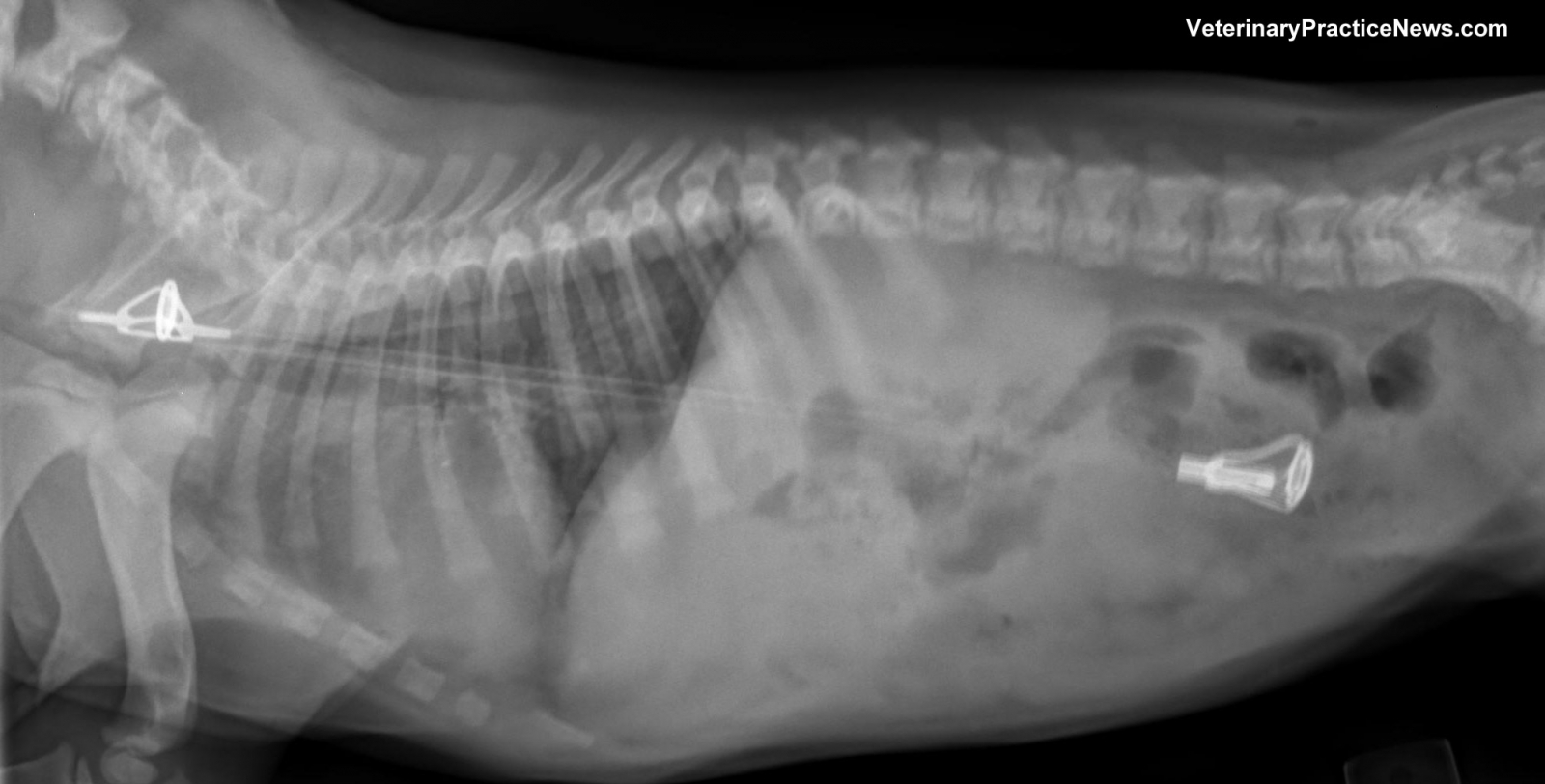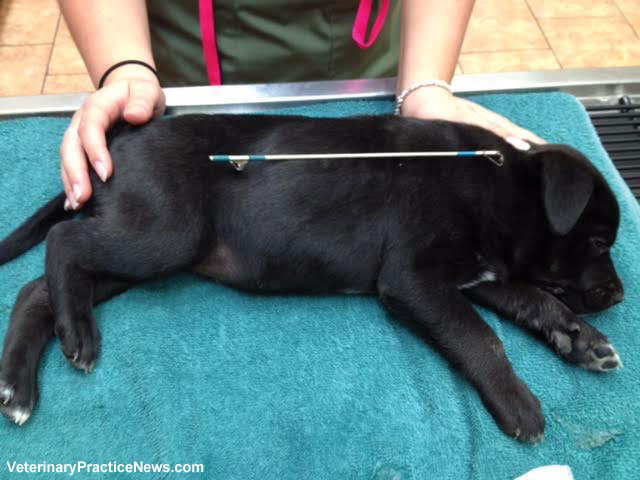 Mike Jones, DVM
Woodland West Animal Hospital, Tulsa, Okla.
A 10-week-old stray Labrador retriever presented for lethargy and drooling. He had been tested the night before for parvovirus—it was negative—and he was referred for hospitalization and continual care. A radiograph showed the end of a fishing pole, which was removed after light sedation. The puppy fully recovered.
Check out the story behind this X-ray by clicking here.
Third Place: Dog, Unhinged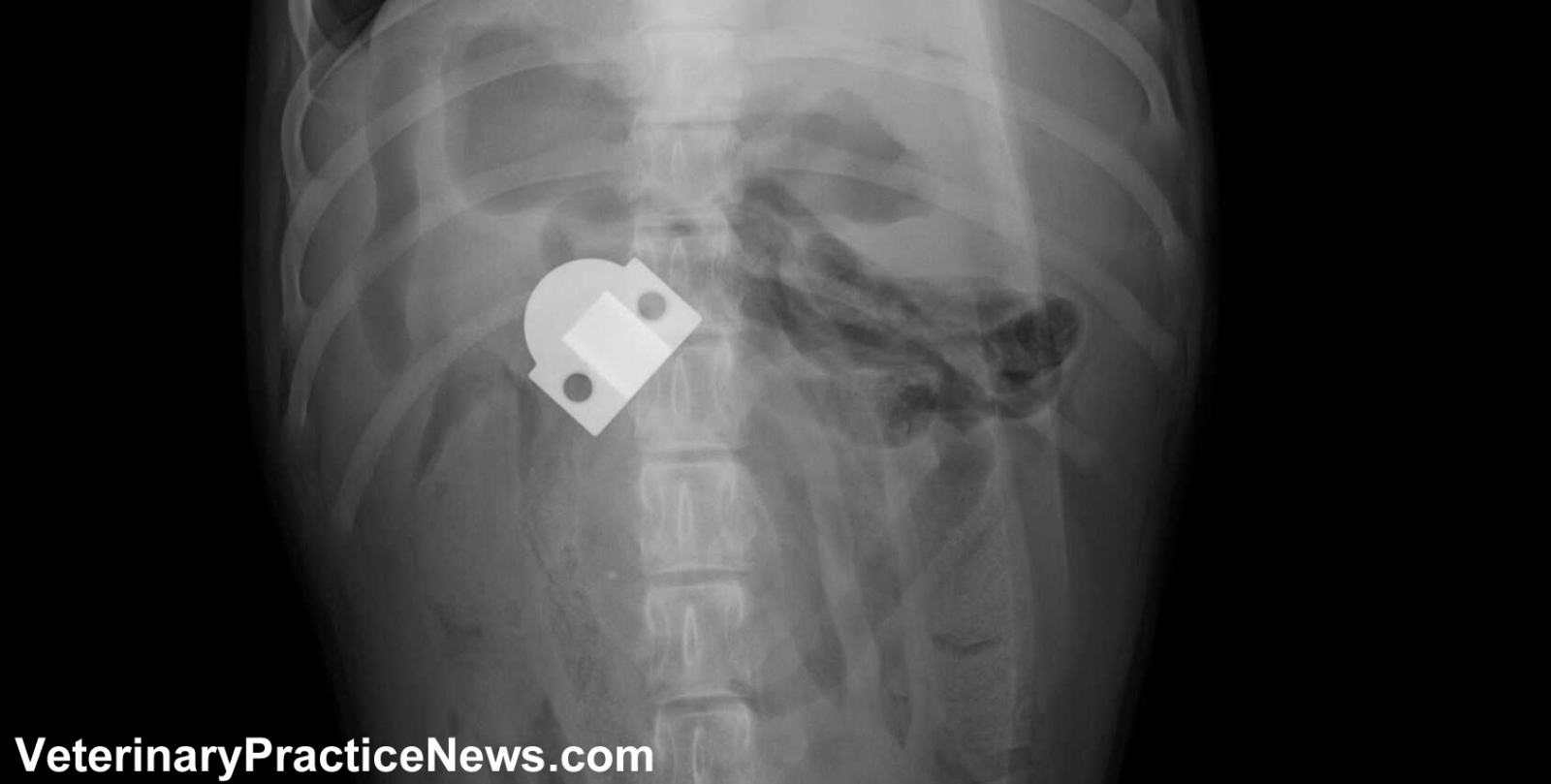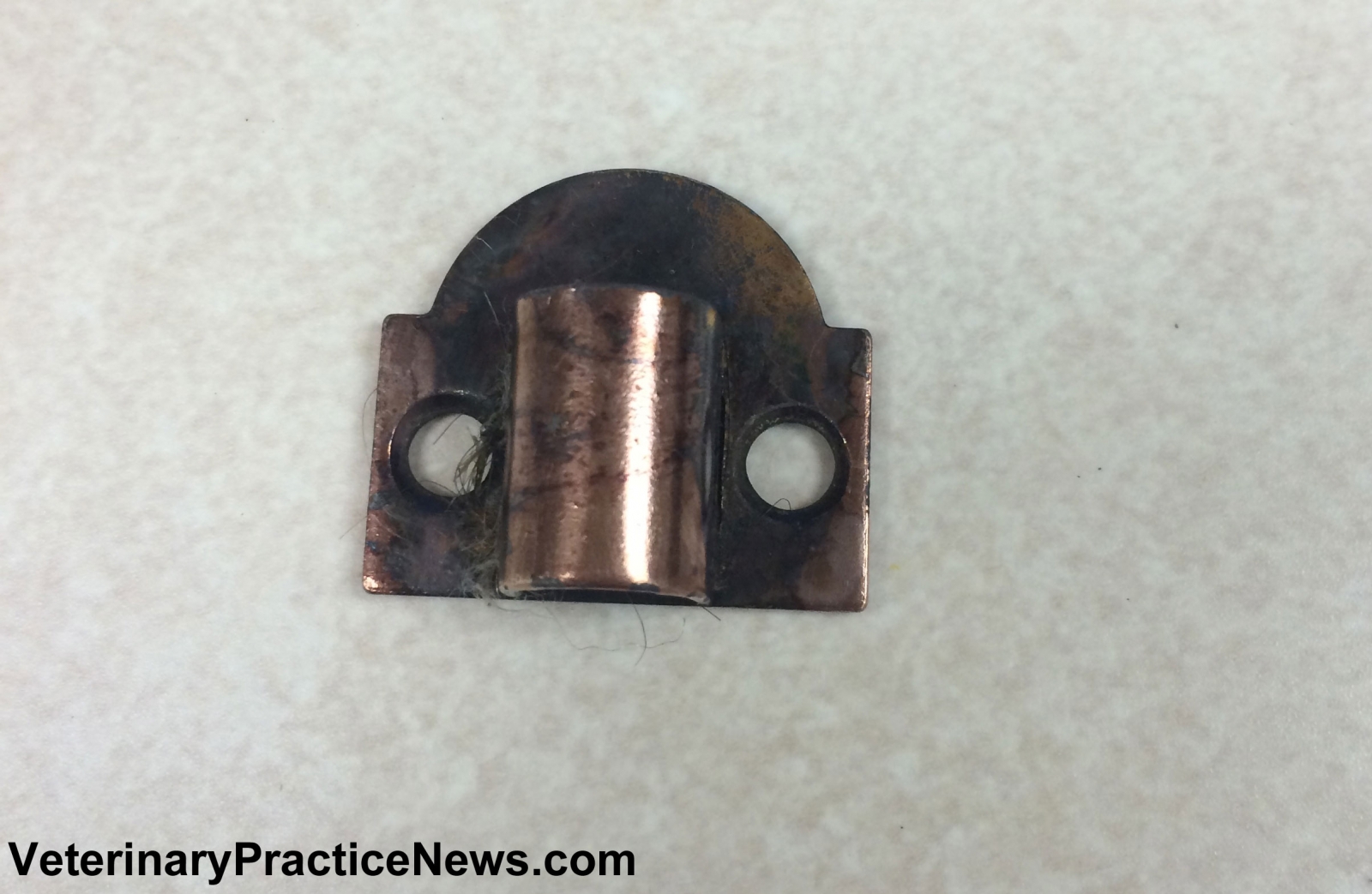 Theresa Taylor, DVM
Cherryville Animal Hospital, Cherryville, N.C.
Avery, a 6-month-old male black Labrador retriever, presented with vomiting, lethargy and a painful abdomen. Digital radiographs revealed a metallic foreign body. Surgery was performed, and we took out a door hinge that was just about to perforate the bowel. The owner asked that we look for a missing sock, which we did not find. Avery recovered well, although the morning after surgery she ate her IV line, including the veterinary wrap and tape. We went ahead and induced vomiting. We are sure we will be entered in your contest next year with this dog and her habits.
Learn more about this X-ray here.
Honorable Mentions
Not the Python's Usual Lunch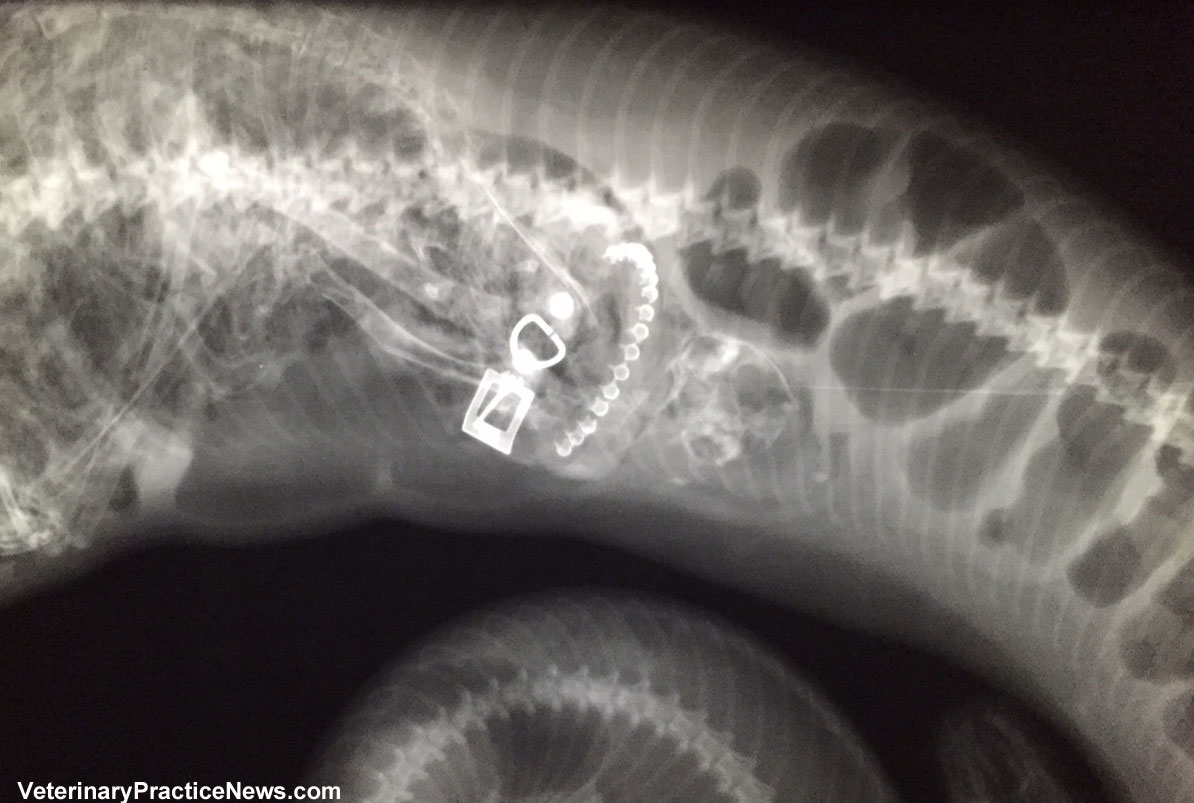 Robert Lynch, DVM
TLC Animal & Bird Hospital, Palm Harbor, Fla.
A python presented with a rather large swelling. The owner stated that his snake had been "away from the house" for about a week and returned the day before. The python was normally fed home-raised rats, and the owner was concerned the snake may have eaten something that would be difficult to digest.
It was no rat, the radiographs showed. The owner asked, "How can you tell?" I explained the anatomy of the bone structure and other things but then felt obliged to point out that I didn't know of any rats that wore a fancy jeweled collar. It was a cat! Two months later, my wife and I were having dinner with my friend and his fiancée, both clients of mine. I told them my story of the man who wanted to know what his snake had eaten. With that, the fiancée burst out in tears and explained that her Siamese cat had disappeared about the same time. Sure enough, when I checked the addresses in the files, they were neighbors.
Ultimately, the snake owner fessed up and told the cat owner how sorry he was that his snake had gotten out. He bought her another cat.
A Belly Full of Belt and Buttons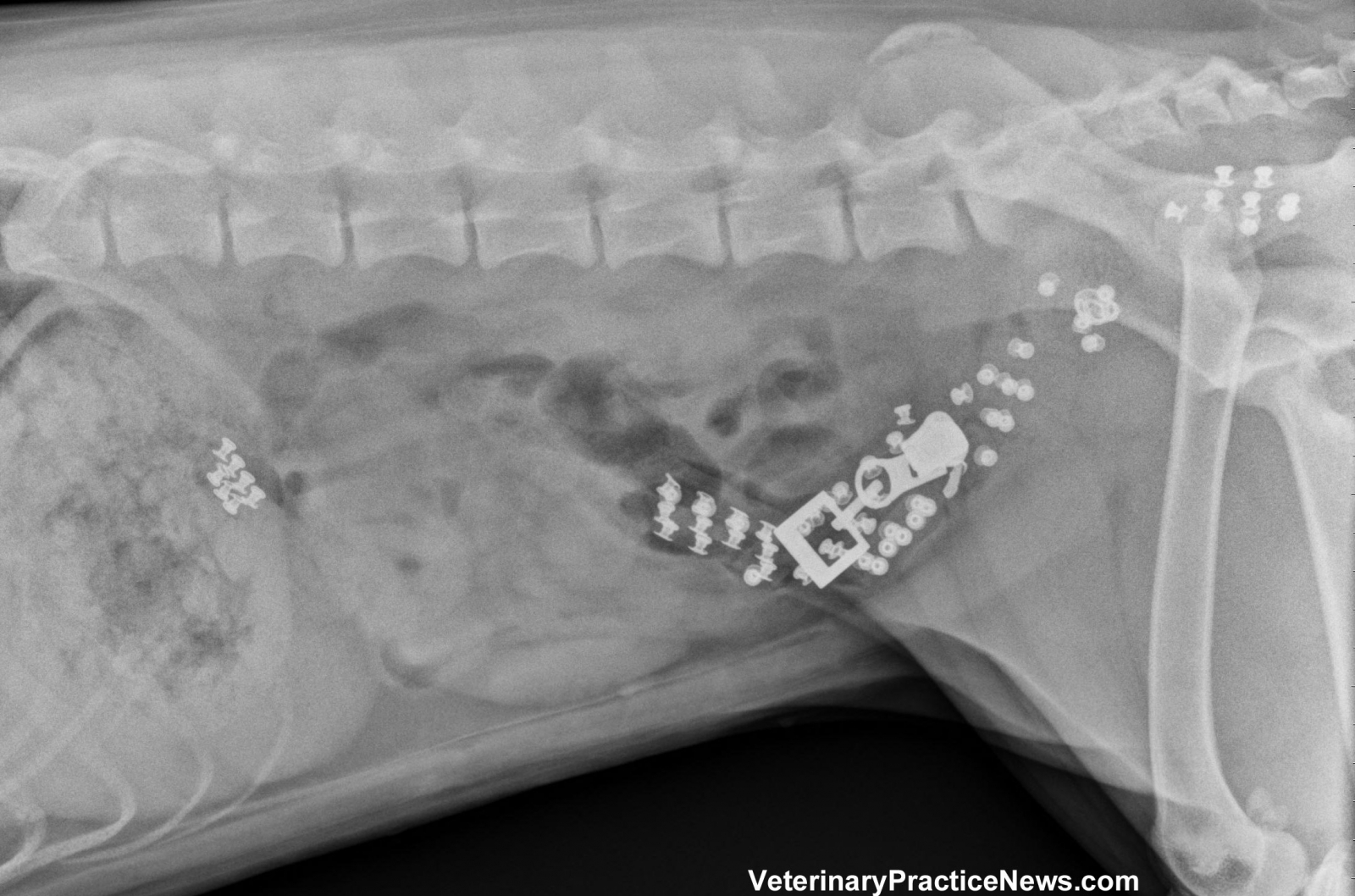 Jessica Stephens, DVM
Belle Mead Animal Hospital, Hillsborough, N.J.
Willow, an 8-month-old Australian shepherd mix, presented after ingesting 18 buttons and nearly an entire woman's belt the day before. The dog was acting normally. Two abdominal radiographs were obtained to ensure the belt and buttons were moving through the intestines. The X-rays clearly showed that the foreign objects were on their way out of the dog, negating the need for surgery. I advised the owner to continue to feed high-fiber foods and monitor Willow's feces for the foreign objects.
The Missing Change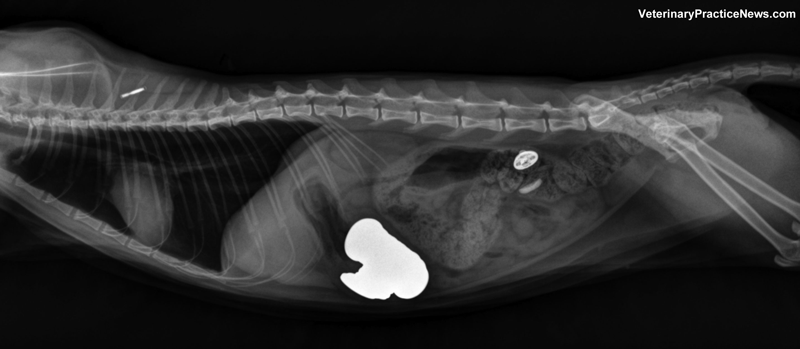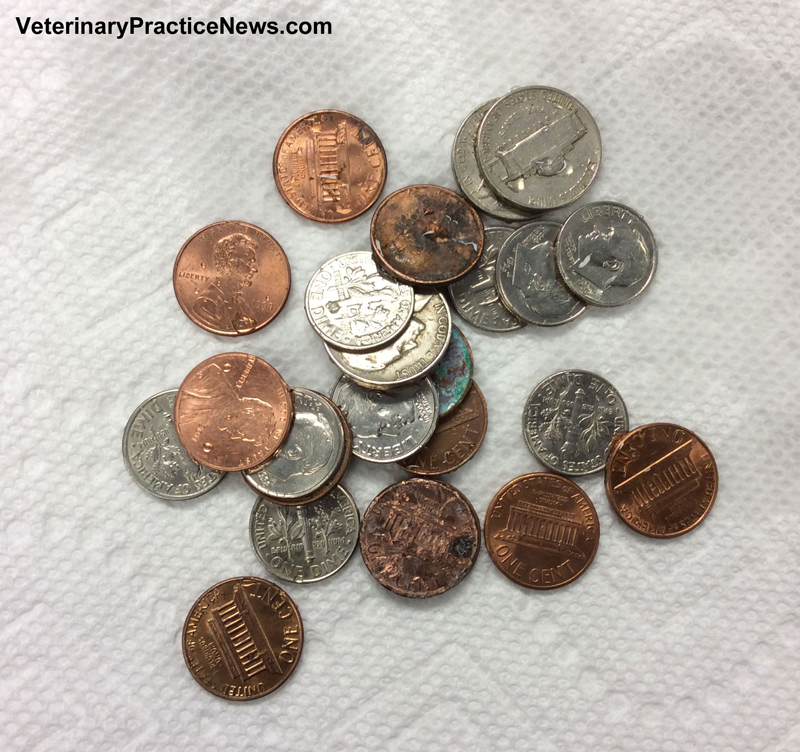 Linda Overbaugh, RVT
Bilmar Small Animal Clinic, Great Barrington, Mass.
A female cat presented as lethargic and having not eaten for several days. The owner reported that he kept coins in an ashtray, which had been knocked off the table, but that nothing appeared to be missing. Upon X-ray, we noted that the cat had obviously ingested something. The owner opted for surgery, during which $1.18 in coins were removed from the patient's stomach and digestive tract. Sadly, after sailing through surgery, the patient died, possibly from metal toxicity linked to the coins and the length of time they were in her system.
Angelfish Meets Metal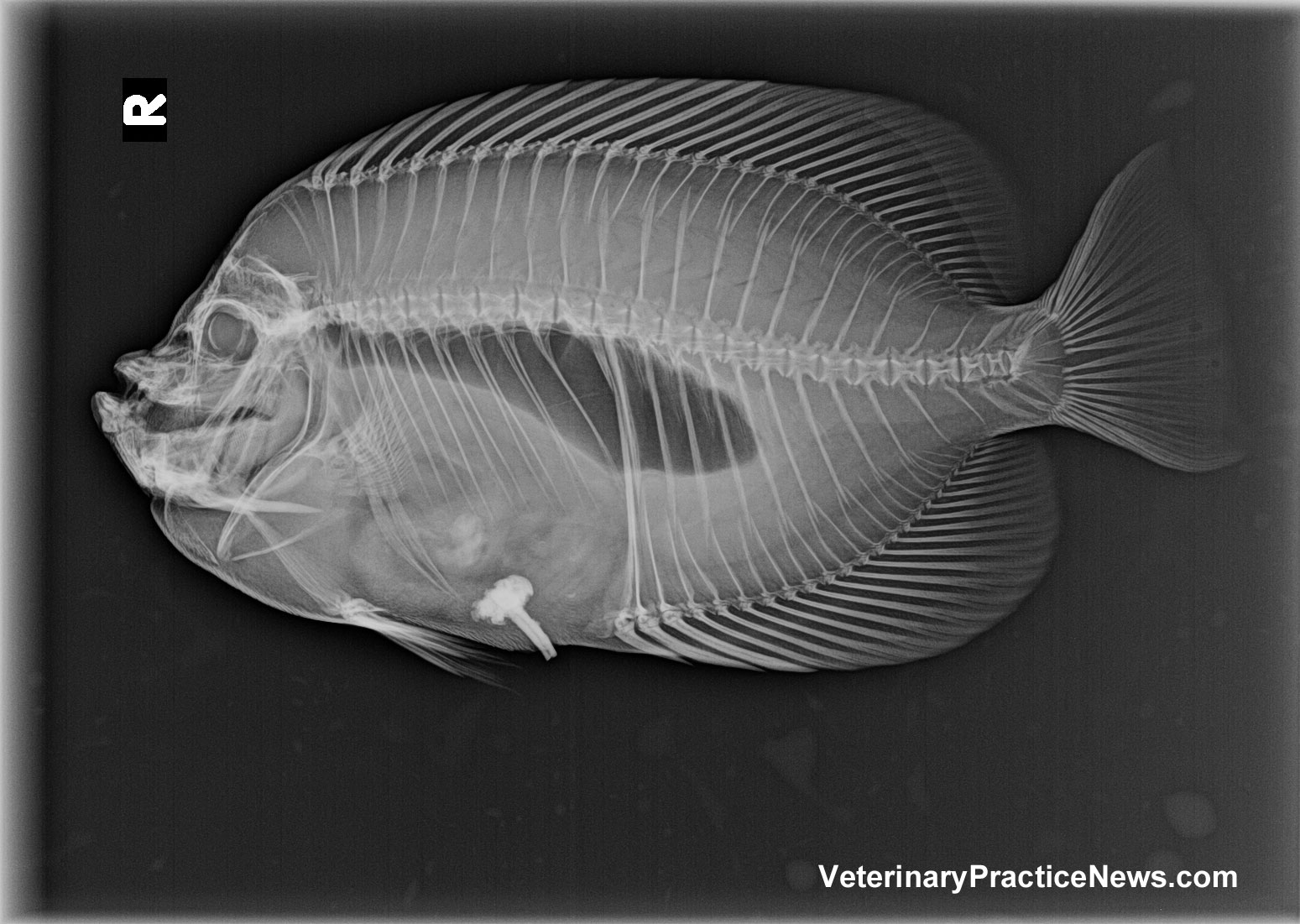 Amy Kizer, DVM
Lexington Pet Clinic, Eagan, Minn.
A radiograph revealed an object that needed to be removed from a Scribbled angelfish. Exploratory laparotomy and enterotomy were performed to remove a metal object along with a rock. Though the procedure was risky, the patient survived.
A Mangled Mass of Hair Ties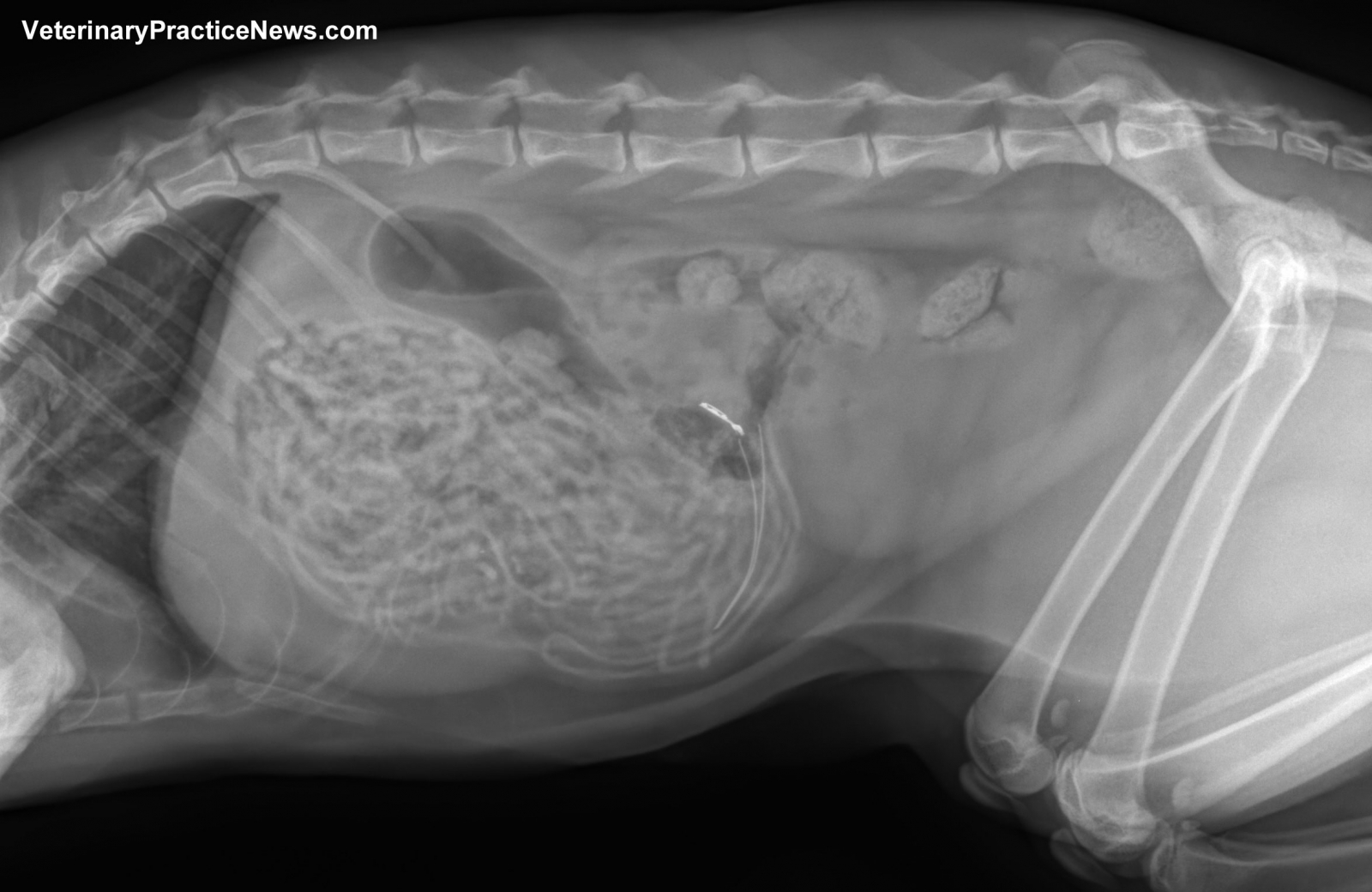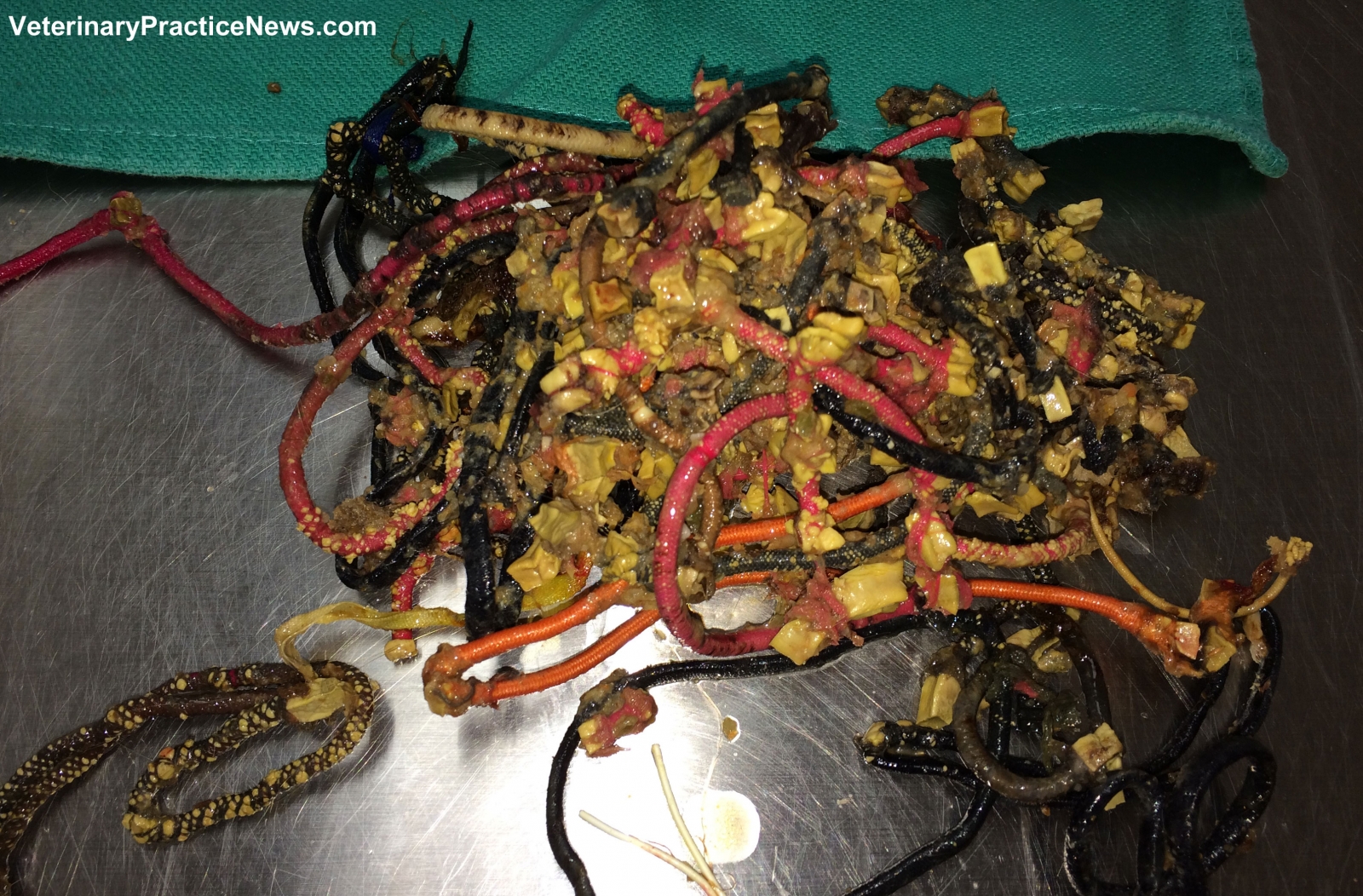 Alexandra Adler, DVM
Woodbridge Veterinary, Group, Woodbridge, N.J.
Yogi, a 1-year-old neutered domestic shorthair cat, presented to our hospital after a few days of vomiting. His owner reported that he liked to eat hair ties found around the house. Upon exploratory surgery, more than 30 hair ties and other string-like objects were removed. Yogi was back to his normal self the very next day.
The Pup Who Swallowed The Spoon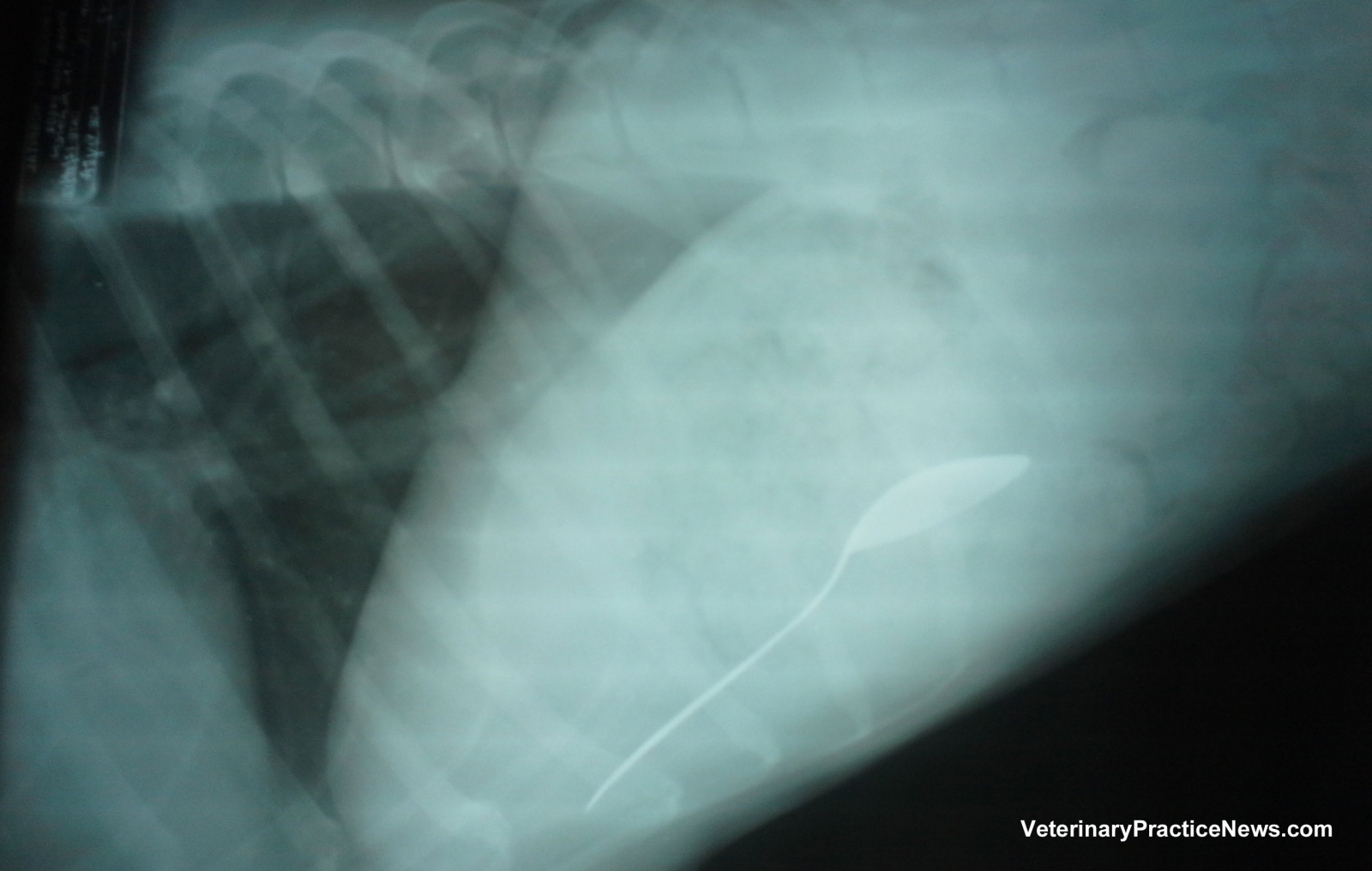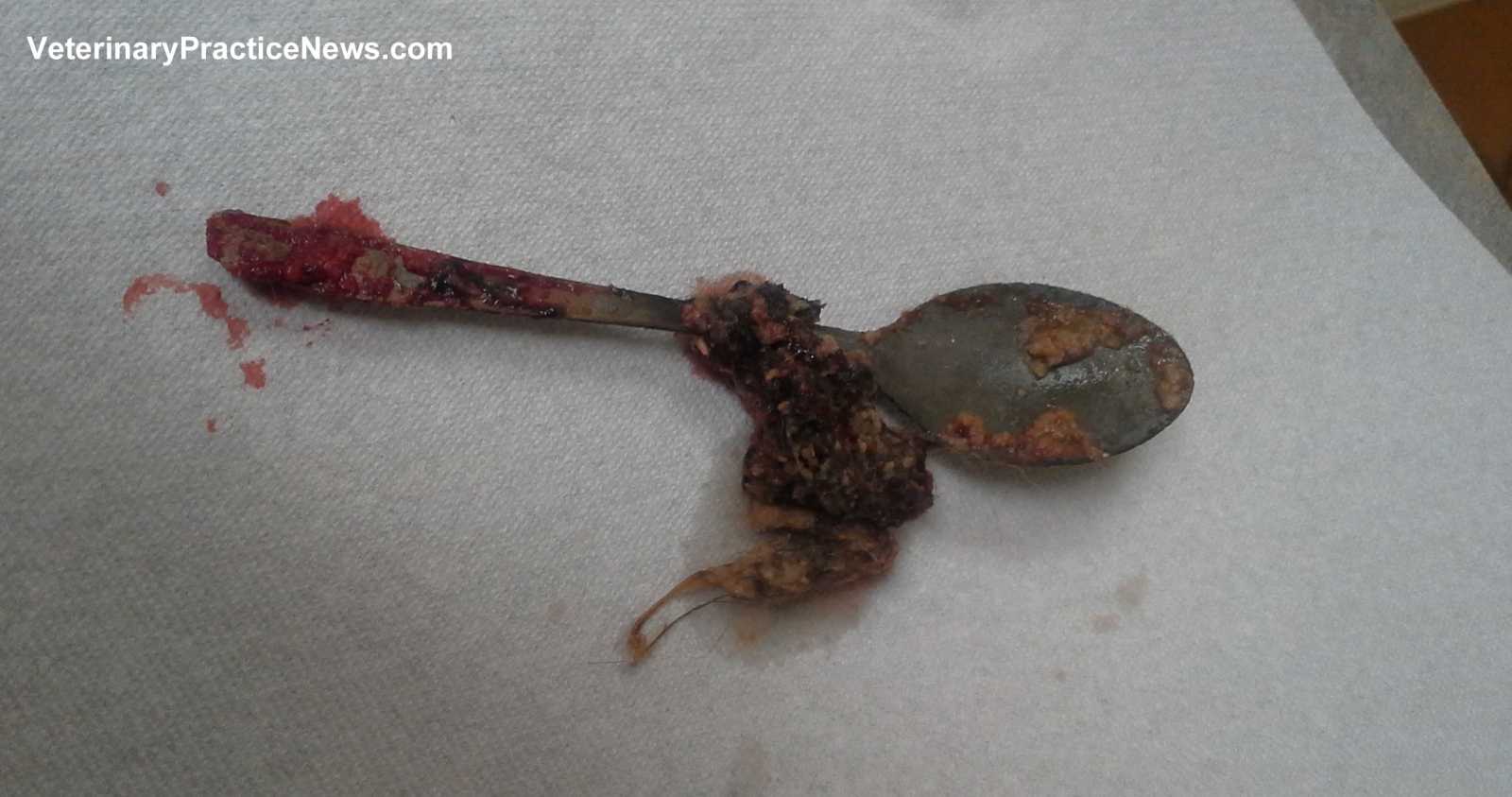 Heather Riggs, CVT
RiverWoods Pet Hospital, Provo, Utah
A 4-year-old spayed mixed-breed dog presented for a small lesion on her ventral thorax, just caudal to the sternum. The lesion was red and inflamed, not painful and unresolved with topical treatments. Palpation in the standing patient was normal. The veterinarian finally persuaded the owner to allow radiographs. The results left us speechless. The lesion was formed by an ingested spoon. The stomach had formed a fistula around the spoon and amazingly hadn't perforated. The spoon wasn't palpable when the patient was standing, but when she would lie down in sternal recumbency, the spoon must have pushed forward, forming the lesion on her skin from the pressure. The spoon was successfully removed within an hour of the radiographs, and the dog recovered with no adverse effects.
Who Chewed the Gorilla Glue?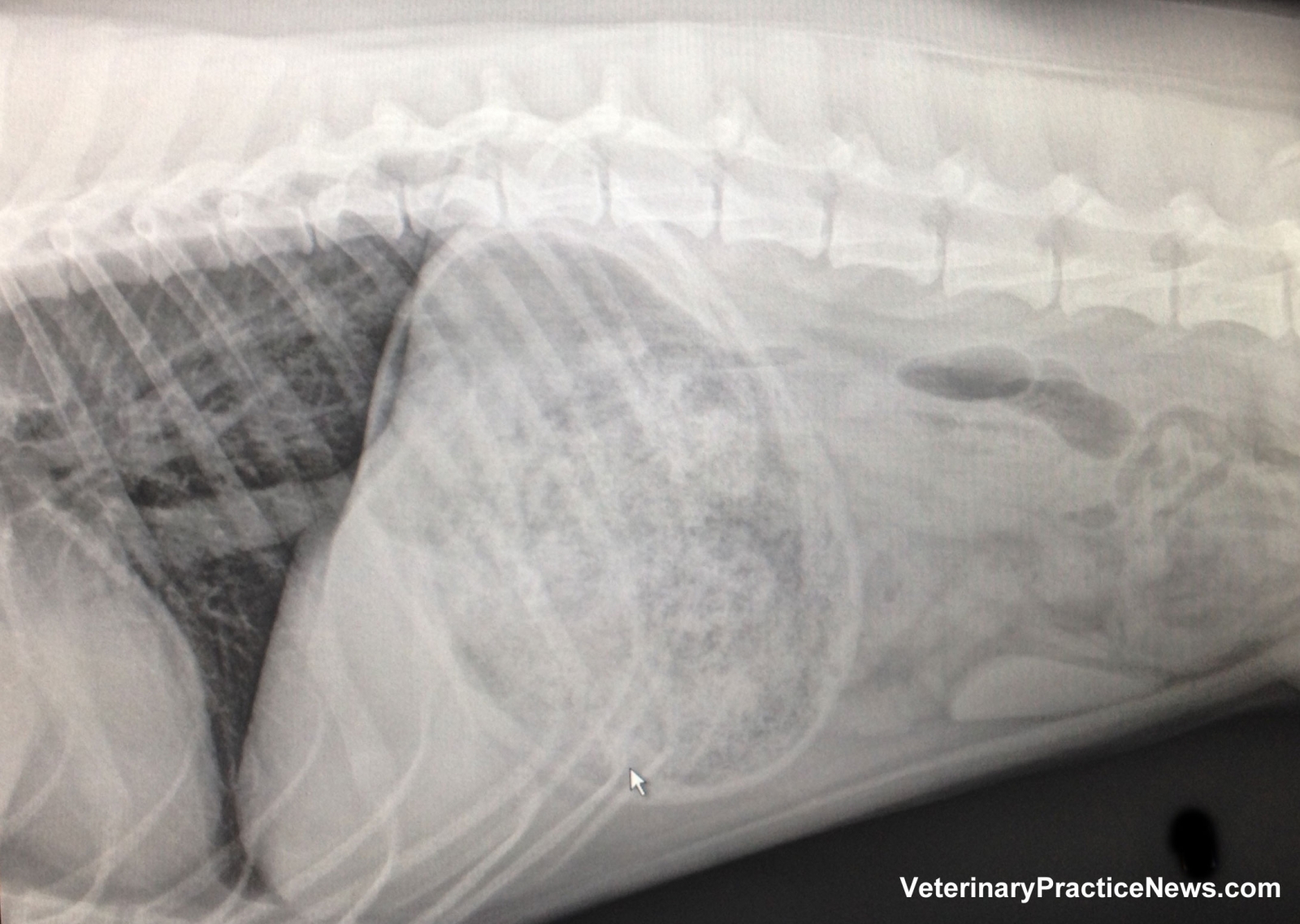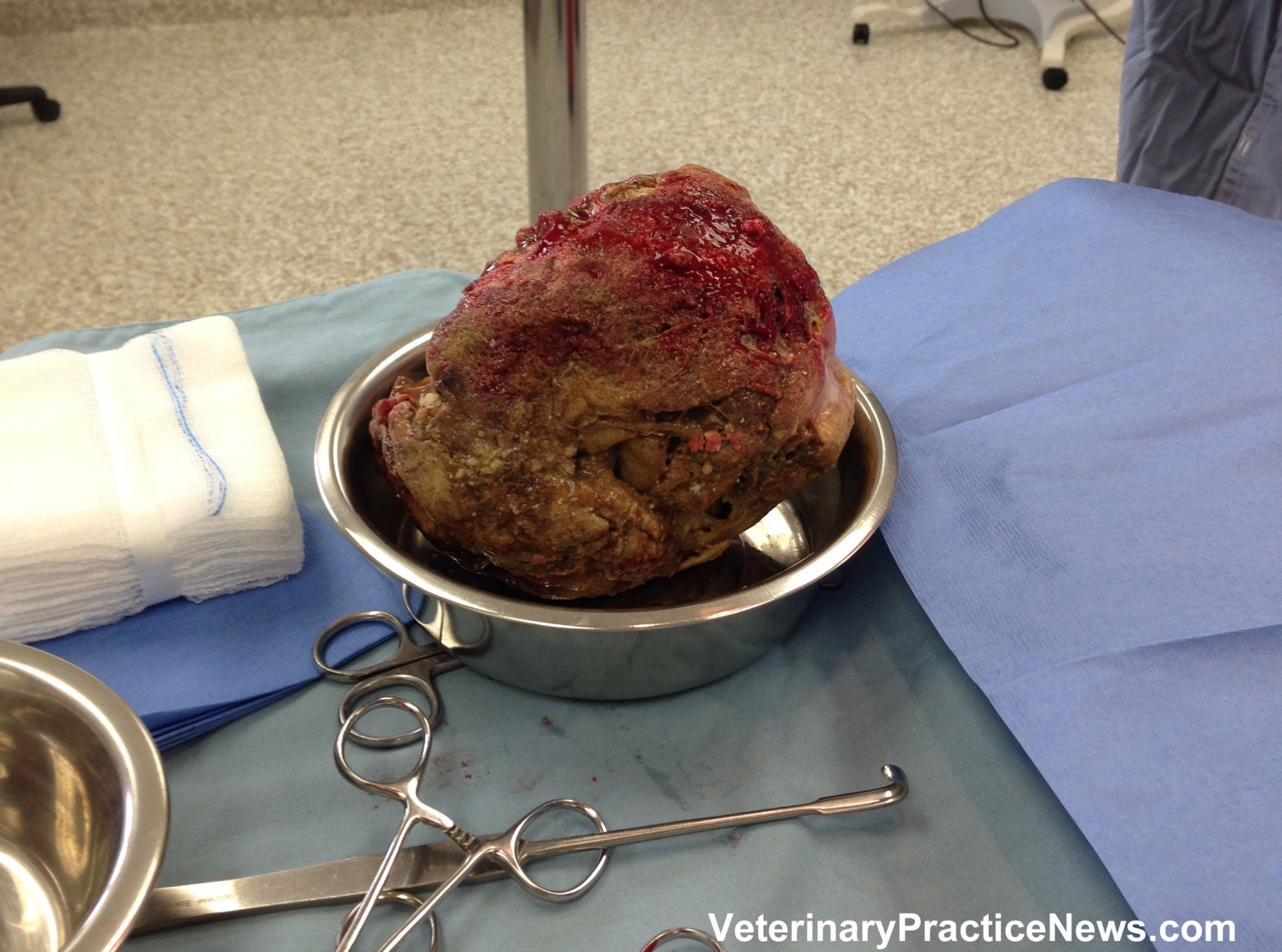 Sara M. Popp, DVM
Countryside Veterinary Services, Appleton, Wis.
A 92-pound, 21-month-old spayed boxer mix presented after two days of vomiting and anorexia. Her owners reported finding a chewed bottle of Gorilla Glue. Radiographs revealed a foreign body in a distended stomach. Exploratory surgery was done, and a large, solid mass of expanded glue was removed in one piece. The dog recovered uneventfully.
T-Rex, Devoured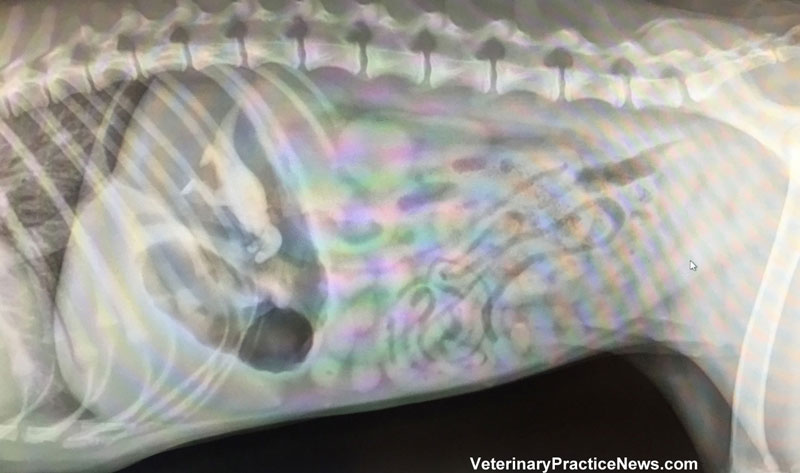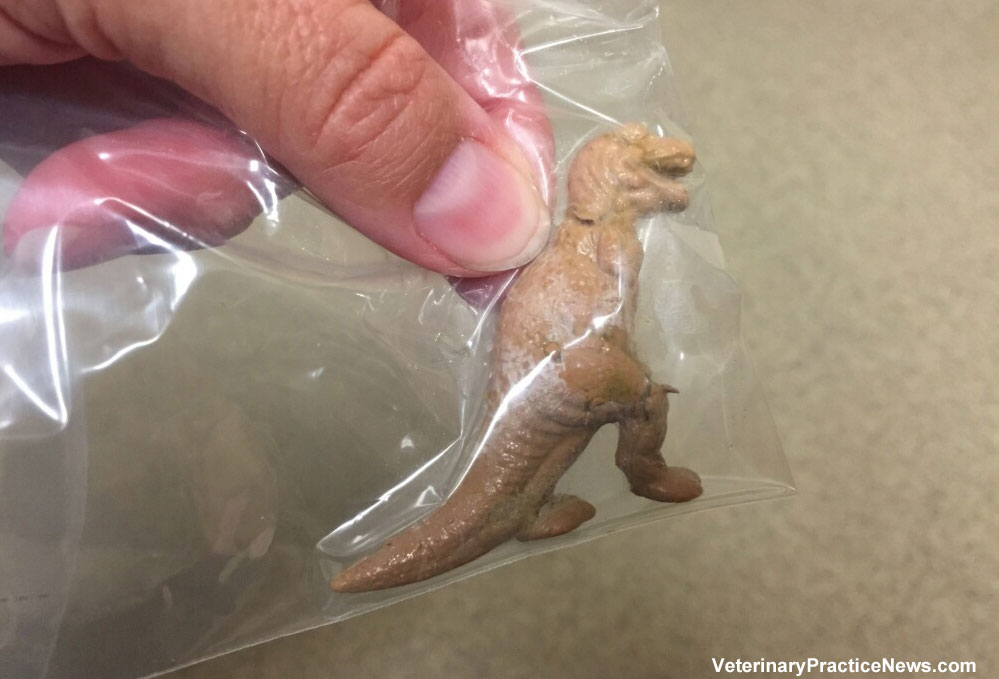 Laurence Wahl, DVM
Laguna Grove Veterinary Hospital, Laguna Niguel, Calif.
Heather Mineo, DVM
Veterinary Medical and Surgical Group, San Juan Capistrano, Calif.
Olive, a 7-month-old female labradoodle, suffered from several days of inappetence, vomiting and watery diarrhea. Abdominal radiographs showed a radiodense unidentifiable foreign body in the pylorus. The dog was referred for endoscopy. The stomach was insufflated with air and re-radiographed. The mystery object was removed endocopically, and both the patient and T-rex are doing fine.
All That Glitters… Should Not Be Ingested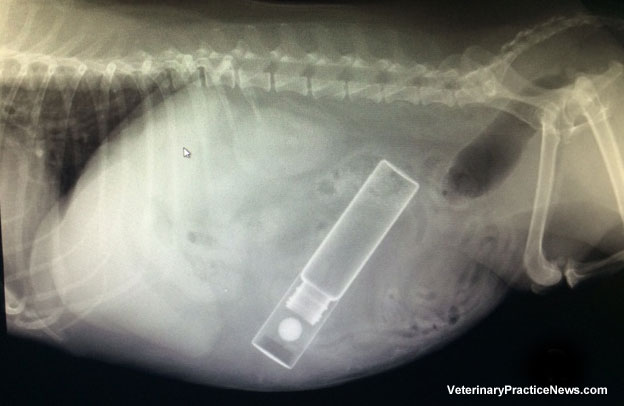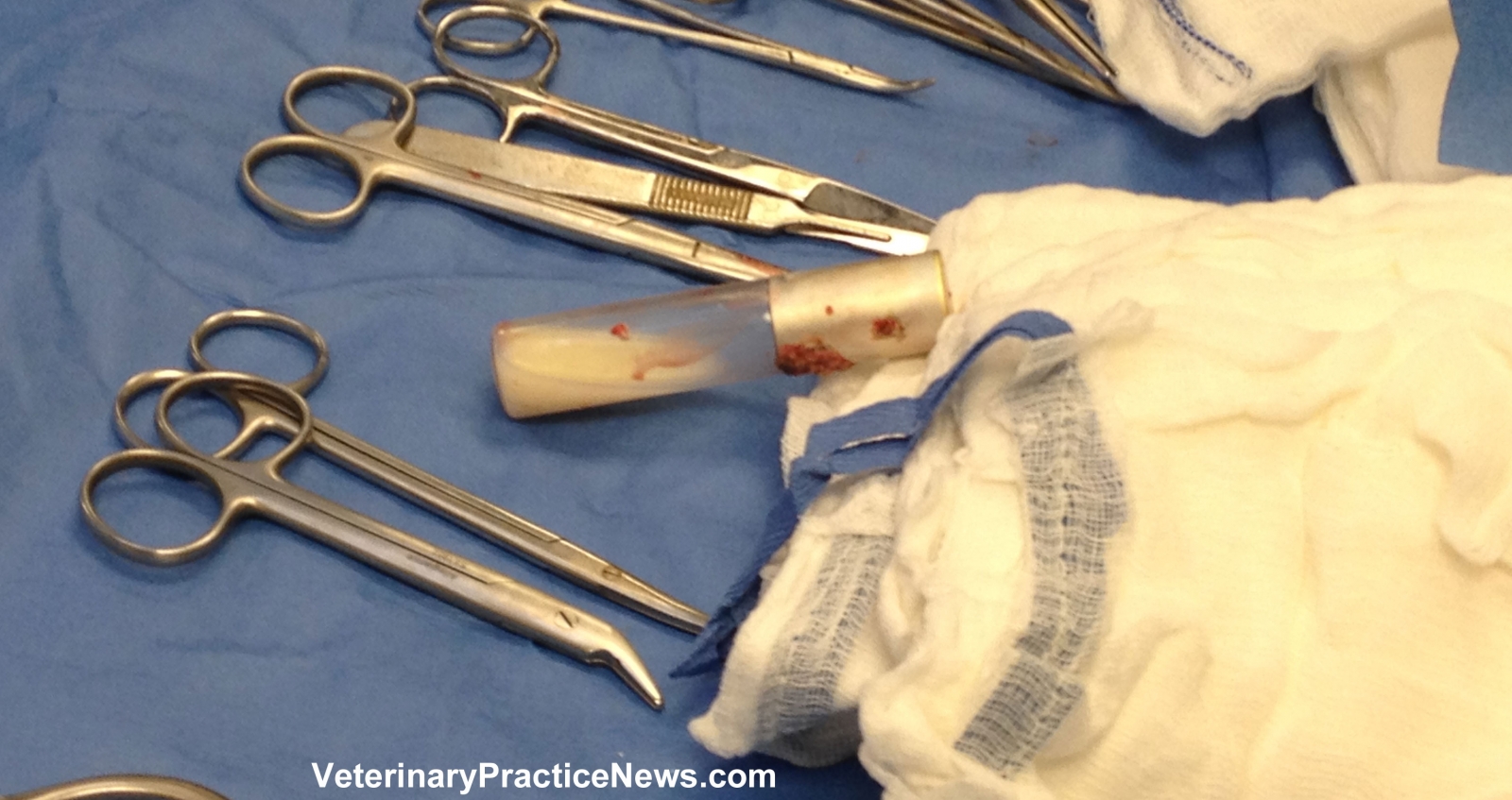 Shawn Kearns, DVM, Dipl. ACVIM
Angell Animal Medical Center, Boston
Emily, a 4-year-old spayed Chihuahua, presented with possible constipation. On palpation, I felt something very firm and with edges. Radiographs showed a very large foreign body. Emily went to surgery the same day, at which time a spray bottle of glitter perfume/cologne was found in the abdomen. What makes the case stranger is that the bottle was free-floating in the abdomen. Though there were adhesions next to the colon, there was no evidence of perforation along the GI tract. The patient had an uneventful recovery from surgery and continues to do well.
The Pads Inside the Pup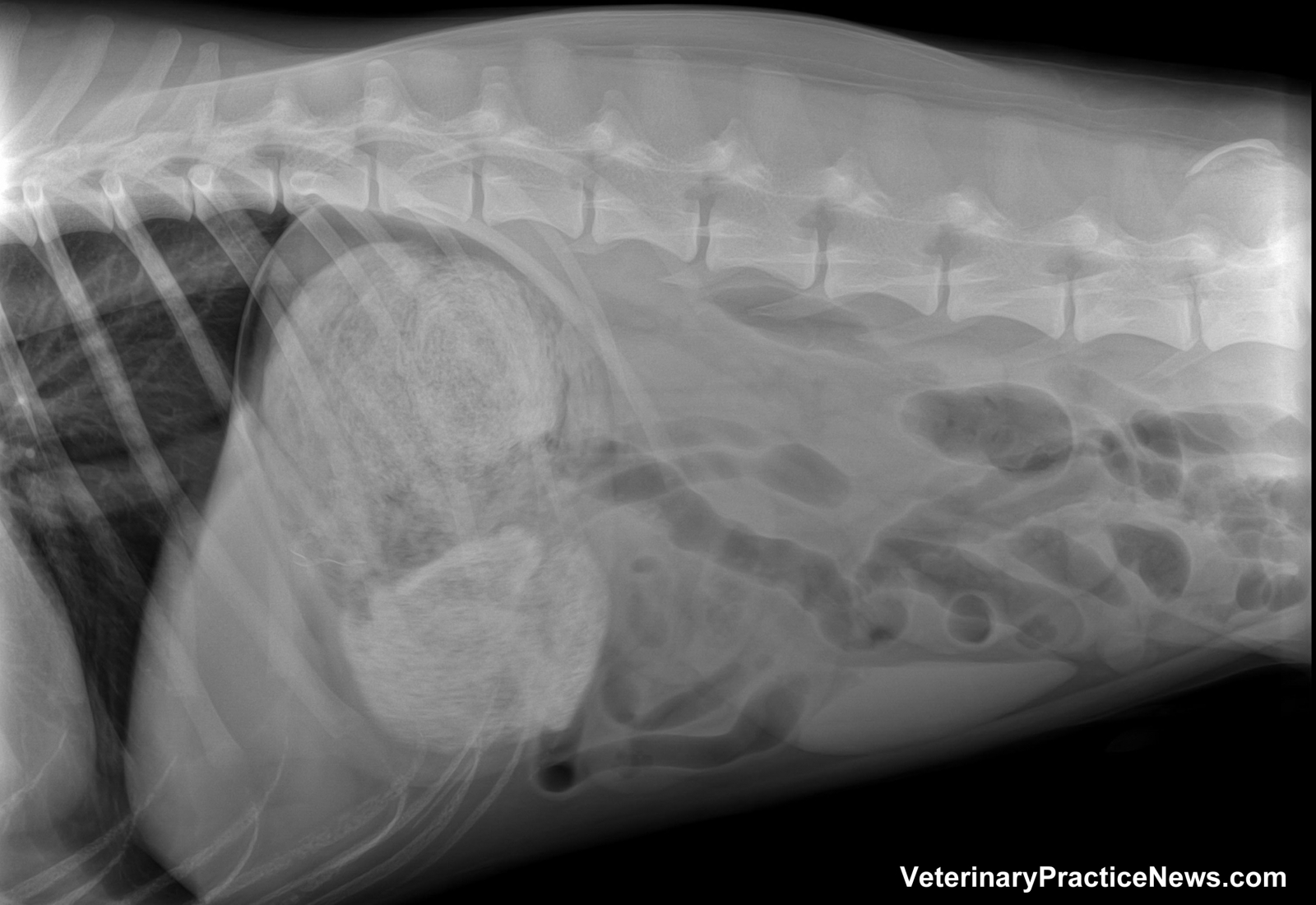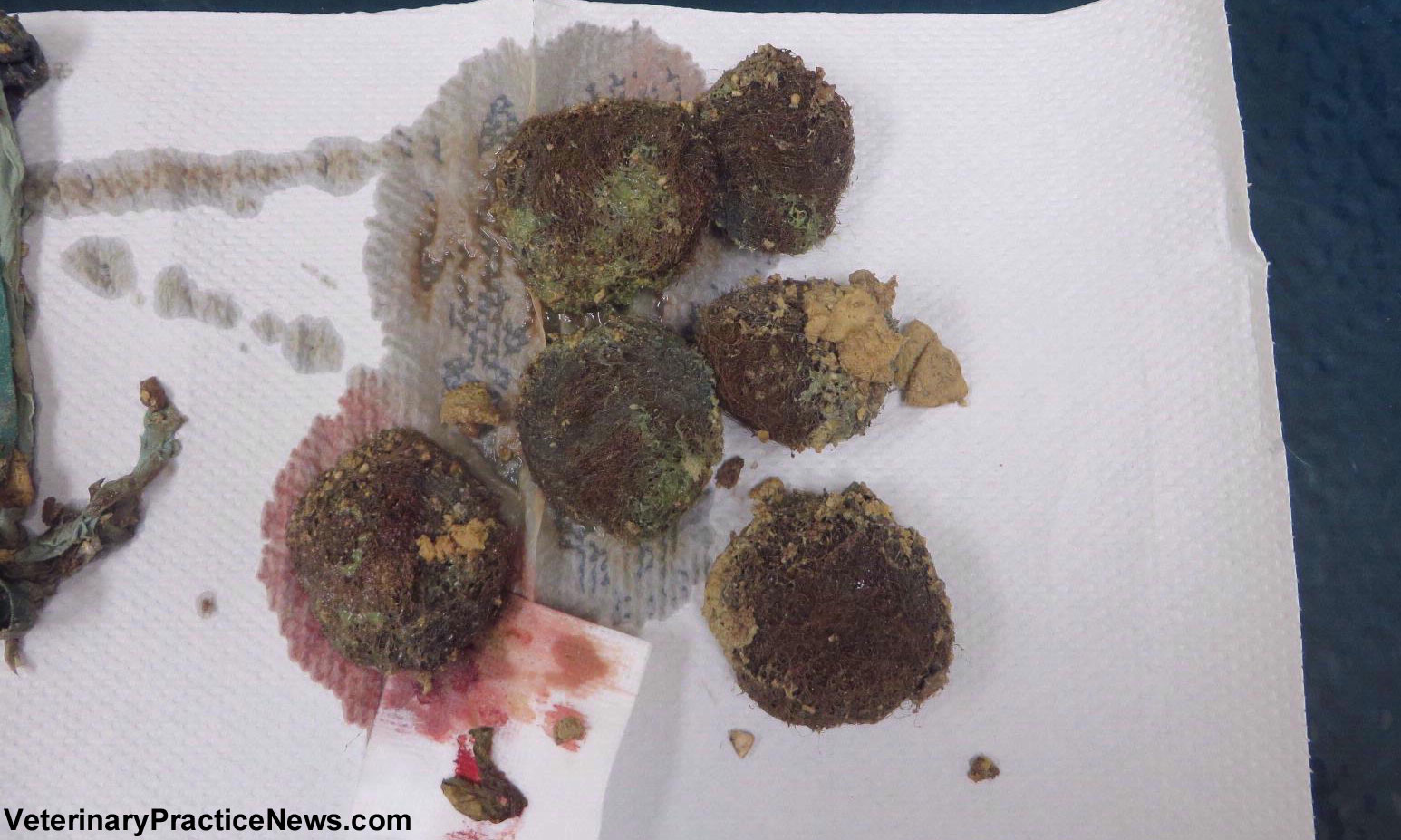 Alicia Konsella, DVM
Intermountain Pet Hospital, Meridian, Idaho
The owner of a 2-year-old labradoodle saw the dog eat seven steel wool soap pads. One was regurgitated, but decreased energy and appetite followed. Exploratory surgery was performed. The remaining six pads were removed along with a pair of underwear and a strip of pliable plastic.
A Unique Way to Gain Some Weight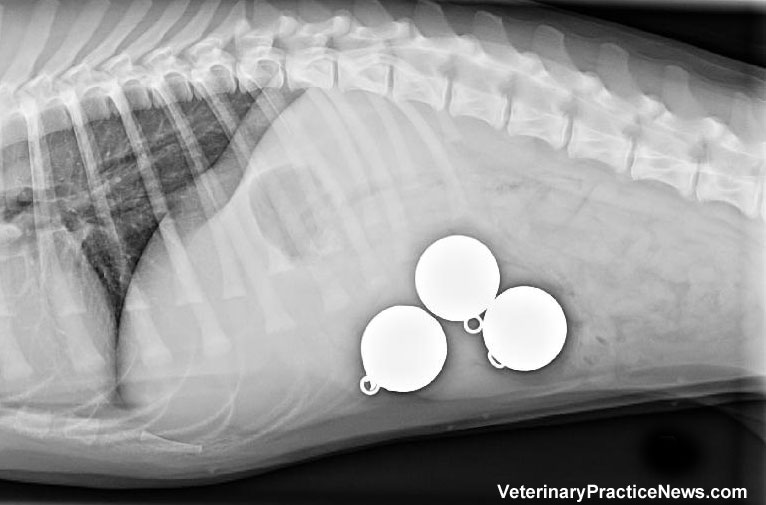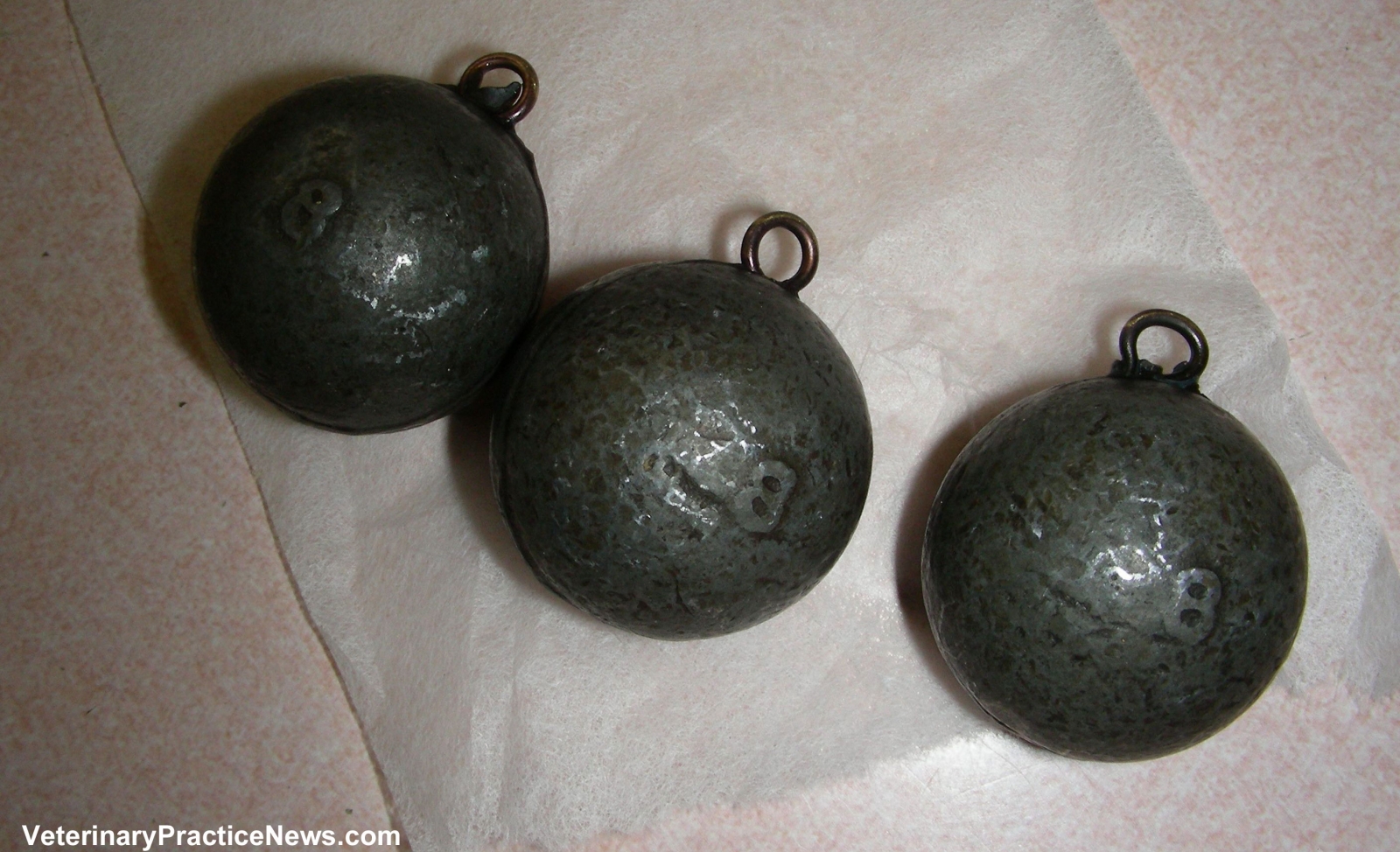 Chicory Eddy, DVM
Powell Boulevard Veterinary Clinic, Portland, Ore.
A 4-month-old Labrador retriever went fishing with her owner. Later in the day she was very lethargic and didn't want to eat. Radiographs showed three 8-ounce fishing weights. An emergency gastrostomy was performed to remove the very heavy weights. The puppy was back to her old self two days later.
An Unfortunate End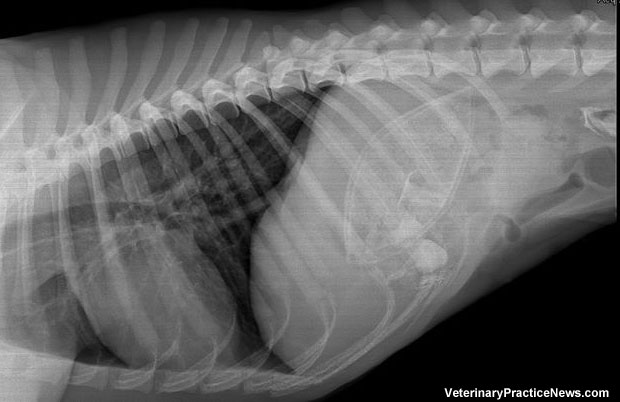 Ali Ergül, DVM,
Pet Address Veterinary Clinic, Istanbul, Turkey
A 2-year-old male pitbull terrier presented with extreme vomiting. The owner reported that the dog had eaten a ball three months earlier. The ball and some pieces of bone were extracted from the stomach during surgery. Unfortunately, the dog died two days later.
The Figurine Collector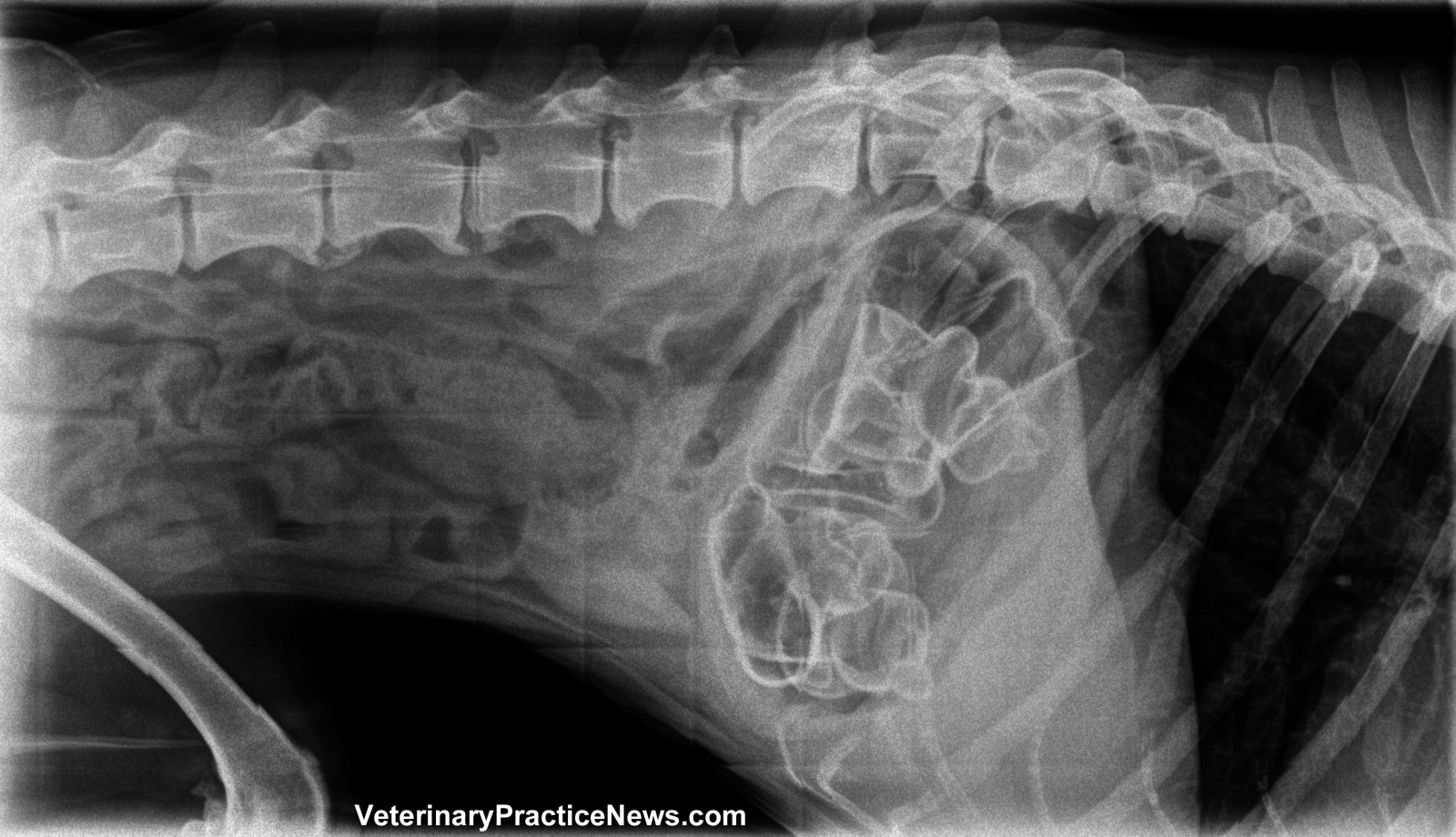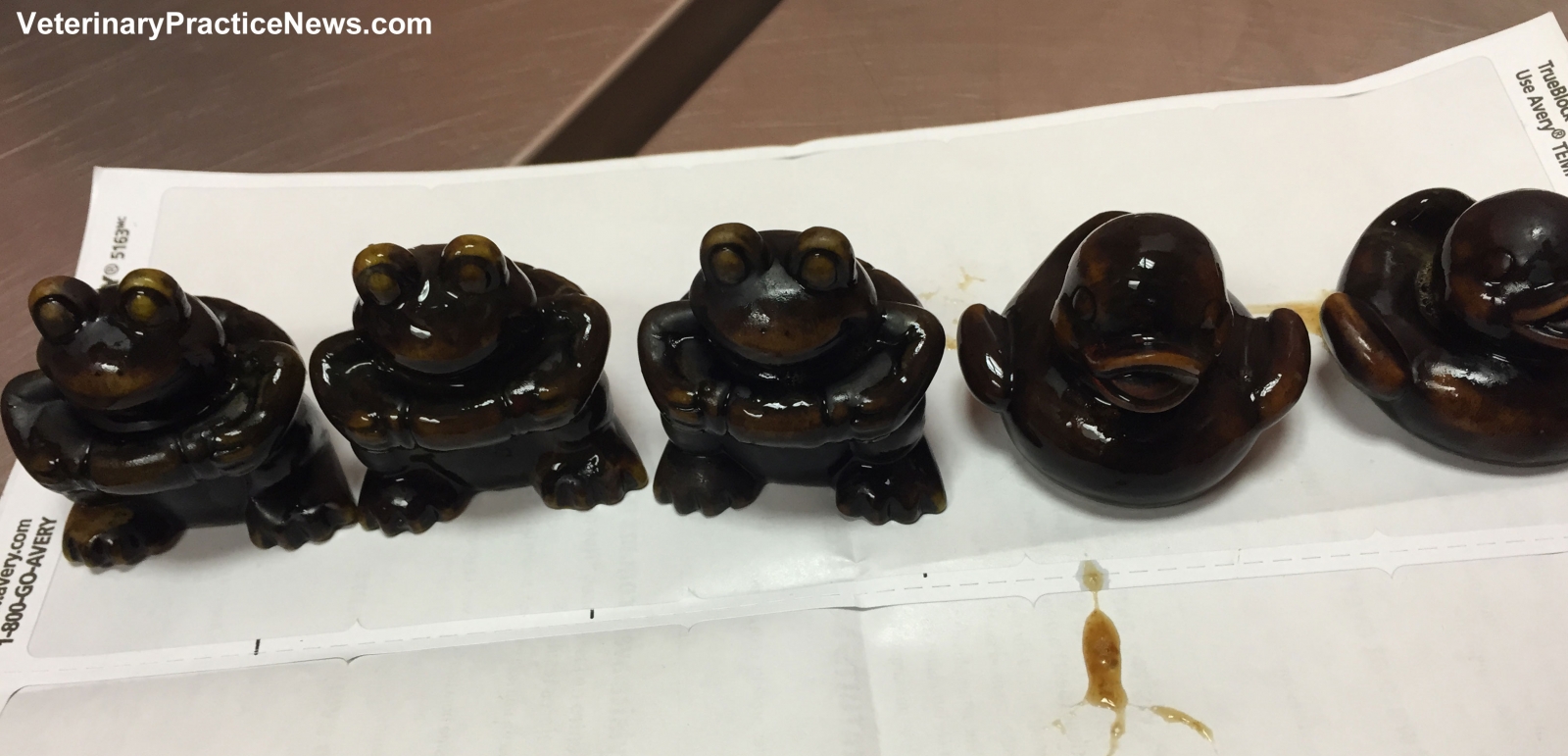 Manjeet Singh, DVM
Aadobe Animal Hospital, Staten Island, N.Y.
Ace, an 8-year-old, 38.7-pound neutered border collie, had a history of chronic vomiting. Upon examination, the canine was found to be dehydrated and suffering from noticeable weight loss. No major abnormalities were detected in the complete blood count and serum chemistry analysis. Abdominal radiographs revealed multiple foreign bodies in the stomach. A gastrotomy was performed to remove plastic toys: three frogs and two ducks. Ace recovered fully, gaining 6 pounds within 30 days
Teddy Bears: Not Just for Cuddling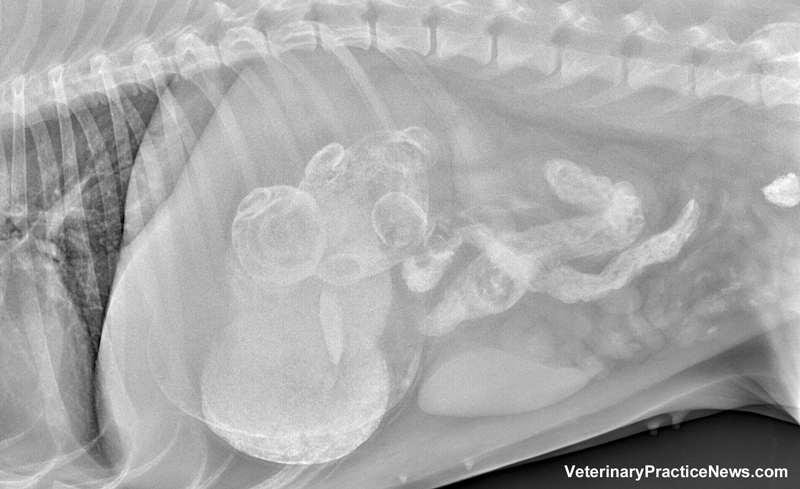 Corby Holson, DVM
Duluth Animal Hospital, Duluth, Ga.
Ryder, a 4-year-old American bulldog, had been vomiting for two days. Standard X-rays didn't reveal anything obvious, so we gave her barium. A teddy bear was surgically removed, and Ryder recovered fully.
The Lizard Who Ate the Kong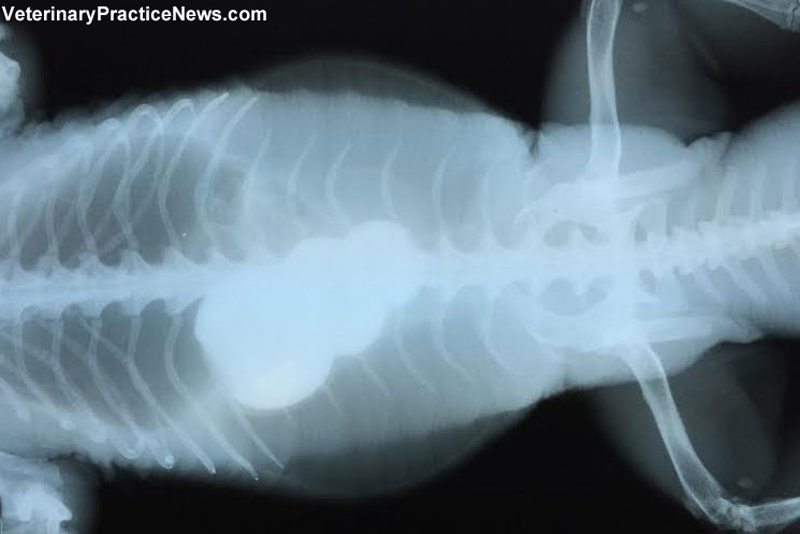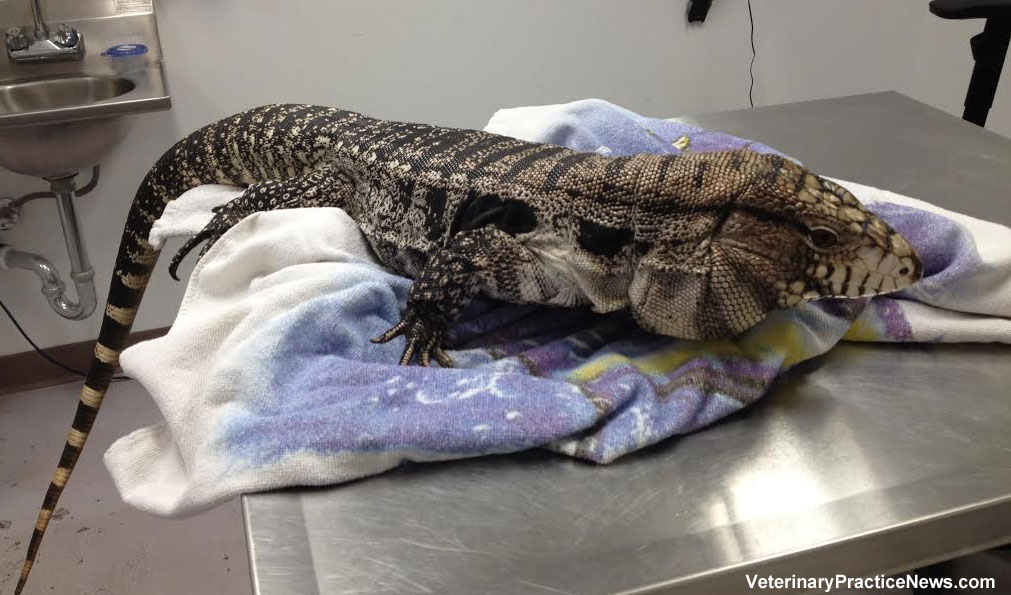 Leslie Pence, DVM
West Esplanade Veterinary Clinic, Metairie, La.
Beaugard, a 5-year-old tegu monitor, presented after two months of anorexia. A firm stomach was palpated, and radiographs revealed the outline of a rubber Kong dog toy, which the owner said had been missing for two or three months. A gastrotomy was performed that afternoon, and the toy was successfully removed. Beaugard made a complete recovery.
The Rock Concert Inside the Dog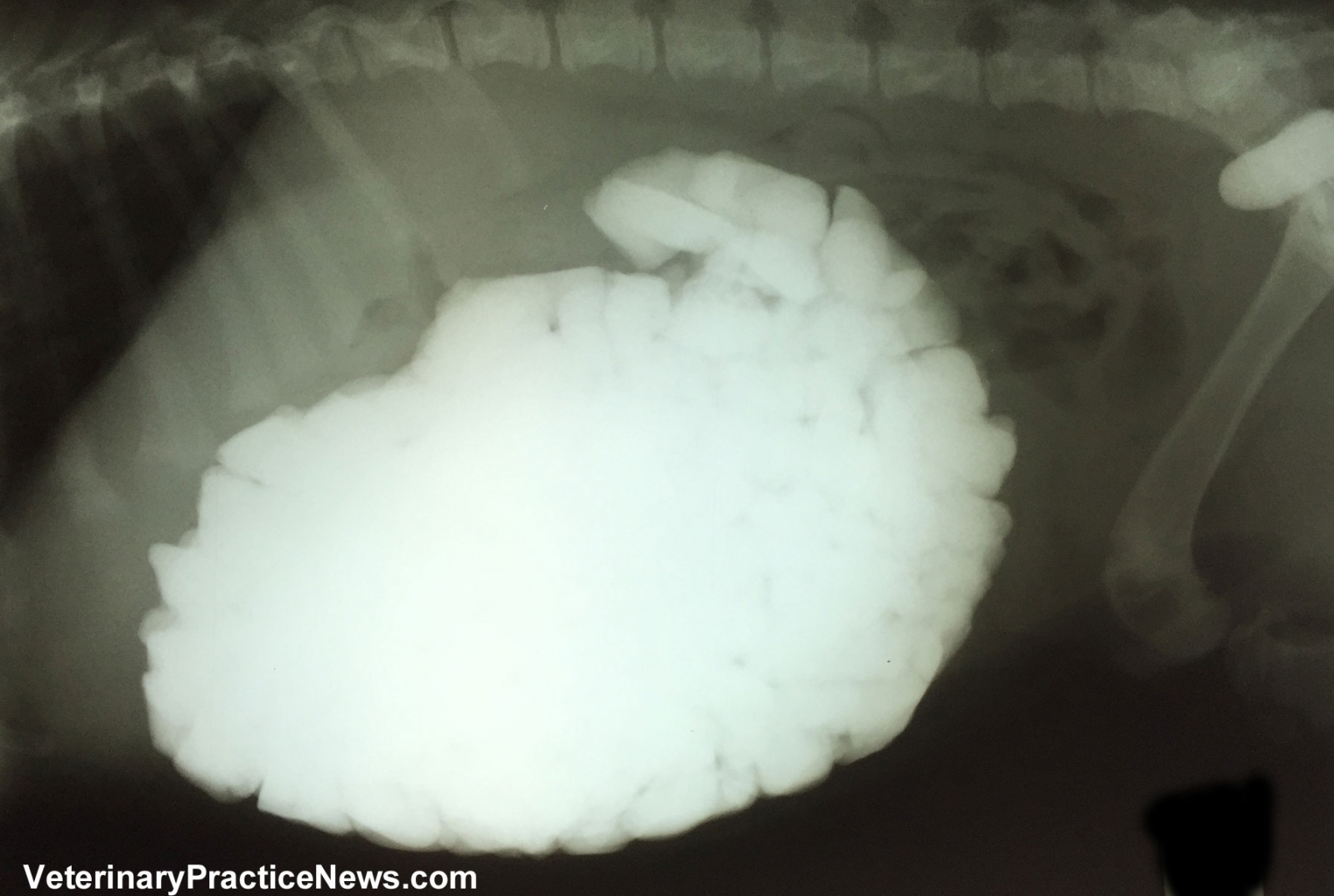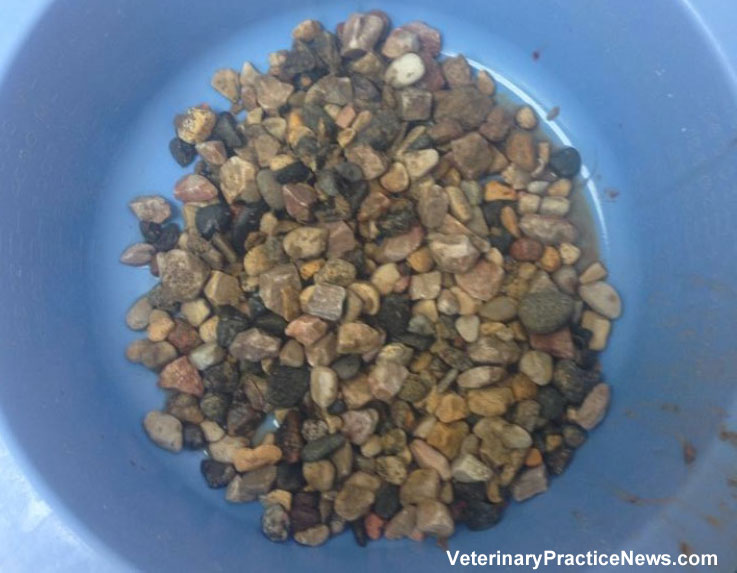 Heather Carlisle, DVM
Oahe Veterinary Clinic, Fort Pierre, S.D.
Danner, a 4-month-old male English cocker spaniel, presented after the owner found him "looking full and feeling crunchy." His abdomen literally felt and sounded like a bag of rocks. An abdominal exploratory was done, and we retrieved 2.6 pounds of rocks. Danner recovered well and is in training for his job as a bird dog. He is referred to as "Crunch" in our clinic.
A Sad Reminder Not to Give Your Dogs Bones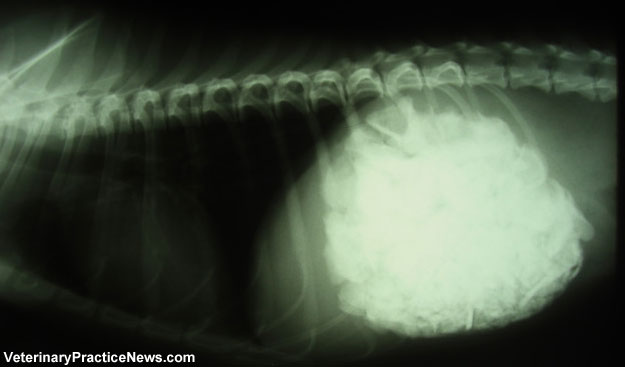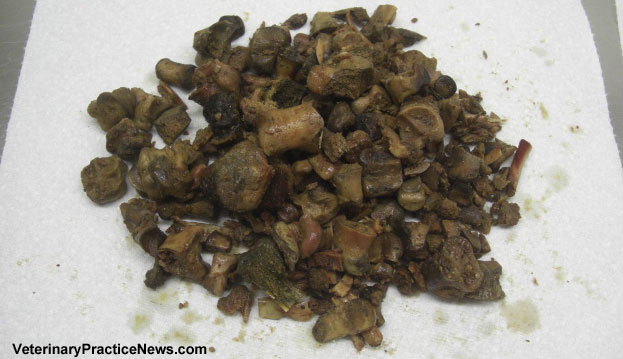 Penny Clauss, DVM
Dallas County Veterinary Hospital, Balch Springs, Texas
A 4-year-old male dachshund that had been lethargic and vomiting bile was referred to us by a local emergency clinic. The pet was gurgling and gulping repeatedly. On exam, the cranial abdomen seemed hard and had a grating sensation. The owners allowed radiographs after the pet threw up a piece of bone. Surgery was performed, and many bone pieces of various sizes were removed. Several pieces seemed to have been in the stomach longer than others. The owners said they gave him a few bones before the dog became sick but not enough to justify what was found in the stomach. Sadly, the dog died the next day.
The Dog Who Ate the Halloween Decor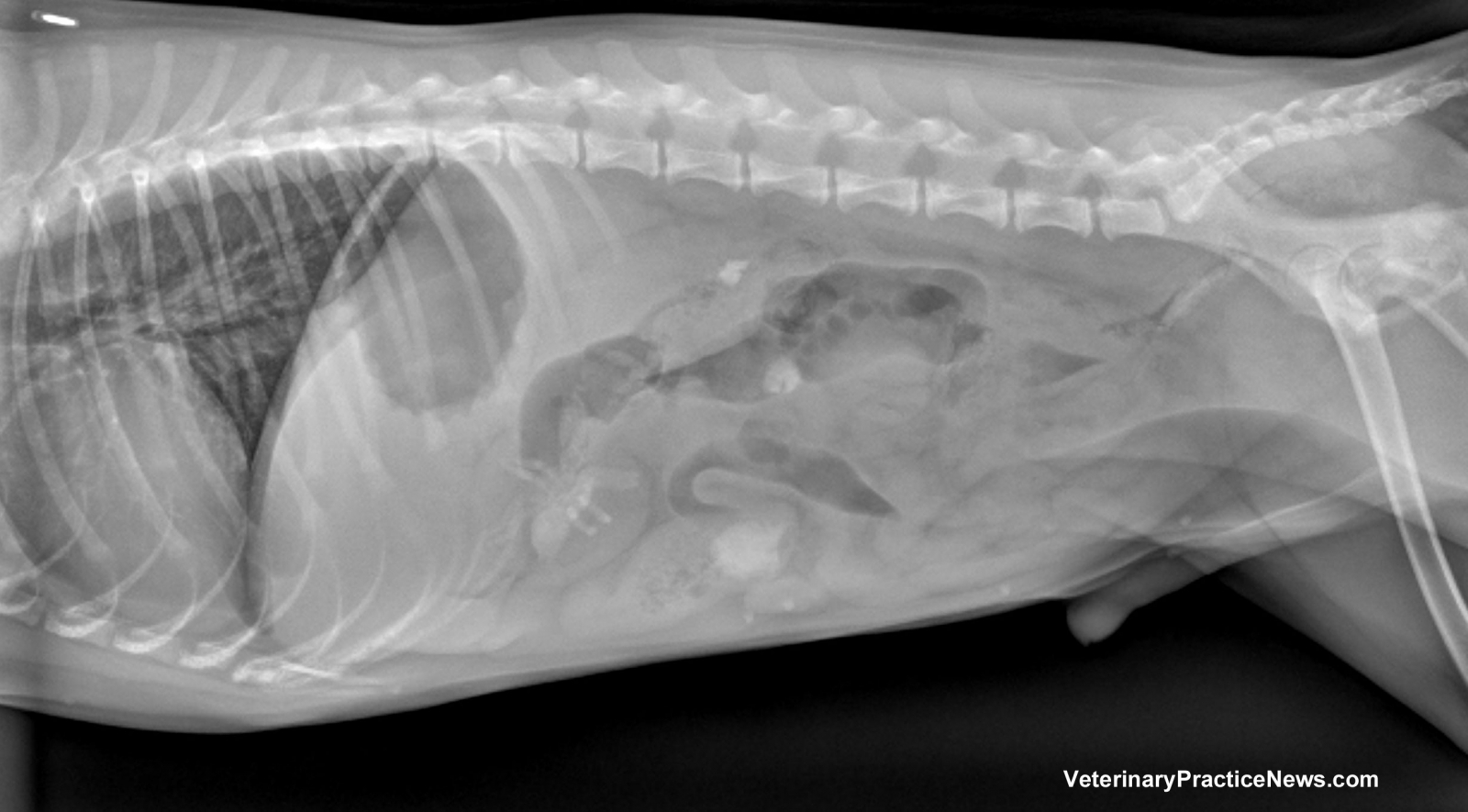 Trisha Burbach, DVM
RalstonVet, Ralston, Neb.
Samson, a 5-month-old puggle, had been lethargic and vomiting all morning. He was prone to eating odd things, and the night before he had gotten into a bathroom garbage can. X-rays revealed a surprising foreign body. When I showed the X-rays to the owners they remembered displaying plastic spiders at their Halloween party. Surgery was done, and foreign body was found about one-third of the way through the jejunum, with plications extending proximal to the stomach. This was a partial plastic spider with yarn and ribbon wrapped around it in the jejunum. The material extended to the stomach, where it was wrapped around a complete spider. Samson recovered quickly and is doing great.
The Snake Whose Appetite Was Bigger Than His Stomach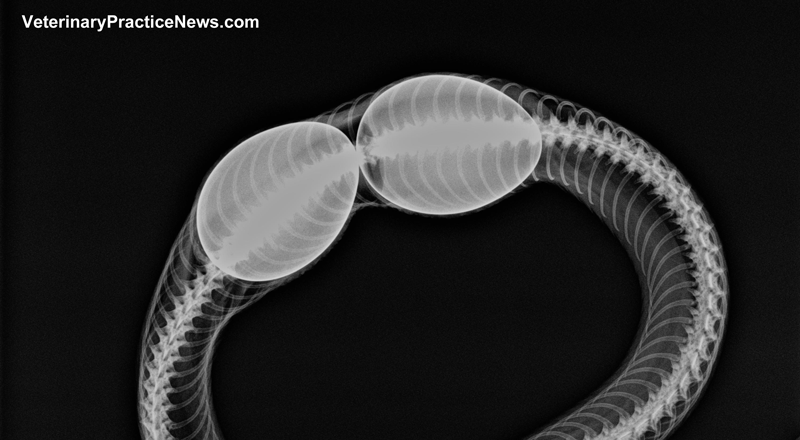 Carol Marusak, VMD
All County Animal Hospital, Brooksville, Fla.
A wild yellow rat snake that obviously had eaten something was lying in our veterinary technician's backyard for a few weeks. Because the snake appeared not to be digesting or moving much, she brought him in for X-rays and an exam. We discovered two intact peacock eggs. We were able to crush the eggs and treat the snake for dehydration, but he died a few days later.
Want to see more X-rays? Check out the past winners!
The annual "They Ate What?!" X-ray contest is meant to serve as an educational tool for veterinarians and pet owners. If you suspect your pet has ingested a foreign body, get it to the veterinarian right away. The longer you wait, the more damage is possible, the harder it can be to retrieve the item and the more expensive the veterinary bill is likely to be.