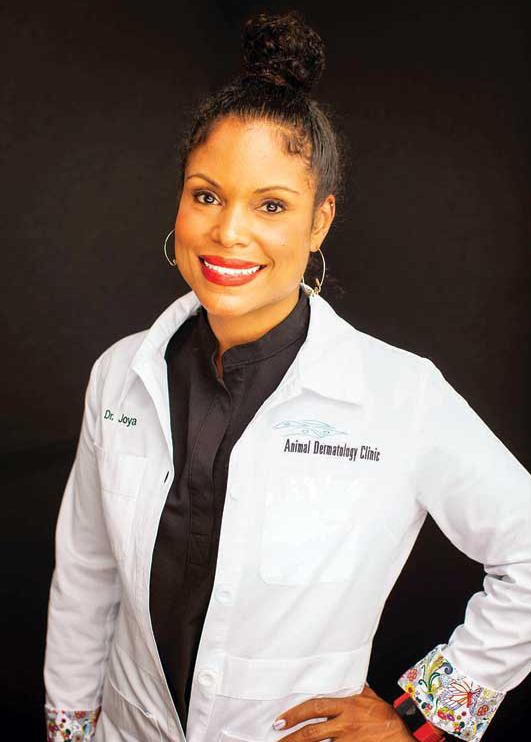 Oozing cysts? Check. Unexplained hair loss? Check. Rashes, skin abrasions, and chronic conditions requiring a lifetime of monitoring? Triple check.
With its range of presentations and symptoms, dermatology is certainly a unique specialty—one that presents a scope of unpredictable challenges and occasional gross moments. What's more, it makes for fascinating, captivating TV.
While curious viewers have long-enjoyed reality shows focused on human skin, Pop Goes the Vet with Dr. Joya on Nat Geo WILD turns the lens to the animal kingdom, following Joya Griffin, DVM, DACVD, and the menagerie of patients she treats at Animal Dermatology Clinic in Louisville, Kentucky.
The cases may seem bizarre for those tuning in, but, for Dr. Griffin, it's all in a day's work.
"I have pet parents tell me daily they did not know a dermatologist for animals existed," she tells Veterinary Practice News. "I'm grateful to introduce and expose the world to the specialty I hold near and dear."
In addition to filming the show, Griffin, who is a graduate of Cornell University College of Veterinary Medicine, manages her full-time clinic and two part-time satellites—all while raising three children alongside her husband, Forrest Cummings, DVM, DACVIM-SAIM.
She is also dedicated to helping prepare future generations of veterinary professionals, serving as an alumni ambassador for the admissions service of Johns Hopkin's University, an instructor of fourth-year veterinary students from Lincoln Memorial Veterinary School, and an alumni mentor for the Cornell Black DVM Network as well as training her own dermatology resident.
"I'm also a mentor through the Sankofa Veterinary Project, a high school program aimed at exposing BIPOC (Black, Indigenous, People of Color) students to the veterinary field," she says.
Veterinary Practice News recently caught up with Griffin (a.k.a. Dr. Joya) to learn more about her television journey and scratch the surface of veterinary dermatology.
1) What inspired you to pursue dermatology?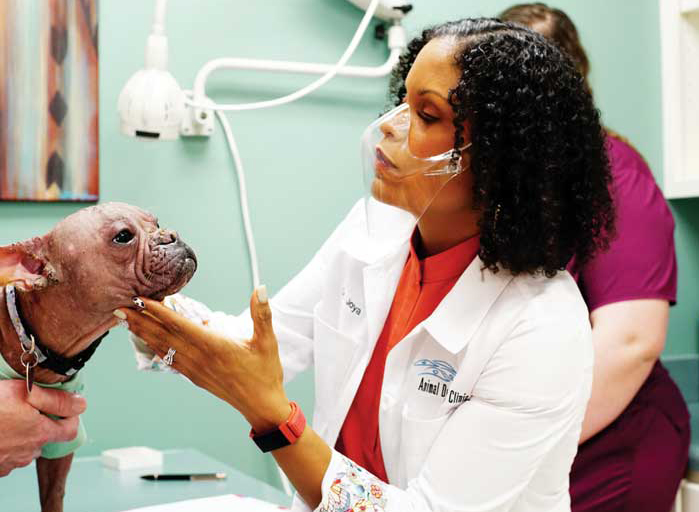 My path to veterinary dermatology was through my own pet, Gizmo, who had terrible skin. She was my family's first Lhasa Apso. Her skin was so itchy and infected she had to live in an e-collar because we could not get her the care she needed in our home town.
I took her to veterinary school with me, and the first thing I did was schedule an appointment with the dermatology service. The resident at the time, Dr. Kris Cook, treated her and made a huge difference in her skin and quality of life. The transformation was amazing—we got our dog back. I saw firsthand what a lasting difference great dermatology care can make in a pet's life, and I wanted to give that to my patients.
I studied as much dermatology as I could. I did research with Dr. Danny Scott during veterinary school and presented the findings at my senior seminar. I was able to publish the research, which helped me eventually gain a residency position.
2) Which species of animals do you treat?
I treat any species with skin or scales! With skin being the largest organ, all animals can, at some point, have diseases affecting the skin.
I mainly treat dogs, cats, and horses, but am trained in treating diseases across many species. I have seen reptiles, snakes, pocket pets (like rabbits and guinea pigs), and wildlife, such as raccoons and foxes. I have a variety of zoo patients as well. I treat a jaguar, goat, Goeldi's monkey, red panda, and Fennec fox at the Evansville Zoo, and have examined a polar bear at the Louisville Zoo. I also recently treated Twinkie, the cutest little pot-bellied piglet.
As an aside: Check out the second episode of my show to see me perform surgery on a King Cobra named Puppy!
3) What are some of the most common ailments you encounter?
I treat a lot of skin allergies in dogs and cats, as well as internal diseases that affect the skin and haircoat, such as hyperadrenocorticism and hypothyroidism. Many autoimmune diseases will also affect the skin, ears, and claws. I love treating autoimmune diseases because each case is unique, and you have to
make incremental adjustments along the way to get the patient into remission. The diagnosis is not always straight forward.
I also enjoy treating unusual fungal and fungal-like diseases, such as blastomycoses, phaeohyphomycoses, and pythium. Allergy management, though, has my heart because these cases require a lot of close long-term management. I individualize the treatment plan for each patient and create a partnership with my pet parents. Together, we find the best care plan for their pets.
4) Tell me about your journey with Pop Goes the Vet with Dr. Joya. Have you found the program has increased understanding of the scope of your work?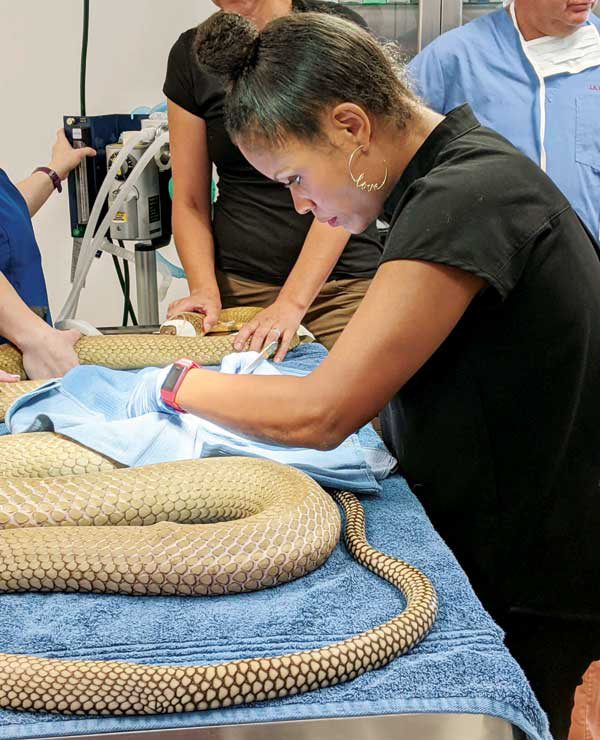 Being able to show the world what I do as a veterinary dermatologist and the fun work environment I have created has been a dream. I work hard daily to provide the best care for my patients and their pet parents and allowing people to see this and be introduced to the field of dermatology has been amazing. Dermatology is a little-known specialty. I have pet parents tell me daily they did not know a dermatologist for animals existed or that they wish they had known of us sooner. I am grateful to introduce and expose the world to the specialty I hold near and dear and I'm hoping this will allow pets to get the dermatologic care they deserve.
The feedback I have received about the show has been amazing. I am inspiring so many children to go into veterinary medicine and even dermatology and that has made all of this worth it. The Louisville community has greatly supported the show and I am hoping the show serves as a platform to spread positivity and show a side of veterinary medicine that is fun, transformational, and just a tiny bit gross!
5) How can veterinarians effectively facilitate client conversations about skin health to maximize patient health?
I think one of the hardest parts of veterinary dermatology is that most skin conditions are chronic and there is not going to be an easy and fast fix. Most of what I treat requires a partnership with the pet parent and long-term management. Explaining the disease processes and treatment plan is the first step in helping pet parents understand their pet's conditions can be improved, but it's a step-by-step process.
Pop Goes the Vet with Dr. Joya airs on Nat Geo WILD!