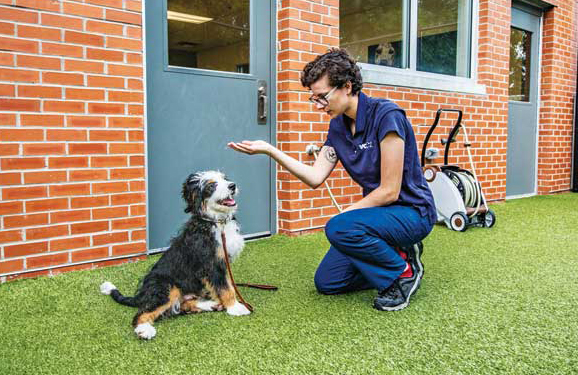 Pets living in animal shelters across the U.S. will soon to have increased access to timely and essential veterinary care with the funding of a shelter medicine internship program.
Nonprofit organization Petco Love has announced $510,000 in funding for the University of Florida (UF) College of Veterinary Medicine's Shelter Medicine Program. The grant will support six veterinarians to become skilled in the emerging area of shelter medicine veterinary studies.
"This accelerated program empowers students with the necessary skills to provide quality care which shelter pets deserve," says Susanne Kogut, president of Petco Love. "A goal of supporting this program is to also address the shortage of veterinarians practicing Shelter Medicine across the U.S."
Top-performing senior veterinary students from across the country are invited to join the program upon graduation from veterinary school. The one-year internship at the UF College of Veterinary Medicine will include a focus on shelter animal care, surgery, disease outbreak intervention, forensics, disaster response, behavior, public health, and high-quality, high-volume spay-neuter.
The increase in shortage of shelter veterinarians has impacted animal welfare organizations nationwide, with hundreds of veterinary vacancies in shelters and spay-neuter clinics. This gap delays veterinary care and spay-neuter surgeries, resulting in increased euthanasia of shelter pets.
"Tough times for both the veterinary profession and animal welfare organizations are colliding to roll back progress in animal welfare," says Julie Levy, DVM, PhD, DACVIM, DABVP, Fran Marino Endowed Distinguished Professor of Shelter Medicine Education at UF.
With most newly graduated veterinarians being trained specifically for private practice, the industry sees a lack in specialized training and technical skills required for shelter practice.
"This fast-track immersive training will prepare highly skilled and resilient veterinarians who are equipped and motivated to step into high-impact careers in Shelter Medicine," says Dr. Levy.
The Shelter Medicine internship program combines training with UF faculty, working alongside both shelter veterinarians from resource-limited rural facilities and multi-doctor urban centers.
For more information about the UF Shelter Medicine Program, click here.