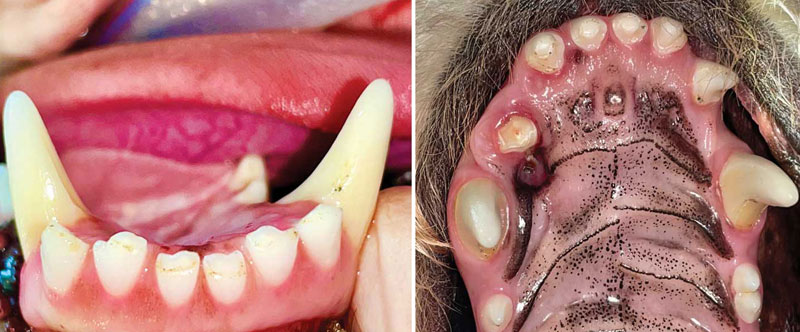 Dave, a 1.5-year-old goldendoodle, recently visited us for treatment of a malocclusion. The right mandibular canine tooth (tooth 404) was causing trauma to the palate that was noticed by Dave's primary care veterinarian.
Some malocclusions result in minimal trauma to the opposing soft or hard tissue, but when a mandibular canine tooth is in the wrong position, this can result in significant trauma. In Dave's case, a 10-mm palatal defect had developed over the course of approximately one year since the tooth erupted. Trauma to the palate can occur due to a Class 2 malocclusion, where the mandible is shorter than the maxilla.
Previously referred to as "mandibular brachygnathism," the current accepted terminology for Class 2 malocclusion, according to the American Dental College Nomenclature Committee, is "mandibular distoclusion." It is defined as an abnormal rostrocaudal relationship between the dental arches in which the mandibular arch occludes caudal to its normal position relative to the maxillary arch.1
Severity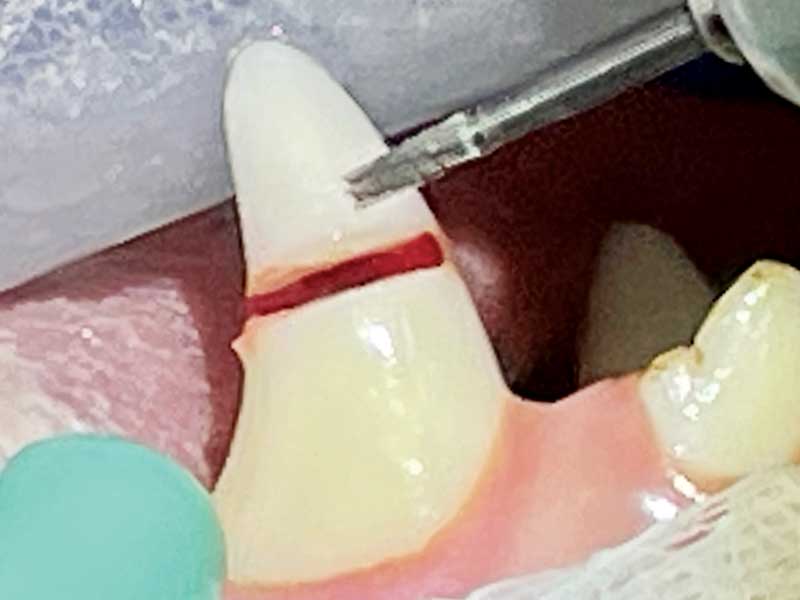 The severity of the palatal trauma depends on the severity of the Class 2 malocclusion. Mild Class 2 malocclusions may cause trauma in the diastema (space) between the maxillary third incisor and the maxillary canine. Moderate Class 2 malocclusions may result in trauma to the palate and the attachment structures of the palatal surface of the maxillary canine tooth.
Severe Class 2 malocclusions may actually result in less trauma than moderate Class 2 malocclusions, because there is a potential for no palatal trauma to occur if the mandibular canine teeth are caudal to the maxillary canine teeth. This is the rare case where a disease manifestation that is severe may cause less clinical problems than one that is moderate.
Dave's malocclusion was not due to the typical Class 2 designation. His was a Class 1 malocclusion. Class 1 malocclusion, or neutroclusion, is defined as a normal rostrocaudal relationship of the maxillary and mandibular dental arches with malposition of one or more individual teeth.1 More specifically, Dave had linguoversion of tooth 404, which describes a tooth that is in its anatomically correct position in the dental arch but is abnormally angled in a lingual direction.
Dave also had what is commonly referred to as "base-narrow" canines, where the distance between the mandibular canines is less than what is should be, as evidenced by the mandibular canine teeth being behind, rather than lateral to the mandibular third incisor teeth (Figure 1). This resulted in unilateral trauma to the palate as a 10-mm deep defect, approximately 4 mm palatal to the normal diastema (Figure 2). Also, the right maxillary third incisor (tooth 103) was displaced slightly laterally and distally compared to tooth 203.
It is interesting to ponder whether tooth 103's abnormal position contributed to the abnormal position of tooth 404, or if tooth 404's unfavorable dental interlock resulted in decreased local growth of the maxilla and an abnormally positioned tooth 103. Tooth 103 was also fractured with evidence of pulp exposure.
Even though the defect on Dave's palate was deep enough to create an oronasal fistula and no remaining bone was palpated at the deepest portion of the defect on probing, Dave showed no signs of an oronasal communication, perhaps due to the thin layer of epithelium on the floor of the nasal passage being still intact. If there were an oronasal fistula, clinical signs would include sneezing (especially after eating or drinking) and nasal discharge.
Treatment options
There are three treatment options for mandibular canine teeth that are causing palatal trauma. The least desirable option is extraction of the mandibular canine(s) that are causing trauma. Since the mandibular canine teeth comprise such a large portion of the rostral mandible, extraction results in a narrow, less functional mandible, especially when both mandibular canine teeth require removal. A second option is orthodontic movement. Moving mandibular canine teeth to a more acceptable position usually involves creation of a passive orthodontic device, such as an inclined plane or composite extensions.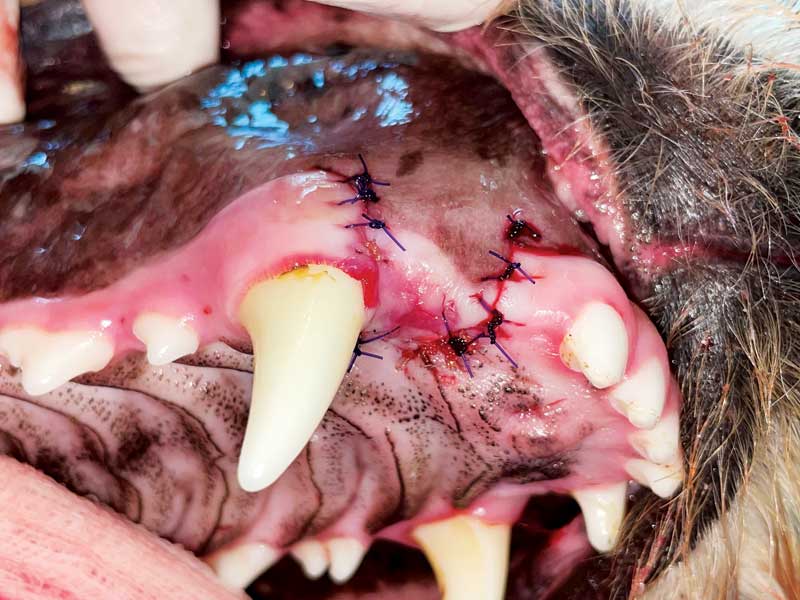 An inclined plane is attached to the maxillary canine and incisor teeth, resulting in a "sliding board" for the mandibular canine teeth to engage when the mouth is closed. The angulation of the inclined plane results in a tipping of the mandibular canine tooth to a position that is not causing palatal trauma. Composite extensions are a relatively recent addition to our orthodontic armamentarium, as described in the Journal of Veterinary Dentistry.2
Temporary crown extensions can be attached to the tips of the mandibular canines at an angle that will guide the canines to a more acceptable position. Once the teeth tip into the diastema, the composite can be removed unless a natural self-retaining position cannot be achieved due to the height of the crown. Even if the malocclusion is unilateral, these passive orthodontic devices must be placed bilaterally to prevent a mere shift of the entire jaw toward the side of the device when placed unilaterally.
In Dave's case, we utilized a third treatment option, which is crown reduction and vital pulp therapy of tooth 404. Done under sterile conditions, a cross-cut fissure bur was used to cut the height of tooth 404 to the level of the adjacent third incisor cusp (Figure 3). Some pulp is then removed, and a medicament is placed on the pulp, followed by multiple restorative layers.
Success rates with this procedure approach 100 percent when done under sterile conditions.3 After crown reduction and vital pulp therapy of tooth 404, we repaired the palatal defect by extraction of the pulp-exposed tooth 103 and closure with a mucogingival flap (Figure 4). Radiographic monitoring of tooth 404 is warranted to assess for loss of vitality of the tooth or loss of restorative material.
John Lewis, VMD, FAVD, DAVDC, practices at Veterinary Dentistry Specialists and teaches at Silo Academy Education Center, both located in Chadds Ford, Pennsylvania.
References
Storli SH, Menzies RA, Reiter AM. Assessment of Temporary Crown Extensions to Correct Linguoverted Mandibular Canine Teeth in 72 Client-Owned Dogs (2012-2016). J Vet Dent. 2018;35(2):103-113. 
Niemiec BA. Assessment of vital pulp therapy for nine complicated crown fractures and fifty-four crown reductions in dogs and cats. J Vet Dent. 2001;18(3):122-125.