Originally published in the January 2016 issue of Veterinary Practice News. Did you enjoy this article? Then subscribe today!
My wife pointed out a slight swelling on the left distal radius of my beloved great Dane, and my heart sank instantly.
Canine osteosarcoma hit me very personally that day, July 22, 2014. Taylor Dane, as we named her, had come into our lives eight years earlier as a beautiful 7-month-old from Great Dane Rescue. Her original owners had relegated her to a lonely existence, isolated in their backyard. Having spent her early important socialization months isolated from new people and pets, she was terrified.
At first, we had to keep a house leash on her, even indoors, just to be able to get hold of her. But as her fear turned to trust, Taylor took over our house, and my heart.
I have had many dogs since childhood, dogs that I have loved dearly. But never had I experienced the depth of connection that I would have with Taylor. A tall and elegant fawn female, Taylor had a personality as big as her body. She was wonderfully exuberant, completely affectionate and very "large and in charge."
She would stare into my eyes as if trying to memorize my face and communicate. This relationship was something special and it quickly grew deep, for both of us.
So imagine how it felt when the radiographs confirmed my worst fear; Taylor indeed had osteosarcoma and, without her showing a single sign of pain or lameness, the tumor had already encompassed three-fourths of the circumference of the radius.

Jim Humphries, DVM
At far left, radiograph shows the removed section of cancerous bone.
We are fortunate to live near the Flint Cancer Center at Colorado State University, so I took Taylor there to discuss treatment options. After long discussions with several specialists, we decided to attempt a limb-sparing procedure.
On Aug. 1, 2014, the distal two-thirds of her diseased radius was removed and replaced with cadaver bone. An equine plate was used for fixation because even the longest canine plate was too short.
Taylor did very well with surgery, and as would be true throughout her many treatments, she handled everything we asked of her with quiet dignity. She would lie quietly for her twice-a-day bandage changes. She began chemotherapy, receiving four treatments of carboplatin three weeks apart.
She healed from surgery and learned to use her new leg. It helped tremendously that my wife is a physical therapist. She did Taylor's bandage changes and daily physical therapy. Taylor took it all in stride and soon mastered running up and down the hills of our horse farm. She learned to climb up and down the stairs and even returned to jumping up to join us in bed, as much as we tried to prevent it.
Our girl was back, as happy and active as ever.
Because infection is the greatest problem with limb-spare cases, Taylor remained on high doses of antibiotics. Still, within months she began to show signs of infection in the lower leg.
Cultures revealed an MRSI infection and, even with targeted therapy, it eventually went to the bone and caused the fixation screws to lose purchase. We faced an agonizing decision.
We felt strongly that Taylor would not do well with a front leg amputation. She was an almost 9-year-old giant breed who lived on a hilly property, and we were greatly concerned that her remaining front leg would quickly begin to break down.
She also had two large, exuberant Dane buddies whose play was a constant challenge to her balance.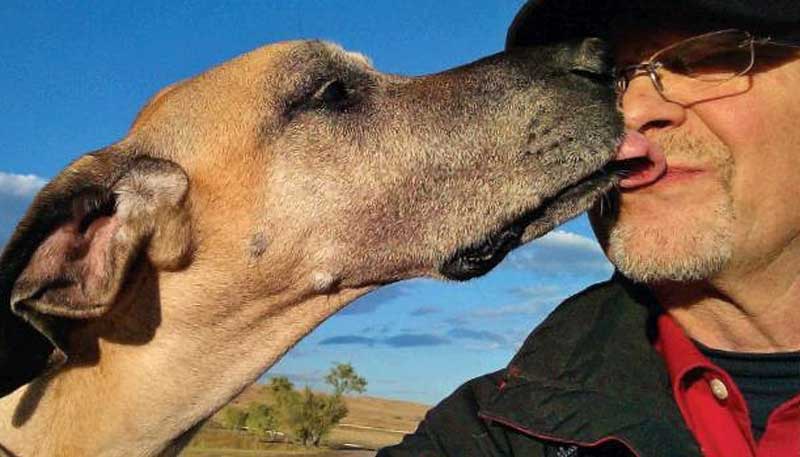 Jim Humphries, DVM
Dr. Jim Humphries says the term "human-animal bond" doesn't come close to describing the depth of his connection with Taylor Dane, his once-in-a-lifetime dog.
But we chose amputation, planning to fit her with a prosthesis.
The home post-op care of an amputation requires much time and commitment. With her gentle, cooperative spirit, Taylor went through endless bandage changes, learned to get up and down and walk on three legs.
Because she was so large, she wore a special harness to allow us to help her get to her feet. Our house sits at the top of a hill and the ground drops off on all sides; there is very little level ground. This produced great challenges to Taylor as she became accustomed to being a tripod. This was the roughest time, but after about three weeks, she was ready to fit for a prosthesis.
Taylor received her prosthesis March 12, 2015. She didn't immediately use it, however. She would hold it in the air and stand and walk on three legs. It took twice-daily work over many weeks to teach Taylor how to first put weight on her prosthesis and then how to move in it.
It made such a difference when she learned simply to stand with weight on it. She could now stand comfortably and for as long as she wanted; no more trying to balance on three legs. She could also sit again now that she could put weight on both her front "legs."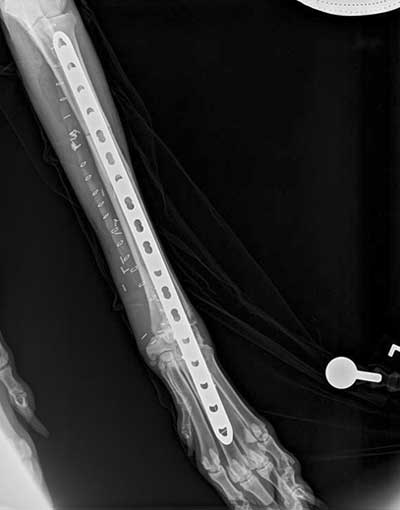 Jim Humphries, DVM
Below, radiographs of the leg post-limb-sparing surgery.
With a lot of patience and training, Taylor started going for walks around the property with her people and two Dane buddies. Eventually she was running up and down the hills and accompanying us on walks to the pond. She learned to ride in the golf cart and come up the steep deck stairs on her own.
Soon, she was going out in the mornings with her buddies and stayed out playing for an hour or more before coming up the stairs and greeting us with a happy, tired dog grin and a muddy, well-used prosthesis.
Taylor even returned to her habit of jumping in her bed and asking for bedtime back rubs, a habit that I admit I spoiled her into expecting. After the dogs would come in from their last go-out of the night, they would all run to their beds for biscuits.
Taylor would fly across the room on her prosthesis and jump and spin around on her bed. After receiving her biscuit, she would sit and look at me over her shoulder, asking for that back rub before she would lie down for the night.
The median survival rate for OSA is 12 months. This past July, we celebrated the 1-year anniversary of Taylor's cancer survival. She returned to CSU for a check and everything looked very good. I was sure we caught it early and had given her the very best treatment possible. I was sure we had beaten this killer. I began to look toward the goal of Taylor turning 10 in April.
But in August, Taylor began occasionally crying in pain when rising. We instituted a multimodal pain program. She did well for a while, but the occasional pain returned and seemed worse.
She became slightly ataxic in her rear legs and started to lose tone in her right rear leg. The pain progressed to both with lying down and rising. She stopped sleeping on her side and slept only on her sternum.
Still, once up with her prosthesis on, Taylor was active, interactive and happy. She continued to seek us out often for attention, but was beginning to spend more time sleeping in her favorite spot on the deck, where she could overlook her property.
In the early morning hours of Sept. 10, she could not get comfortable. She got up to reposition to another bed and began to cry in pain. This cry was serious. Even with my wife's help, she could not support herself; her hind legs simply would not work.
I will never forget the way Taylor looked at me, trying to stand on her own and crying. Those eyes that I had seen thousands of times when she would communicate love and affection now looked at me and very clearly said, "This is going to be hard on you and hard for me, but you must now let me go."
It was as if she has spoken the words. And so, heartbroken, I did.
After sedation, and with our words in her ears and our tears falling on her face, she passed in our arms.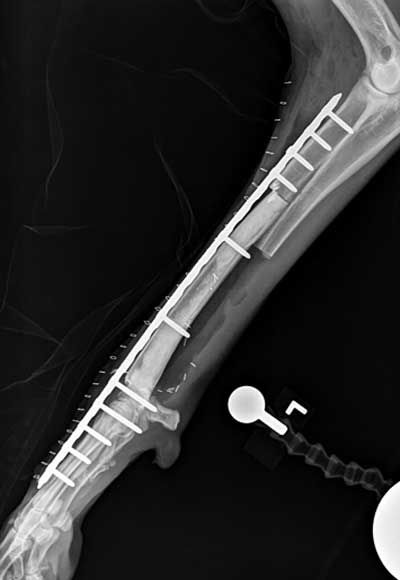 Jim Humphries, DVM
Below right, the distal breakout of infection that necessitated amputation.
No more pain, Taylor.
I cannot describe the huge hole she left in our home and our hearts. This was my once-in-a-lifetime dog-human relationship, and it was over.
As I look back on the 14½ months of our fight against osteosarcoma, I wondered if I would do it all again. Would I put Taylor through two big surgeries, chemotherapy, the countless bandage changes and the struggles of learning to use her prosthesis?
Yes, I would do it all over again. I would not take anything for those great extra months.
The term "human-animal bond" can't come close to describing the connection and love that develops between us and our wonderful pets.
I am grateful to have had an additional 14½ months with my Taylor Dane. I loved that dog deeply, and she loved me and trusted me without reserve. She had really good times in the months after diagnosis, and her bad times were few and short. She required a lot of our time, but we were happy to give it.
I am also very grateful to have had Taylor insured. With the many wonderful things we can accomplish with advances in veterinary medicine, pet health insurance is more important than ever.
Having insurance gave us options we could not have considered were she not insured.
My experience is not unique. Canine cancer is common, and each case is deeply personal.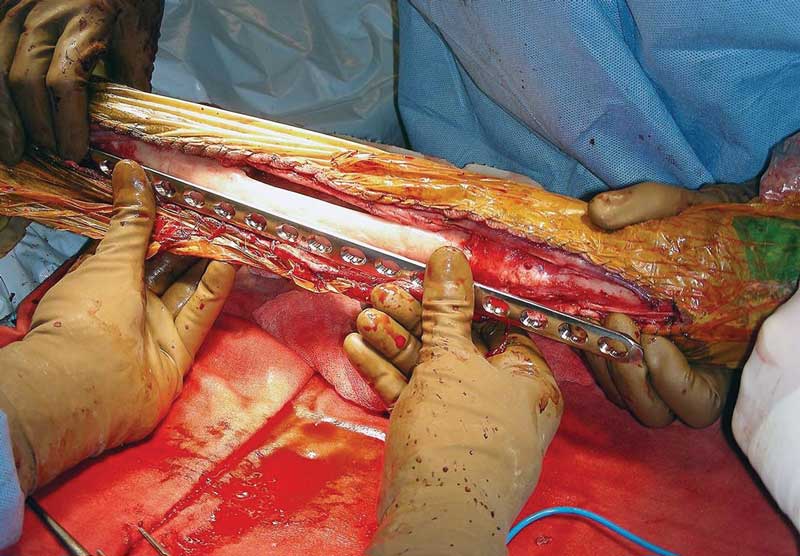 Jim Humphries, DVM
Cadaver bone with plate in place in original limb-sparing surgery.
Each case potentially steals not only a dog's life, but it painfully ruptures that wonderful bond we have with those dogs who have so deeply inserted themselves into our hearts.