Suggested Veterinary Products
It was not unusual that the client who recently inherited her son's bulldog was proudly pointing out to me that all she fed him was a whole-ingredient dog food whose television commercials appeared every 30 minutes. But, poor guy, every day when she got home from work he had defecated in his crate again!
Parasites and the usual culprits had already been ruled out by a veterinarian. Now she was standing in my exam room with her newly acquired love-bundle, desperate for a solution.
Like it or not, advertising agencies daily become shrewder and more accurate at targeting consumers. And we all fall for it. As veterinarians, though, we find that watching actors pose as dog experts discussing scientific nutrition principles is like fingernails on a chalkboard.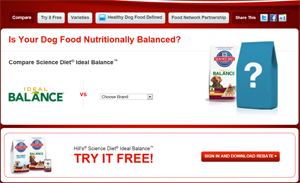 Hill's Pet Nutrition's online pet food comparison tool.
The "whole foods" trend has captured the attention of the pet-owning public, who like the feeling they get by doing what those television actors would approve. But those television actors aren't cleaning up the messes caused by so-called "balanced" pet foods that frankly aren't.
I tactfully suggested to my client a trail of a tried-and-true therapeutic diet and some probiotics. Two weeks later, she reported that her bulldog's stools were firm and he was now crate trained.
The vision of wholesome essential ingredients in the correct proportion is behind Hill's Science Diet Ideal Balance pet food, said Chad Dodd, DVM, business account manager, Hill's strategic customer development team.
"As a result of outside information sources, it can be difficult to know what is truly balanced when it comes to pet nutrition. Hill's takes great care to listen to what the veterinary profession and owners want in pet food," he said. "It's no surprise that recent research has shown that pet owners want to feel confident that they are feeding their pets not just the right pet food, but the right ingredients for a better quality of life."
The linchpin of Hill's campaign invites pet owners to "feed your pet as well as you feed your family with Hill's Science Diet Ideal Balance." The company says it "understands that better pet food is not just about natural ingredients—but about the proper ratio of meats, fruits, vegetables, whole grains and minerals, too."
Hill's partnered with petMD.com to create MyBowl Web pages for viewers to analyze the new pet food for themselves.
Hill's founder, Mark L. Morris Sr., DVM, believed certain health conditions in pets could be managed through carefully formulated nutrition, Dr. Dodd said. "His pioneering spirit is what came to eventually establish Hill's Pet Nutrition," a company built from the heart of a veterinarian. It is headquartered in Topeka, Kan.
"Hill's employs more than 150 veterinarians, Ph.D. nutritionists and food scientists who work every day around the world to create new products and improve existing ones that will help pets live a long, healthy and full life," Dodd said. "Hill's scientists author more than 50 research papers and textbook chapters each year and teach at leading schools of veterinary medicine all over the world."
For both the dog and cat food formulas of Ideal Balance, fresh chicken is the first ingredient. The food does not contain corn, is formulated for easy digestion and contains optimal levels of key nutrients, the company states. Hill's also has introduced a line of Balance treats: Soft and Chewy Training Treats with real beef, Veggie Chips with pumpkin and yam, Jerky Strips with real beef, Fruity Snacks with apples and oatmeal and Jerky Treats with real chicken.
Despite the avalanche of "natural" pet food products crowding today's market, Dodd believes Hill's Science Diet Ideal Balance will catch on.
"When it comes to identifying the right food choice, dog owners need to check the ingredient list for high quality carbohydrates, protein, minerals, vitamins, fats and oils represented in the right balance," he said. "A food like new Hill's Science Diet Ideal Balance that is formulated in precise amounts to provide the exact balance dogs need—nothing more, nothing less—is a great option for owners."
Using an online comparison tool, people can compare Ideal Balance to other pet foods.
"Ideal Balance provides dog owners a natural food choice while still delivering the right balance of nutrients owners have come to expect from the Science Diet portfolio of products," Dodd said.
A number of pet food manufacturers are scrambling to make "designer diets," notes I. Craig Prior, BVSc, medical director of Murphy Road Animal Hospital in Nashville. "That's what people are looking for in food now."
Dr. Prior said one such company had to recall its cat food because it lacked taurine, an essential amino acid cats cannot make on their own.
Prior said he considers Hill's to be the "gold standard" pet food company.
"They've got the research behind them to put a food like this together, and the facilities to manufacture it properly, all in-house," he said.
This Education Series article was underwritten by Hill's Pet Nutrition of Topeka, Kan.