Suggested Veterinary Products
In the new James Rollins thriller "Altar of Eden," Dr. Lorna Polk is one smart, tough cookie: She stares down a mutant jaguar. She taps her knowledge of genetics and animal behavior to help crack a dangerous mystery. And she knows how to use the business end of a tranquilizer gun.
No wonder Polk's character is a veterinarian.
And no wonder Rollins was able to convincingly render Polk and the exotic animals central to the plot of "Altar of Eden" (William Morrow, $27.99). Rollins is a veterinarian, too.
Rollins—real name Jim Czajkowski, DVM—built a 20-year career as a successful California veterinarian. But it took a 10-year string of best sellers, including the Sigma Force series and the novelization of the script for "Indiana Jones and the Kingdom of the Crystal Skull," before he got around to writing what he knows best.
Opening Chapter
Like many veterinarians, Rollins was the kind of kid who collected strays and nursed injured birds back to health. He also loved to read, especially fantastic tales by writers such as Jules Verne and H.G. Wells. "I always wanted to be a writer, but I didn't think I could make a living at it," says Rollins, 48.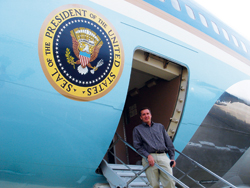 James Rollins tours Air Force One, which plays a role in his novel "Deep Fathom."
He enrolled at the University of Missouri, first earning an undergraduate degree in evolutionary biology, then graduating from veterinary school in 1985. Afterward, he moved to California and went into private practice, treating dogs, cats, rabbits, birds, reptiles and the occasional ferret. But Rollins still wanted to write. He started dabbling in short stories but couldn't get any published. ("And rightfully so," he notes. "They were terrible.") Eventually he decided to try a novel. Always disciplined, he set a goal: Five days a week, he would write at least three double-spaced pages. In less than a year, he had completed his first book.
The manuscript was rejected by 49 agents, but the 50th got it published. "Subterranean," about a team of scientists that encounters a world of primitive creatures while exploring a secret underground labyrinth, came out in 1999. (In an odd simultaneous twist, he sold a fantasy novel, "Wit'ch Fire," under the pen name James Clemens. It hit bookstores first.)
For the next several years, Rollins essentially had two more-than-full-time jobs. He wrote at least a book a year and saw clients daily, often dashing off chapters between clinical procedures. Eventually, as his books grew more successful—2009's "The Doomsday Key" hit No. 2 on The New York Times best-seller list—he sold his Sacramento practice.
"It was difficult," Rollins says. "I still miss working with the animals, but I don't miss the headaches of running a day-to-day business."
Birth of a Protagonist
"Altar of Eden," his newest book, started as a throwaway conversation with his agent. She asked one day why he never had written about a veterinarian.
Rollins gave her the same answer he had given others, a la James Herriot: "Not enough people die in those."
True enough. Rollins built his reputation on smart, fast-paced action-adventures, set in exotic locales. Stuff often blows up; somebody usually dies, frequently in an unusual and painful way. "When I first started writing, I was still working 15 hours a day as a veterinarian," says Rollins, who often worked off-duty interests such as scuba diving and spelunking into his novels. "I didn't want to go home and write about being a vet, too. My writing was more about a bit of escape from day-to-day life."
But, says friend Carolyn McCray, DVM, of Sherman Oaks, Calif., who has read and edited his manuscripts from the start, something funny began happening.
"If you look at his books, they're all steeped in science, but the farther he got away from (daily veterinary practice), the more animals were creeping into his stories, too," she says.
What If?
So it wasn't a big leap for Rollins to start imagining a thriller starring a veterinarian. He started with a central premise: What if a veterinarian stumbled across a ring smuggling exotic animals? And what if something was clearly very wrong with the animals?
From there, the story fleshed out quickly, lending itself to all kinds of interesting research into genetic engineering and the concept of collective intelligence. A relentless researcher, he always makes sure his novel's central ideas—no matter how outlandish—are supported by science.
"He does a great job of being approachable and of explaining the science so that even if you don't know much about science you will understand and learn something," McCray says. Those familiar with the science at hand will catch even more, she says. In "Altar of Eden," for instance, veterinarian readers will appreciate how the novel explores the animal-human bond and expands the current understanding of flocking behavior into advanced, and scary, territory.
They'll also appreciate the way Lorna Polk thinks.
"Most people become vets because they love animals, but we also have to be clinically detached," Rollins says. "So veterinarians will understand Lorna's reaction to the exotic animals, how she has to balance her maternal instincts toward the animals and the clinician she has to be."
He has put Polk aside for the next books he's writing, another Sigma Force novel due out this year. But he hasn't ruled out a Lorna Polk return. Has a new genre, the veterinary thriller, been born?
"We'll have to see," Rollins says. "We'll see if the world is really asking for that."
This article first appeared in the February 2010 issue of Veterinary Practice News