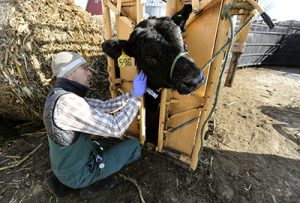 This year's American Association of Bovine Practitioners (AABP) Annual Conference Sept. 13-15 in Phoenix has adopted the theme Become Indispensable, focusing on strategies to increase the use of bovine veterinary services to provide for the health, productivity, and welfare of cattle, according to the organization.
"The provision of commercially unbiased information, a deep understanding of uniquely different management practices within each operation served, and strong and lasting professional relationships based on technical competence and trust make bovine veterinarians indispensable," said Glenn Rogers, DVM, AABP president-elect.
Morgan McArthur, DVM, will be this year's keynote speaker. The symposium will feature a mix of educational seminars, including scientific presentations, research summaries, and a session on popular practice tips. Additionally, 10 limited-enrollment clinical forums will be offered, allowing for one-on-one learning.
Bovine veterinary students are also invited to attend. The conference will feature content targeted to this group, including student sessions, the AABP Student Delegate program, the ninth annual quiz bowl, scholarship awards, and a job fair. Additionally, the Amstutz Scholarship committee will sponsor live and silent auctions, with all proceeds going toward further enhancing the premier student scholarship program of the AABP.
In addition to continuing education, the event will include a trade show, featuring more than 100 exhibitors, as well as entertainment and an awards luncheon. The American Association of Small Ruminant Practitioners will hold its meeting jointly with AABP as well as focused sessions from the National Milk Producers Federation.
Early registration ends Aug. 16. For more information, click here.