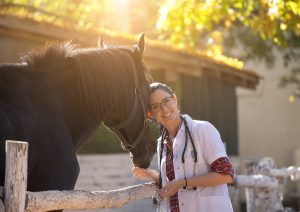 The American Association of Equine Practitioners (AAEP) is inviting horse owners and organizations to submit the names of veterinarians who have contributed services or resources to benefit the local equine community.
The AAEP will select a nominated veterinarian to feature on its website and social media every month. Each candidate will also be considered for the association's 2019 Good Works Award.
The AAEP's definition of "good works" includes:
Offering free or low-cost vaccinations or veterinary services to a community
Volunteering services or resources at an equine rescue or retirement facility or therapeutic riding center
Contributing funds to support an equine-related benevolent program
Participating in educational programs for youth equine organizations
Educating horse owners about proper horse health care
Helping working equids locally or abroad
The deadline to make nominations is Jan. 31. To do so, click here.