Suggested Veterinary Products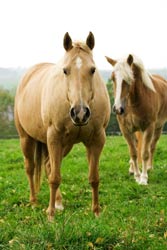 The American Assn. of Equine Practitioners' Infectious Disease Committee, which is comprised of researchers, vaccine manufacturers and private practitioners, has updated its equine vaccination guidelines.
Recommendations have been made for the use of vaccines based on the age of the horse and its previous vaccination history.
The "Guidelines for the Vaccination of Horses" include:
The identification of tetanus, Eastern/Western Equine Encephalomyelitis, West Nile virus and rabies as core vaccines.


.

The addition of a vaccination protocol for anthrax.


.

Recommendations for the storage and handling of vaccines, as well as information on vaccine labeling and adverse reactions.


.

Inclusion of the AAEP's Infectious Disease Control Guidelines, which provide an action plan for the containment of infectious disease during an outbreak.
"The goal of the guidelines is to provide current information that will enable veterinarians and clients to make thoughtful and educated decisions on vaccinating horses in their care," said Mary Scollay, DVM, chair of the Committee.
The vaccination schedules are complemented by supporting information on topics including vaccine technology and disease risk-assessment, allowing veterinarians to customize vaccination programs specific to the needs of an individual horse or group of horses.
"The impact of infectious disease has been felt across the equine industry in recent years, and the Committee hopes that these guidelines will be a useful tool in preventing or mitigating the effects of equine infectious disease."
Click here to access the guidelines.