Suggested Veterinary Products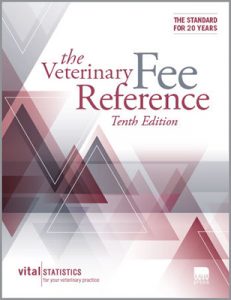 Discover how to remain profitable and competitive within your unique market with the 20th anniversary edition of the American Animal Hospital Association's (AAHA) statistical book, Veterinary Fee Reference. The new edition includes U.S. veterinary fees for more than 530 services and cases and more than 640 tables with data on discounts, vaccination services, and time scheduled for procedures.
The reference's evidence-based fee setting data allows veterinarians to confidently price services correctly for per market (accounting for median household income of clients, metropolitan status of the practice, etc.) and practice philosophy, age, and size.
New and updated data include:
Fees for acupuncture and in-home euthanasia
Reasons practices elected to change fees
Gross annual revenue of survey respondents
Information on in-home euthanasia services
Frequency of preventive care exams, rabies vaccines, FVRCP vaccines, and other services
Veterinary Fee Reference, Tenth Edition
American Animal Hospital Association
Pages: 460
Product Code: VFRE10
ISBN: 978-1-58326-027-2
Publication Year: 2018
Edition: Tenth
Format: Paperback
Member: $154.95
Nonmember: $259.95