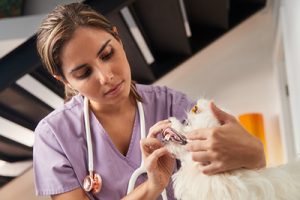 The Association of American Veterinary Medical Colleges (AAVMC) has developed a comprehensive set of guidelines designed to ensure the academic integrity of veterinary internship programs. The review follows recent criticisms, which deemed clinical placements as a means of providing hospitals with inexpensive labor, offering little educational value for students.
Working off guidelines published in 2011 by the American Veterinary Medical Association (AVMA), the AAVMC also looked at preexisting guides outlined by the Accreditation Council for Graduate Medical Education (ACGME) when establishing the best practices for veterinary medical clinical internship programs. As such, AAVMC's Internship Guidelines include recommendations on work hours and climate consistent with health and wellness concerns referenced by the ACGME.
The updated guidelines reinforce a core statement carried over from the AVMA's document, stating the primary purpose of an internship is to provide an educational program for the intern; not a service benefit to the hospital/clinic.
"These guidelines will help to improve the learning experience, advance the quality of clinical internship programs, and ultimately train better veterinary practitioners," said Andrew T. Maccabe, DVM, MPH, JD, AAVMC CEO. "We are grateful to the working group members for their work and especially to our colleagues in the AAVC for their contributions and support."
The new guidelines have been endorsed by the American Association of Veterinary Clinicians, which operates the Veterinary Internship and Residency Matching Program in the U.S.