Suggested Veterinary Products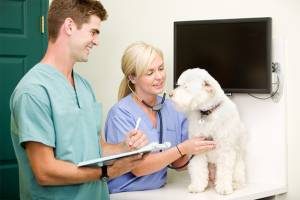 The American Association of Veterinary State Boards (AAVSB) has announced a new blueprint for the Veterinary Technician National Exam (VTNE) based on a yearlong comprehensive job analysis project. The first exam with the new blueprint will be administered July/August 2018.
The VTNE Committee reviewed the validation survey results and recommended a new VTNE blueprint, which is closely aligned with the survey data in keeping with credentialing best practices. The results from the job analysis verified the current structure of nine domains. The veterinary technician tasks and knowledge areas were updated and validated by survey participants.
The new blueprint will be available on the AAVSB website for VTNE candidates to review after the March 15 – April 15 exam administration ends. Program directors are asked not to present information to their students about the new blueprint until that time.
The AAVSB re-evaluates the exam approximately every five years to ensure that the questions are current and accurately reflect the responsibilities and competencies of entry-level veterinary technicians.