Suggested Veterinary Products
Follow up on Veterinary Practice News on Twitter at @vetpetnews.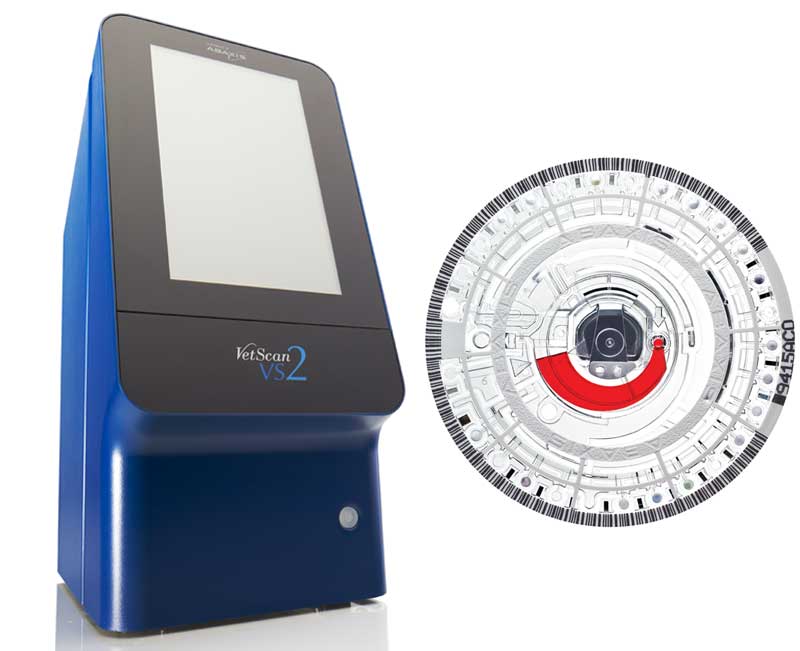 The VetScan VS2 produces test results from single-use plastic rotors.
A majority of VCA Animal Hospitals will stock VetScan VS2 chemistry analyzers and diagnostic reagent discs under an agreement with equipment manufacturer Abaxis Inc.
The companies this week announced two long-term agreements. The first will see Los Angeles-based VCA Antech Inc. purchase the analyzers and discs for use in many of its more than 600 North American veterinary clinics. The second is a marketing arrangement with VCA's Antech Diagnostic reference laboratories.
Abaxis, headquartered in Union City, Calif., makes the VetScan VS2, a chemistry, electrolyte, immunoassay and blood gas analyzer. The countertop machine is designed to produce results within 12 minutes and will help VCA veterinarians "provide patient care on an even more timely and cost-effective manner," said Clint Severson, Abaxis' chairman, president and CEO.
Abaxis also will work with VCA's veterinary-exclusive clinical laboratories "to capitalize on new growth opportunities within the animal health care industry," the companies stated.
"This co-marketing agreement with Antech Diagnostics creates new and exciting opportunities for in-house testing and reference laboratory services that can now be utilized by any type of veterinary practice, be it single doctor, multi-doctor or specialty practice," Severson said. "Working together, both companies are now better positioned to generate incremental new business and to expand market share in their respective markets."
More than 50 Antech Diagnostic reference laboratories serve more than 16,000 veterinary hospitals throughout the United States and Canada, offerings hundreds of chemistry, pathology, endocrinology, serology, hematology and microbiology tests as well as telemedicine consulting.
Previous: VCA Registers Stock for Future Acquisitions
Want more Veterinary Practice news? Go here.