Suggested Veterinary Products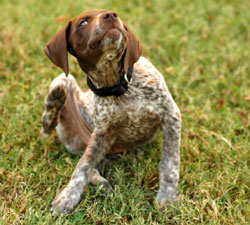 Imulan BioTherapeutics LLC of Prescott, Ariz., received a grant from the American Kennel Club Canine Health Foundation to develop a diagnostic method for canine atopic dermatitis.
The grant is based on Imulan's T-Cell Receptor peptide technology platform, the same platform being used to develop a therapeutic vaccine for canine atopic dermatitis.
"We are grateful to the American Kennel Club for its research support for diseases like atopic dermatitis," said Daniel Gingerich, DVM, chief scientific officer of Imulan. "This project will examine immunological markers in blood to try and better identify patients with atopic dermatitis. If successful, Imulan's atopic dermatitis diagnostic could be available from Imulan's reference laboratory early next year."
Canine atopic dermatitis affects up to 5 percent of the dog population, according to Imulan. Clinical signs include itching and an increase in topical skin infections such as staphylococcal pyoderma.