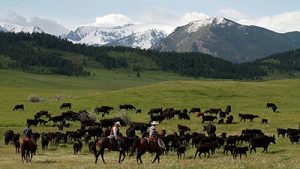 Diseases that afflict livestock and wildlife are increasingly emerging in Alaska, said Bob Gerlach, DVM, state veterinarian, as he spoke at the 46th Annual Delta Farm Forum.
Other diseases are increasing in northern-tier states and Canada due to climate change, increase in human population, and worldwide movement of agricultural products.
Alaska's cool climate and isolation has for millennia helped protect wildlife and the people who subsist on it from many of the diseases that thrive in warmer, lower latitudes, according to Dr. Gerlach.
But that's changing, as Alaska is no longer isolated from what's happening globally, he said.
"We're in the center of a lot of what's going on," he added.
Globalization, including commerce that brings livestock and other agricultural products, new residents and travelers who bring their pets, and wildlife species slowly moving northward due to warming temps, all are to blame, he said.
"[It's] not just moving food," he said. "It's moving animals, it's moving products, and it's moving disease."
Farmers must be on alert for signs of disease in their livestock and in the wildlife that live or range near their farms and ranches, Gerlach said.
"We're seeing some things that we've never seen in the past," he said, "and not just in isolated areas. But they're all over, and reaching up here, in the state."
The No. 1 problem is ticks, according to Gerlach. Different tick species have been turing up in recent years in Alaska, apparently because they now are able to live and thrive in the current warmer climate around the circumpolar north.
Researchers have identified five tick species in Alaska: the Pacific black-legged tick, the American dog tick, the brown tick, the lone star tick, and the winter moose tick, which Gerlach said is causing Fish and Game extreme concern.
"The reason is it's been spreading throughout Canada, it affects just not moose, but any other ungulate," he said. "So, blacktail deer, caribou, whatever."
Other diseases on the list of concerns include mycoplasma ovipneumonia and chronic wasting disease, he said. Already, an outbreak of the wasting disease is spreading among a rapidly growing species of deer in Alberta and Sasketchewan.
"There's a 40 percent infection rate in the deer there," he said.
As the number of farms in Alaska increases, so too will the chances of disease transmission from wildlife to livestock, Gerlach said, adding that they must maintain high standards to protect public health.
Gerlach urged farmers to contact his office if they suspect their animals or nearby wildlife are diseased.