Suggested Veterinary Products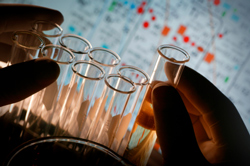 In what it is calling its first nutrigenomic breakthrough, Alltech, a developer and marketer of animal feed ingredients, reports it has created a product that will allow animal nutritionists to significantly reduce the level of increasingly expensive ingredients – such as antioxidant vitamins – without sacrificing performance.
The product, EconomasE, was developed by Ronan Power, Ph.D., director of Alltech's Nutrigenomics Center, after he identified beneficial gene expression events in pathways associated with oxidative damage, metabolic stress and macromolecular repair mechanisms.
The company has not yet disclosed its plans to bring EconomasE to the market.
"EconomasE is just the beginning of what we will uncover through the work of Dr. Power and his team at our new nutrigenomics center," said Dr. Pearse Lyons, president and founder of Alltech. "Dr. Power's understanding of gene expression profiling and its impact on key biochemical pathways within cells and tissues is leading Alltech into a whole new understanding of animal nutrition for optimal health and performance."
The company unveiled the new research center in Nicholasville, Ky. in April. Powers' research program focuses on the effect of nutrition on gene expression. <HOME>