Recently, I got a phone call from a panicking dog owner because her dog had what appeared to be an anal tumor, which had grown rather suddenly. The reason she was panicked was because her regular veterinarian told her the surgery would be extremely complicated and could only be removed by a boarded surgeon.
When she called the local specialty centers, the earliest appointment date was six weeks away! Knowing some surgeries can appear worse than they really are, I asked her to bring her dog  in for an examination.
Creasy is a 20-lb, 11-year-old, neutered male Maltese terrier mix. At the time of exam, he had a pleasant disposition, mild dental calculus, and the start of ocular sclerosis. Examination of the anal/perianal region revealed a bright pinkish-red cauliflower-shaped growth, 1 cm across, which seemed to be attached to the ventral colon wall right at the junction of the anus (Figure 1). Palpation revealed it to have a narrow and firmly attached base.
At this point, I had a discussion about removal and biopsy of the growth. Since I could not visualize the base of the growth, I could not guarantee I could remove it in its entirety. The attachment could have been further up than what I could palpate, and my impression the growth was pedunculated could have been wrong.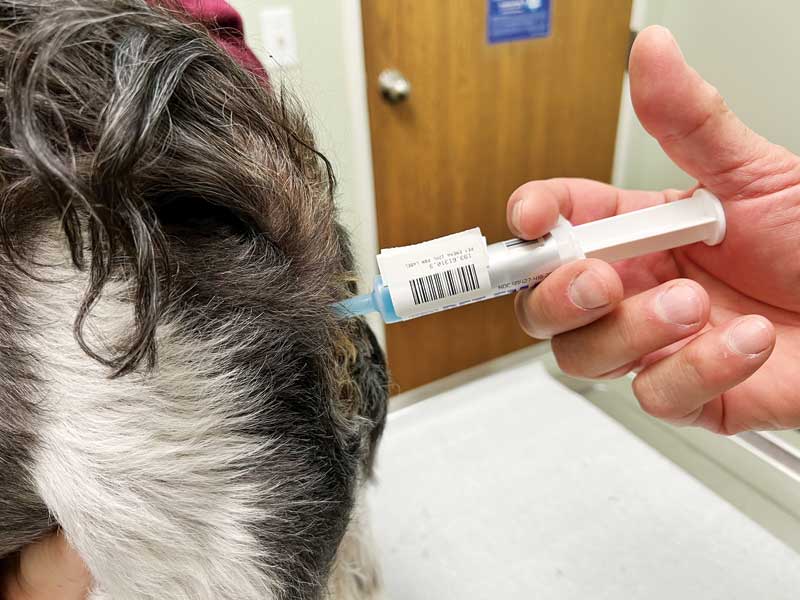 Rather than sedate Creasy for a rectal exam and visualization followed by surgery at a future date, his owner and I agreed I would sedate Creasy and remove whatever I could, and at the very least, get a sample for histopathology.
Beginning the procedure
Creasy was fasted for 12 hours prior to the surgery. About two hours prior to the surgery, we administered a docusate sodium enema to evacuate his colon. There is no way this can be considered a sterile procedure, but at the very least we can do a "prep" to get as much fecal matter out of the area as possible (Figure 2). At that time, blood was drawn for a chemistry panel, and there were no issues seen that would preclude us from sedating him for surgery.
The patient was sedated with an injection of 0.15 ml dexmedetomidine, 0.15 ml ketamine, and 0.23 ml hydromorphone 2 mg/ml. A 22-gauge indwelling IV catheter was placed, and Creasy was put on a TKO drip of Lactated Ringer's solution.
The first thing we needed to do was evaluate the character of the tumor; primarily to confirm the entire size and nature of attachment previously determined by manual palpation. The growth was, indeed, the size and shape I had palpated, which meant I would be able to remove the tumor either in its entirety or close to it.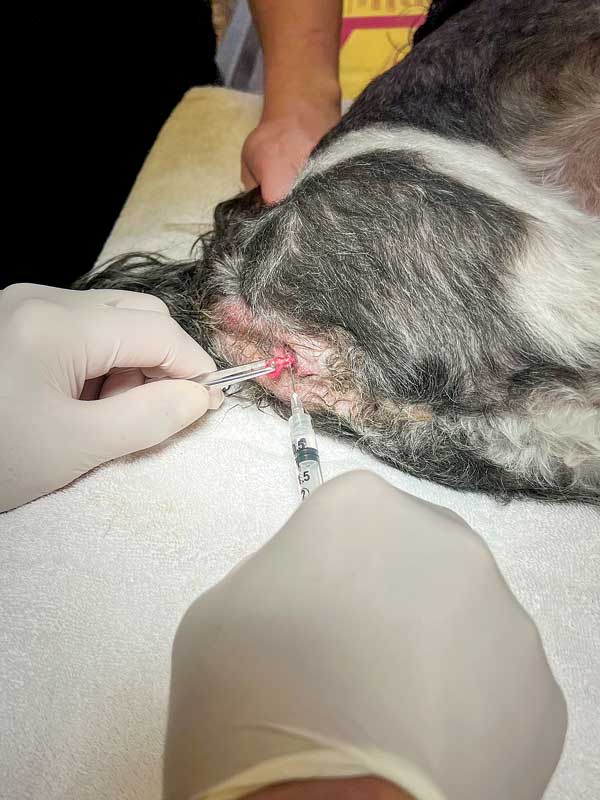 Prior to removal, we needed to control the pain. While he had an opioid, an alpha-2, and ketamine on board, there was nothing to work on the local level. I also had to anticipate there could be copious bleeding, as this was a very vascular region. I made the decision to inject the pedicle, not only with a local anesthetic, but with epinephrine, which would constrict the local vasculature.
I made a 1:4 mixture of 1:000 epinephrine and two percent lidocaine, then waited four to five minutes prior to starting the surgery (Figure 3). The tumor was then exteriorized and clamped to hold it in place (Figure 4), and ligated with 2-0 Monomend prior to cutting the tissue out (Figures 5 and 6). Prior to returning the ligated pedicle to the rectum, it was blotted and then watched for bleeding (Figure 7).
At this point in time, Creasy was waking up from his sedation, and he was discharged about two hours after his surgery; what seemed a reasonable time to check for bleeding. The owner was given post-sedation instructions and told to add several tablespoons of pumpkin with each meal for the next several days to reduce the possibility of hard stool irritating the surgery site.
The last thing the owner said before leaving (other than her profound thanks), was she was now prepared to spend the next 24 hours with Creasy agitated and not sleeping as he had for every other sedation and anesthetic procedure. It seems she had been told by her previous veterinarian this was a normal sequela of using opioids and that it would "just wear off." I explained this was not normal and we dispensed trazodone to help with the dysphoria.
Conclusion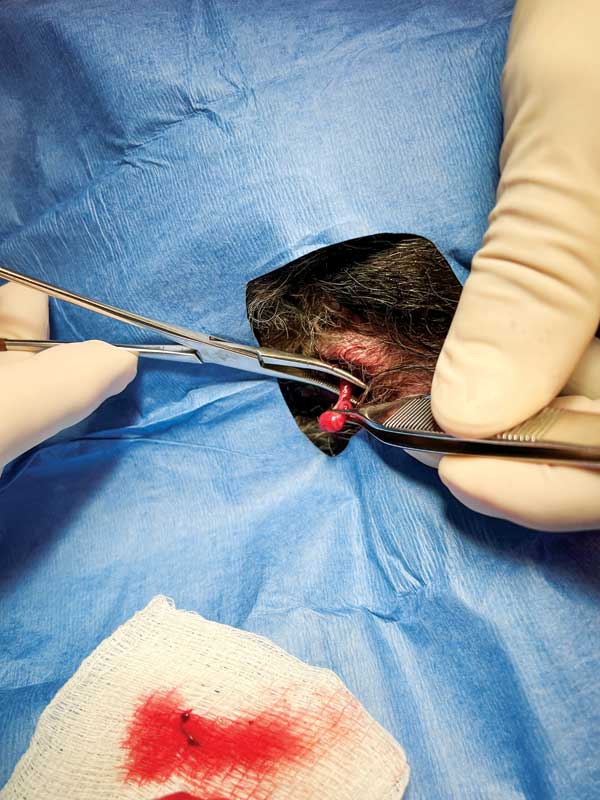 In these ever increasingly busy days since the start of the pandemic, it is too easy to "punt" procedures that might seem like they are at the edge of our skill level, without ever investigating the problem a bit deeper.
Not only a surgical case like this, with the scary presentation as seen in Figure 1, but internal cases, ophthalmic cases and so on. It is not only the fault of an increased animal ownership that is causing a sometimes months-long wait to see a specialist, it is our own fault as well for passing along cases that we could easily handle ourselves if we only took a closer look.
Follow-up
At the seven day post-op recheck, the owner reported Creasy was doing great. There was no sign of bleeding or difficulty/pain during bowel movements. His trazodone also prevented the usual opioid dysphoria he experienced.
Unfortunately, however, the histopathology reported the growth was a soft tissue spindle cell sarcoma. But also, fortunately, because the owner did not wait to see a boarded surgeon, Creasy has a six-week jump on further intervention by an oncologist.
Michael Petty, DVM, is a graduate of the veterinary school at Michigan State University. As the owner of Arbor Pointe Veterinary Hospital and the Animal Pain Center in Canton, Michigan, he has devoted his professional life to the care and well-being of animals, especially in the area of pain management. Dr. Petty is the past president of the International Veterinary Academy of Pain Management. A frequent speaker and consultant, he has published articles in veterinary journals and serves in an advisory capacity to several pharmaceutical companies on topics of pain management. Petty has been the investigator/veterinarian in 12 FDA pilot and pivotal studies for pain management products. He has lectured both nationally and internationally on pain management topics.