Suggested Veterinary Products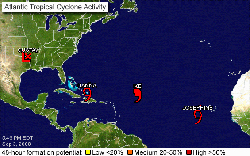 As of Wednesday, more than 1,000 animals were still being cared for at the Mega-Shelter in Shreveport, La., following Hurricane Gustav, which hit Labor Day weekend and destroyed about $2 billion to $10 billion in properties according to preliminary estimates.
The Louisiana State Animal Response Team, the volunteer animal emergency response partner of the Louisiana Department of Agriculture and Forestry, has been overseeing the evacuation and sheltering of animals with help from the American Humane Assn., the American Society for the Prevention of Cruelty to Animals, Best Friends, International Fund for Animal Welfare, Noah's Wish, United Animal Nations, and the Humane Society of the United States, among others.
The last time American Humane deployed to Louisiana for a major animal emergency response was following Hurricanes Katrina and Rita in 2005. Those experiences helped American Humane, among other animal organizations, better deal with Gustav, according to Debrah Schackenberg, senior director of the Animal Emergency Services for American Humane.
"Knowing the devastation caused by Hurricanes Katrina and Rita, it's critical that we can provide residents a safe place for their animal before the storm hits, so residents don't hesitate to evacuate, and so they can focus on keeping themselves safe," Schackenberg said. "The state and the responding organizations are applying the lessons learned from those storms, and their aftermath, to increase the effectiveness of these evacuations and, most importantly, the safety of the people and their pets."
This time around, refrigerated trucks were available for transporting animals and temporary animal shelters were located near American Red Cross shelters.
The American Veterinary Medical Assn., which helped organize standby veterinary volunteers and supplies from other states and the animal health industry, said that Louisiana animal responders were particularly ready for Gustav because of increased planning and the frequency of training exercises since Katrina.
AVMA has posted disaster preparedness tips and related articles on its website, including how veterinarians can apply for reimbursement from the American Veterinary Medical Foundation if they incurred expenses because of Gustav. The AVMF provides up to $5,000 for veterinary care of animals affected by the hurricane and up to $2,000 for restoration of veterinary infrastructure.
Louisiana veterinarians may apply for grants or loan guarantees from the state VMA's Dr. Walter J. Ernst Jr. Veterinary Memorial Foundation.
In related news, Henry Schein Inc. of Melville, N.Y., is reminding its customers of its disaster relief hotline (800-999-9729) which assists veterinarians experiencing operational, logistical or financial issues as a result of hurricanes or other natural disasters. It is being staffed from 7 a.m. to 7 p.m. CDT, and monitored 24 hours a day.
"We want to make sure that our customers are aware that as their valued business partner, Henry Schein is here to help," said Stanley Bergman, chairman and chief executive officer for Henry Schein. "We encourage our customers in areas that may be affected by tropical storms, hurricanes or other natural disasters this season to call our hotline for assistance."