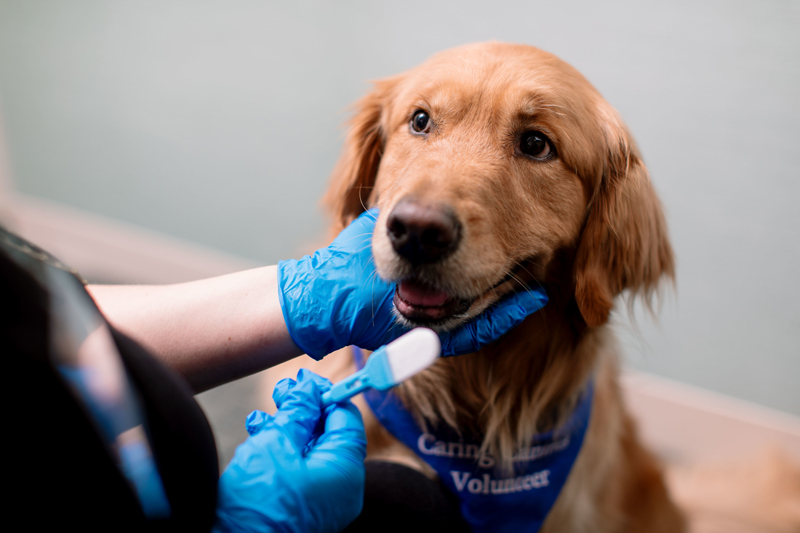 "Man's best friend," indeed, but a new study suggests dogs might consider humans to be a comforting presence, too.
Research conducted by Purina and the Mayo Clinic indicates canine therapy is not only beneficial to humans, but to support dogs as well.
The "Better Together" study looked at the emotional-physiological state of individuals with fibromyalgia before and after a session with a therapy dog, as well as the state of the animal.
The findings showed that, along with improving the mindset of human patients, the sessions also calmed the dogs performing the therapy, suggesting they enjoyed the work they were doing, Purina says.
"We need to expand our understanding of how animal-assisted activity impacts therapy dog's well-being, and this sizeable study with 19 dogs of various breeds provided solid evidence that animal-assisted activity done in the right condition does not have negative impacts on well-trained therapy dogs," says Purina's lead scientist on the project, François Martin, MA, PhD.
To understand the impact of the interactions for the patients and the therapy dogs, researchers used multiple noninvasive physiological biomarkers, including salivary oxytocin and cortisol concentrations, tympanic membrane temperatures, and various cardiac parameters, Purina says.
For most parameters, the dogs—all of which were members of the Mayo Clinic Caring Canines program and varied in breed, age, and size—demonstrated no change, signaling contentment.
The parameters that did change, however, pointed to a more positive emotional and physiological state, such as a significantly lower heart rate at the end of the session.
"This only encourages us to do more research to continue to demonstrate the power of the human-animal bond on people, while ensuring assistance animals also experience positive wellness as a result of their work," Dr. Martin says.
Likewise, human patients who interacted with therapy dogs had their oxytocin levels increase "significantly," while their heart rates decreased as compared to the control group. The results suggest a 20-minute therapy dog visit can positively impact the physical and mental health of patients with fibromyalgia, Purina says,
"The Better Together study showed therapy animals could be an evidence-based treatment option, and health-care professionals should strongly consider utilizing animal-assisted activity in the care of their patients with fibromyalgia," says Arya Mohabbat, MD, the lead Mayo Clinic researcher on the project.
For more information about the canine impacts of the study, click here.
For more on the human health impacts, click here.