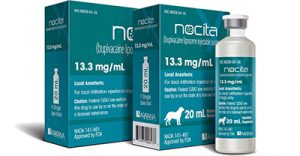 Aratana Therapeutics Inc. announced it has submitted a supplemental new animal drug application with the FDA to approve the use of Nocita in cats to provide regional analgesia following onychectomy.
Nocita (bupivacaine liposome injectable suspension), which provides up to 72 hours of analgesia postoperatively using multivesicular liposomal technology, was first approved in August 2016 for canine use following cranial cruciate ligament surgery.
"We believe veterinarians are in need of safe and effective, nonopioid alternatives to provide pain relief to their feline and canine patients," said Ernst Heinen, DVM, Ph.D., chief development officer of Aratana Therapeutics. "If the supplemental NADA is approved, NOCITA will help control feline pain for up to 72 hours by blocking pain signals at their source, the nerve."
Visit aratana.com.