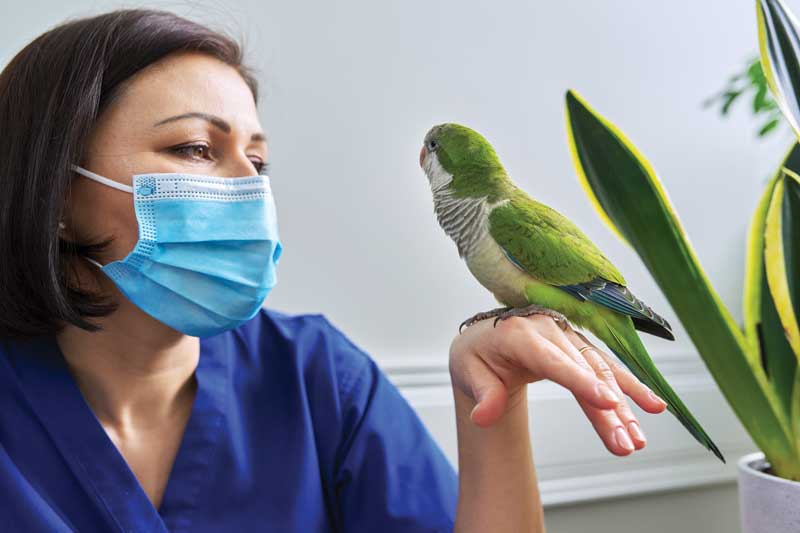 Whether racehorses, companion dogs and cats, exotic animals, or wildlife, animals today can receive a level of medical care, rivaling what is available to humans, including imaging capabilities, targeted cancer treatments, and open-heart surgery. In response to those advances, and to increasing demand by owners, the number of board-certified veterinary specialists is increasing rapidly.
"It's up by 47 percent now," says Eleanor Green, DVM, DACVIM, DABVP, senior advisor and consultant with Animal Policy Group and Dean Emerita of Texas A&M University College of Veterinary Medicine & Biomedical Sciences. "Ten percent of veterinarians hold board certification in at least one specialty today."
Currently, there are 22 American Veterinary Medical Association- (AVMA-) recognized specialty organizations comprising 41 distinct specialties, including animal welfare, dentistry, internal medicine, radiology, toxicology, and surgery.
"As the profession continues to mature, we see some of these areas that used to be just considered general practice have now developed a whole body of specialized knowledge you need to know to deal with some complicated cases or issues, or simply to do a better job of it," says Andrew Maccabe, CEO of the American Association of Veterinary Medical Colleges (AAVMC).
He cites shelter medicine as one such area. Veterinarians who are shelter specialists work with a diverse population of animals in this setting. Their field encompasses physical and behavioral health, as well as community relationships. One of the early proponents of shelter medicine as a specialty, Brenda Griffin, DVM, DACVIM, DABVP, has described the field as a unique blend of population and individual health care.
Job security
Becoming a specialist has advantages. One is job security, as many specialists are in high demand. Another is professional earnings. Specialists typically earn more than veterinarians who have not received board certification. Finally, there is personal satisfaction. Specialists tend to be people with drive who are excited about a field and want to become very, very good at it, Dr. Green says.
Despite the rise in the number and types of specialists, there are not always enough of them. The number of veterinary behaviorists is only in the double digits, although there are now more than 80. Globally, in 2020, the number of board-certified avian veterinarians was fewer than 200. There is also a shortage of imaging radiologists.
"It's to the point where some universities don't even have a specialist anymore, and radiology was considered a basic specialty every university had," Green says. "If there are no specialists, the corresponding residency training programs are not offered."
In the case of radiologists, at least one influencing factor is they can work from home rather than at a university and, potentially, make more on their own than they can in a university or private practice, Green says. The same is true of pathologists—who, by the way, became the first veterinary specialists back in 1951. Like radiologists, pathologists can provide diagnostic services from home. Ophthalmologists are in high demand at universities and in private practice, and they typically have higher earning potential in private practice.
"It's a challenge for universities to maintain the full complement of specialists they once had because, in one sense, they were too successful in their residency training programs," Green says. "They trained enough residents to surpass the need in academic settings, which encouraged specialists to enter private practice. While at first universities were concerned about overproduction of residents, as it turned out, veterinary healthcare, animal patients, and clients all benefited from constantly increasing numbers of specialists entering private practice. The highest quality of specialty care became available in local communities."
Of course, some specialists still choose to be in a university setting, which offers access to rewarding activities: teaching, research, academic stimulation, and the ability to tap into the knowledge and expertise of faculty experts across a plethora of disciplines. Another appeal of universities is the trend toward having enough depth in the specialties offered to allow faculty enough time to pursue their individual professional goals within and beyond clinical service, Green says.
The choice to specialize
Veterinarians choose to specialize for a variety of reasons. It is not always for a higher income, and sometimes it comes as a surprise to them.
Lindsey Bullen, DVM, DABVN, planned to specialize in surgery, but she also knew she wanted a family. While the surgeons at her veterinary school were great mentors, none were women who could model what it was like to have a family and be a successful surgeon. Then she did a nutrition rotation and discovered a passion for it. Nutrition encompassed her love for teaching, speaking, interacting with clients, math, and puzzles.
"I do hundreds of calculations a day," she says. "And I love that it's a puzzle. Every single patient has a different plan because they're all unique individuals. You might get two Yorkshire terriers, each with the same severity of kidney disease, and their plans can be completely different because one of them needs a homemade diet and the other one really wants to eat cat food."
Green recalls a Texas A&M student who had planned all his life to go into food-animal practice. In the last semester of his last year, he experienced a neurology rotation, which completely changed his interest. Now he is a board-certified neurologist.
Cindy Mar, DVM, DACVO, likes being a specialist because she can focus every day on something she likes: eyes. An ophthalmology practice allows her to see patients of all ages and varieties and to do both medicine and surgery. One day she might be checking eyes at a health fair for small-breed dogs; the next, performing eye surgery on a bird.
"I love working in a multi-specialty practice because there is a lot of collaboration," she says. "Sometimes it takes a village to figure out and fix something. The same problem can get assessed from different perspectives and be tackled from different angles."
Joe Bartges, DVM, PhD, is double-boarded in internal medicine and nutrition. His first rotation in veterinary school was small-animal internal medicine.
"The puzzle-solving required to manage these patients is what excited me, and still does," he says. "Through my career, it has also allowed me to become involved in advanced technologies, such as minimally invasive procedures and interventional radiology."
Now, he's professor of internal medicine, interventional radiology, and nutrition at University of Georgia College of Veterinary Medicine.
Who hires specialists?
It used to be specialists were employed primarily by universities. Gradually, universities began adding depth to their departments. "You didn't want to be the only board-certified surgeon," Green says. "You need to have backup so you could be gone."
Private practice also has appeal for board-certified specialists; in fact, private practices now hire most of the specialists completing residencies today. The number of specialty practices has increased, as well. Blue Pearl alone has 400 full-time specialists at its 70 hospitals, Green says. And residency programs are not limited to universities. Specialty practices now offer their own residency programs.
Just as there was once a concern by universities about an overproduction of residents, more recently, the veterinary profession as a whole was concerned the supply of veterinarians exceeded demand. Now, it is clear there are too few general-practice and specialist veterinarians to meet demand. There is always going to be a lag, Green says, because of the amount of time it takes for students to complete veterinary school, as well as the additional education required for specialization.
What is the future of specialty medicine
Is there room for new specialties? Maccabe speculates one possibility could be genetic engineering, either as its own specialty or as a branch of theriogenology.
"I could see there being a specialty group coalesced around that for farm production animals," he says. "Imagine being able to build in some innate resistance to parasites or infectious diseases."
Some people forge their own path when a particular specialty does not exist. Michael Petty, DVM, owns Arbor Pointe Veterinary Hospital and the Animal Pain Center in Canton, Mich. It could be argued a specialty in pain management is not necessary because it is covered by both the American College of Veterinary Anesthesia and Analgesia (ACVAA) and the American College of Sports Medicine and Rehabilitation (ACSMR). Dr. Petty, who lectures nationally and internationally on pain management and rehabilitation, says those arguments are both right and wrong.
"The anesthesiologists almost only see surgical cases, and the sports medicine and rehab veterinarians mostly see performance dogs," he says. "There probably should be a specialty as an umbrella for both acute and chronic pain whose main focus would be the average dog and cat in pain that walks into a general practice and who needs help beyond which a primary care veterinarian can provide.
"The majority of dogs and cats have some kind of chronic pain issue, and the metrology for discovering those animals is improving all the time. My practice is mostly pain management without even trying. The more pain management I did, the more my clients demanded, bringing me to where I am today, offering almost every possible pain modality there is out there."
Dr. Petty suggests internal medicine seems to be the field most in demand because pet owners, especially millennials, want the best for their pets. He predicts demand for surgeons will drop if veterinarians follow the trend in human medicine and begin treating neurologic issues, such as disc disease, and orthopedic issues, such as cruciate disease,
more conservatively.
What is indisputable is demand for specialists exceeds supply. And that is not likely to change any time soon.
EMERGING CONCERNS
A significant emerging issue for specialists, as well as for students, residents, and general practitioners, is how to meet their needs for physical and emotional well-being while maintaining a demanding workload, especially given the increased demand for veterinarians. Trying to maintain a balance between personal and work life can be challenging for veterinarians in internships and residency programs. Andrew Maccabe, CEO of the American Association of Veterinary Medical Colleges, hopes new initiatives will help to improve that environment. They include AAVMC's Wellbeing program , as well as a research and support group.

Lack of racial and ethnic diversity is also a significant problem in the profession as a whole, but is especially notable in specialty practices, Dr. Maccabe says. Both he and Eleanor Green, DVM, DACVIM, DABVP, senior advisor and consultant with Animal Policy Group and Dean Emerita of Texas A&M University College of Veterinary Medicine and Biomedical Sciences, say veterinary schools are making strong efforts to increase diversity, equity, and inclusion. It is important not only to recruit but also to retain and support diverse populations of students.

"We've made tremendous progress in the number of underrepresented minorities enrolled in our schools and hopefully that will translate to more underrepresented minorities in board-certified specialties, but there is a lag," Maccabe says.
Kim Campbell Thornton is a frequent and longtime contributor to Veterinary Practice News.