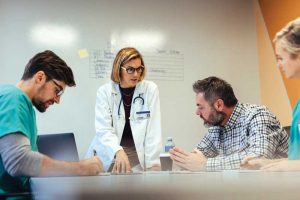 You rush from one intense exam to the next, going home exhausted at the end of the day. This firefighter approach to running your practice may have you following, rather than leading your business. As you begin a new year, reclaim the leadership role of your practice and take actions that move your business forward.
Set one day of the year for future thinking
Toby Carmichael, DVM, and his partners at Acworth, Lake City, and Bartow Animal Hospitals in Acworth and Cartersville, Ga. schedule an annual doctors' retreat. The partners choose a boutique hotel where doctors and their spouses check in on a Friday night. They enjoy a casual dinner and friendly conversations with colleagues and the families who support them. While relief veterinarians cover Saturday morning shifts at the three hospitals, owner and associate doctors meet to focus on growth, asking themselves, "What will we do to take our hospitals to the next level?"
I had the privilege of teaching the doctor team this spring, delivering CE seminars on leading clients' decisions, improving diagnostic compliance, increasing follow-up care, and preparing for the millennial revolution. At the end of training, the doctors set goals to update terminology that will increase client compliance, improve anesthetic protocols, and increase follow-up calls, emails, and texts. In keeping with their commitment to focus on the future, the partners have already set the date for their 2019 retreat. This idea of dedicating time to plan for the future resonates with me and I hope with you, too. Take these actions to help ensure your success.
Keep your list of business goals short—no more than three
You may go to a conference and come home fired up, exploding with new ideas to share with your team. The volume of suggestions may overwhelm you and your employees. Pick the top three goals you will implement, rather than choosing 30 ideas with lots of starts and stops, but no finishes. When identifying which goals will impact your practice the most, answer these questions:
How will this goal improve client experiences?
How will this goal improve patient care?
How will this goal improve hospital revenue?
Rebrand your management team meetings
I belong to a powerful and supportive network of more than 500,000 women entrepreneurs (ewomennetwork.com). Our Denver chapter of 125 business owners meets monthly. Sandra Yancey, executive director of eWomen Network, spoke at our October meeting and explained how she recently rebranded her "executive team" into her "growth team." Weekly gatherings are now called Growth Team meetings. Each manager shares how their team is contributing to the business's growth and well-being.
Are you engaging your hospital leaders weekly? As a veterinary consultant, I've long promoted the need for a weekly management team meeting between the hospital owner, practice manager, and team leaders. Now I'm going to call it the Growth Team meeting. Ask your technician, client service, and boarding managers how they will help grow the practice and client experiences this year. Revisit this question every week, staying focused on the goal of constantly moving your practice forward.
Draw a picture of what success looks like
Let's say you want to grow your dental services. You provide webinars on how to present the need for treatment to clients, practice case-presentation skills, and create slideshows and photo books as client-education tools. You run a report in your practice-management software and post the number of dental procedures you performed last year.
Whatever your number is, set a goal to improve dental compliance an additional 20 percent. As a veterinary consultant, I advise health-care teams that achieving 20 percent growth is attainable and easy. Let's say you average three dental procedures from Monday through Friday for a total of 60 each month. To achieve 20 percent growth, you will need to reach 72 dental procedures next month. Break the big goal into a daily focus. Your team will need to perform three more dental procedures per week or a total of four per day. Post the goal on an employee bulletin board. Have technicians write names of patients who received dental procedures on paper teeth and proudly post them after each procedure. Number each tooth so you see your progress. You might even exceed your expectations!
Take daily steps toward a big dream
If you're an associate veterinarian dreaming of starting your own practice, what are you doing to achieve that goal? Are you also practicing firefighter medicine, going home too exhausted to work on your dream? Write this message on a sticky note and put it on your bathroom mirror: "What did I do today to work toward my goal of owning a practice?" Every morning and every evening, you must look yourself in the eye and be accountable to yourself. Persistence is your GPS. It will soon say, "You've arrived," rather than "Recalculating."
Create a vision board
This bulletin board has photos, magazine clippings, and inspirational notes to keep you focused on your goals. Visualizing isn't hocus pocus. A TD Bank survey of 500 small business owners found 82 percent of entrepreneurs who used a vision board since startup have accomplished more than half of their goals. More than a third of small business owners use vision boards to show employees the company's goals and where the owner wants the business to be in the next five years. The survey found respondents who keep images to remind them of their goals are twice as confident about their ability to achieve those goals as those who don't use visuals (59 percent versus 31 percent).
Put your vision board in a space you see every day. Let it stand out and command attention instead of getting lost in clutter. Post photos illustrating what you want to achieve, such as a beach house, red sports car, new hospital building, digital X-ray unit, or family vacation. Get inspiration from entrepreneur vision boards on Pinterest. (You can find several examples here.)
When you step back, take a deep breath, and focus on growing your business, your practice can thrive. Will 2019 be your best year yet?
Wendy S. Myers, CVJ, author of 101 Communication Skills for Veterinary Teams, owns Communication Solutions for Veterinarians in Castle Pines, Colo., and offers consulting, seminars, and monthly CE credit webinars. Reach her at wmyers@csvets.com or csvets.com.