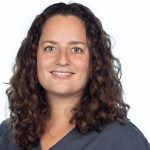 For the first time, a veterinarian has been honored by the American Society for the Prevention of Cruelty to Animals (ASPCA) for their efforts to provide critical care for animal cruelty victims.
Inbal Lavotshkin, DVM, medical director at Veterinary Emergency and Referral Group (VERG) South, was recognized alongside members of the New York City Police Department (NYPD) and prosecutors through the NYPD/ASPCA Partnership.
Shevonne Johnson, the head receptionist at VERG, accepted the 2018 ASPCA Humane Award on Dr. Lavotshkin's behalf at the society's Fourth Annual Appreciation Luncheon.
"It is an absolute honor to be recognized by the ASPCA and it wouldn't be possible without the efforts of our dedicated team here at VERG," Lavotshkin said.
"The ASPCA is an amazing organization with a storied history of providing lifesaving support for the animals of New York City. Together, we have been able to help countless pets and look forward to continuing this work as long as there are animals who are in need."
Since its start in 2014, the NYPD and ASPCA's citywide partnership has helped treat more than 3,200 animals.