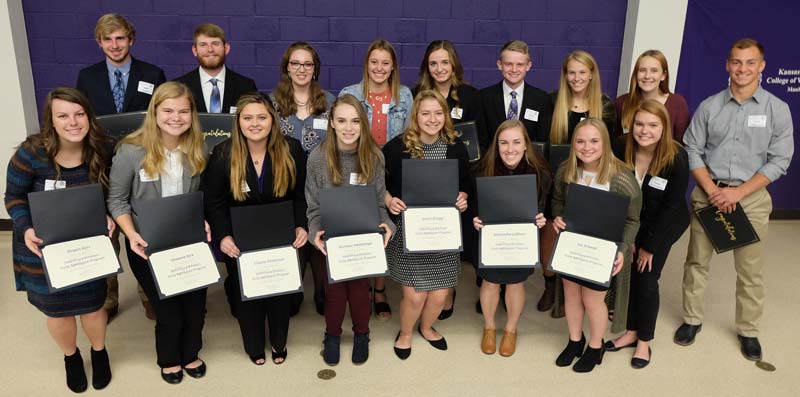 Seventeen aspiring veterinarians at Kansas State University (K-State) are one step closer to achieving their professional goals.
The university's College of Veterinary Medicine has selected its 2019 class of Early Admission Scholars. Established in 1999, the honor recruits K-State's top-ranking undergraduate students who are committed to pursuing careers in veterinary medicine, guaranteeing them a spot in the school's doctor of veterinary medicine (DVM) program.
"The young men and women inducted into the veterinary scholar early admission program represent the top five percent of K-State students, academically," says Callie Rost, DVM, the college's assistant dean for admissions.
The scholars are all animal sciences and industry majors, and most are in the pre-veterinary medicine or bioscience/biotechnology track. Each undergraduate will be paired with a veterinary student mentor who will assist them in career and academic development, as well as provide orientation and access to college activities. The scholars also will attend regular meetings throughout the academic year to develop a sense of community and share their progress.
This year's Early Admission Scholars are:
Gabriel Prater (Kansas);
Chance Kopsa (Kansas);
Samantha LeBlanc (Kansas);
Kortnee VanDonge (Kansas);
Jacob Eyster (Kansas);
Regan Kerr (Kansas);
Grace Gregg (Kansas);
Caleb Hildebrand (Kansas);
Shawna Kirk (Kansas);
Scotney Reichenberger (Kansas);
Serena Schotanus (California);
Healy Funderburg (Illinois);
Kaitlyn Desmond (Maryland);
Ivy Schmid (Nebraska);
Grace Connell (Texas);
Faith McDonald (Texas); and
Elayna Anderson (Texas).
Early admission students must maintain a 3.3 grade point average (GPA) in their undergraduate studies, as well as complete all semester, yearly, and program requirements before entering the DVM program.
The school is accepting admissions for next year's program until Feb. 1. For more on how to apply, click here.