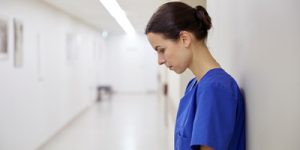 Animal health organizations are partnering to combat suicide among veterinarians in the U.S.
According to a study by the American Veterinary Medical Association (AVMA) and the Centers for Disease Control and Prevention (CDC), female veterinarians were 3.5 times as likely to die from suicide as the general population from 1979 through 2015. For male veterinarians, that number was 2.1 times.
"Too many of our colleagues have either contemplated, attempted, or died by suicide," said AVMA president John de Jong, DVM.
"Working with our colleagues throughout the veterinary community will help us find solutions more quickly. This issue is affecting not only our profession, but society as a whole, in numbers greater than ever before."
AVMA is working with a number of groups to help address the issue, including:
Allied veterinary medical associations
Independent veterinary communities
Representatives of private and corporate practices
Suicidology experts
North American Veterinary Technicians Association (NAVTA)
Association of American Veterinary Medical Colleges (AAVMC)
Veterinary Information Network (VIN)
American Foundation for Suicide Prevention (AFSP)
The association and partners are creating resources to facilitate outreach, such as question, persuade, refer (QPR) training, a free online program put in place to help veterinarians identify and refer at-risk colleagues.
"Oftentimes, people may suspect someone is suffering, but they don't know what to say, or they worry what they say may make the situation worse," said Jen Brandt, CPNP, PMHNP-BC, AVMA's director of member well-being and diversity.
"It is my goal to have every veterinarian complete QPR training. It provides guidance on what to say and ways in which you can enhance a sense of belonging and help alleviate the sense of fear some may have about being a burden to their friends, family, or colleagues."
For AVMA's list of programs and tools available to tackle specific stressors, click here.