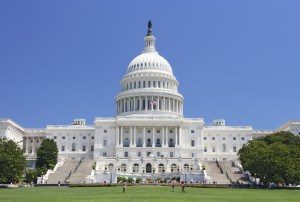 The American Veterinary Medical Association (AVMA) has selected two veterinarians to serve in the 2018-2019 AVMA Fellowship Program, providing Congress with counsel on important policy issues.
Beginning in August, the two selected fellows will serve for one year in Washington, D.C., as full-time staff for a congressional office or congressional committee. During their tenure, the fellows will advise policymakers on a wide range of issues, such as food safety, public health, animal welfare, research, and small business policies.
This September, the fellows will interview with congressional offices to receive their year-long placements. Once placed, they will support the activities of that office full-time. The fellows are not AVMA employees or lobbyists.
The 2018-2019 fellows are:
Meera Chandra, DVM, MPH: Dr. Chandra is a 2018 cum laude graduate of the University of Florida College of Veterinary Medicine and College of Public Health & Health Professions. During her time in veterinary school, she gained significant public health and veterinary experience—including positions at the World Organization for Animal Health in Paris, the Department of Homeland Security Office of Health Affairs, and the U.S. Department of Agriculture Food Safety and Inspection Service. She was also president of the University of Florida's Public Health and Services Club.
Fred D. Lehman, DVM, DACT, MABM, PMP: Dr. Lehman's career has included experience in veterinary practice, academia, and the pharmaceutical industry. Most recently, he served as senior associate director of business development & licensing for Boehringer Ingelheim Animal Health, and he has also worked in new business and in cattle veterinary operations for Bayer Animal Health and Pfizer Animal Health, respectively. Previously, he was an associate professor and extension leader at Mississippi State University. After graduating from Oklahoma State University, he started his career as a veterinary practitioner, owning a mixed-animal practice for 10 years in Texas. Lehman has served the veterinary profession as president of the Society for Theriogenology and treasurer of the Therio Foundation.
The 2018-2019 fellows were selected out of 12 applicants. AVMA's Fellowship Selection Committee was chaired by AVMA Immediate Past President Tom Meyer, DVM, and included former AVMA congressional fellow Rachel Cumberbatch, DVM, and AVMA deputy CEO Adrian Hochstadt.
The fellowship program is sponsored through the American Association for the Advancement of Science, which works to place qualified scientific experts in congressional offices where they are needed. The AVMA provides funding for the program. To date, more than 65 veterinarians have participated in the AVMA Fellowship Program.