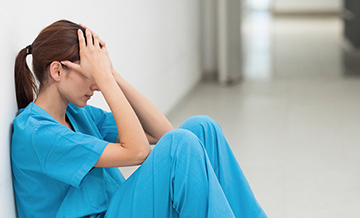 Veterinarian mental health is among the top priorities of American Medical Veterinary Association (AVMA), stated the organization, which is why it says it is committed to developing resources to safeguard veterinarians' emotional well-being.
To help its members understand what professional wellness resources are available to them depending on where they live, the AVMA's State-by-State Wellness Programs for Veterinary Professionals resource connects veterinarians with state-based well-being programs.
The one-page resource includes the most current laws, regulations, and confidentiality provisions governing state wellness programs, and provides a by-state contact for those seeking services. In many states, the contact is the state veterinary medical association, but many states also feature peer-assistance volunteers, "on-call" individuals who can provide support and information to veterinarians and their families in need of assistance.
"It lets you know exactly who to reach out to for assistance, whether for yourself or for a colleague," said the AVMA in a statement.
In the course developing this program, the AVMA found that state well-being programs vary in scope and mission.
"Some cater solely to the veterinary profession, while others serve all licensed medical professionals. They may include peer assistance, professional recovery, dependency, impairment, and diversion," according to the organization. "Our research found laws and regulations authorizing or establishing specific wellness programs for veterinary professionals in 36 states and the District of Columbia. Such provisions were not found in Alaska, Arkansas, Connecticut, Hawaii, Idaho, Missouri, Montana, New Jersey, North Dakota, Oregon, Rhode Island, Vermont, West Virginia, and Wisconsin. If your state has no specific program, your most valuable resource will be your state's veterinary medical association, which can help support and direct you to available services."
Suicide prevention training
The AVMA's new pilot program provides free training on how to identify the signs that someone is contemplating suicide, establish a dialogue with them, and guide them toward professional help. This wellness gatekeeper training is available free of charge to AVMA and student AVMA members (SAVMA).
"The program is available to a limited number of participants on a first-come, first-served basis, so we encourage you to sign up as soon as possible. The training is done entirely online and can be completed in 60 minutes or less," said the AVMA in a statement.