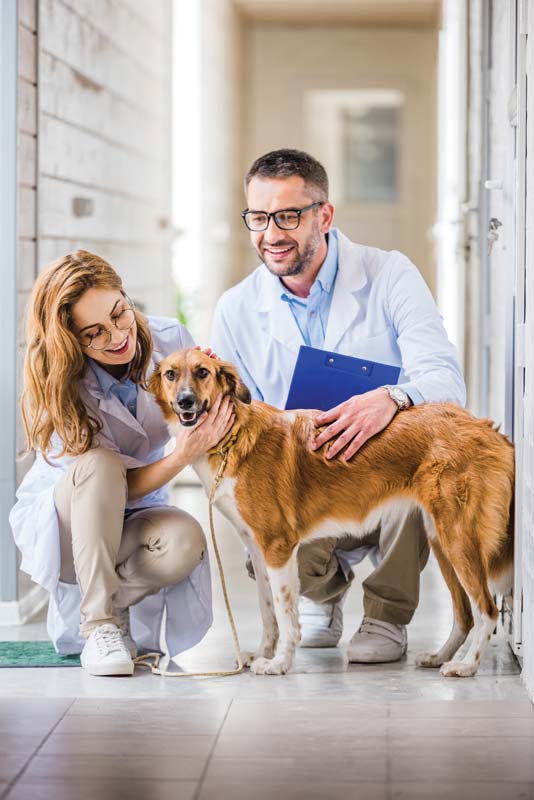 By American Veterinary Medical Association (AVMA)
As the national association for veterinarians, the American Veterinary Medical Association (AVMA) provides tools and resources that help our members—and the veterinary profession as a whole—grow, advance, and succeed. Some of these tools are open to all veterinary professionals, while others are available exclusively to AVMA members. Many of these you already know about, such as our insurance products and scientific journals. But there are other resources you may not be aware of.
You'll often find announcements on our AVMA@Work blog (atwork.avma.org) of new tools and other member benefits. But if you don't regularly check the blog, it can be easy to miss out. We want you to use all of our available tools to help build the strong, vibrant life you deserve. AVMA resources can not only make your work easier, but also help you feel more fulfilled and be more successful.
Explore and use these AVMA benefits to make sure you're getting the most value from your AVMA membership.
Build the foundation of a strong career
AVMA membership brings access to a wide range of tools that help you grow and advance in your career, no matter what your career stage or area of focus:
Free CE courses
Continuing education is not just a must for licensing. It's critical to stay at the forefront of our profession. AVMA Axon (axon.avma.org) makes it easy to stay up-to-date and informed on the latest trends and pressing topics in veterinary medicine. Our digital education platform offers a growing library of convenient, easy-to-use CE courses that are both informational and designed to help you transform your learning into action immediately. Axon courses are available to all veterinary professionals, but AVMA members can access most of the catalog for free. This includes live and on-demand webinars, recorded podcasts, and the Workplace Wellbeing Certificate Program.
Career support
Whether you're looking for a new job, thinking about making a career transition, or trying to gain solid footing as you're just starting out, the AVMA has tools to help. Our Veterinary Career Center (avma.org/VCC) is your go-to resource for all things career-related. It's the largest and most active veterinary job board in the industry, and has a suite of resources to help you build the veterinary career you dream of. These include résumé-writing and interviewing tips, career-focused webinars, and tools to help you grow and advance in your career. Have you attended one of VCC's virtual career fairs? They're an easy and convenient way to connect directly with hiring managers across the country without having to travel anywhere. There's one happening Oct. 3, and we're planning more next year, so keep an eye out for details.
If you're in the early stages of your career, you'll want to visit My Veterinary Life (MyVeterinaryLife.com). It's a website geared specifically for recent graduates and veterinary students, and it has tools and resources to help you address some of the unique challenges you may encounter as you're just starting out. It targets three key areas—financial health, wellbeing, and career—with guidance and practical tools that can help you build the foundation for a successful and fulfilling veterinary life.
Practice smarter, not harder
Clinical practitioners have access to a wide range of professional tools supporting your day-to-day work, while bringing you closer to achieving long-term goals. From communicating with clients and treating patients, to managing your team and improving hospital procedures, these tools help you streamline operations, save time and money, and grow your practice.
Clinical guidance for daily practice
There are many critical issues that impact veterinarians in the front and back office every day: antimicrobials, cannabis, opioids, virtual care, euthanasia, assistance animals, and many more. AVMA has dedicated resources that help you navigate these and other complex challenges that impact your patients, clients, and practice. As an AVMA member, you can download, print, and start using these practical tools immediately at avma.org/PracticeBenefits.
Simplified purchasing
We recently launched AVMA Direct Connect (avma.org/DirectConnect), a member-exclusive service that makes purchasing for your practice more efficient and economical. Direct Connect is powered by Vetcove and includes valuable features that are only available to AVMA members. These include a tool that lets you compare real-time pricing at consumer pharmacies, giving you an advantage over large retailers and empowering you to bring sales back into your practice. Direct Connect combines the catalogs of all veterinary vendors on one website, so you can save time and money while buying from the vendors you already trust. You can research products, compare prices, see what's in stock, view promotions, make purchases, and manage your orders all in one place.
Exclusive savings and discounts
Use AVMA Member Edge (avma.org/MemberEdge) to gain access to exclusive deals and discounts on many of the products and services you use every day, such as office supplies, business products, financial solutions, and apparel for your team. You'll even find special deals on car rentals, hotels, and tickets to shows and events across the country.
Association health plan
Did you know the AVMA has resumed sponsoring health insurance coverage for many of our small business members? Association health plans are currently available in nine states through AVMA Trust, and we're working with lawmakers to expand the program. Visit avmaTrustAHP.com to see if your practice qualifies and to learn more about the available plans.
Protect your finances and wellbeing
Physical and emotional wellbeing, financial stability, and overall fulfillment are vital for all of us. AVMA provides tools and resources to help you thrive in the areas of your life that extend beyond work.
Financial planning
Whether you're looking for the right loan repayment strategy, applying for student loan forgiveness, preparing for salary negotiations, or mapping out different earning scenarios, we can help. AVMA financial planning resources help you take ownership of your finances and make wellinformed decisions that put you on a path to financial security. Find them at avma.org/PersonalFinance.
Wellbeing support
AVMA members can take advantage of a wide range of resources that provide practical support for healthful living and self-care, and empower you to extend a helping hand to colleagues. At avma.org/Wellbeing you'll find tools to help you manage compassion fatigue and everyday stress, improve work-life integration, and nurture mental and emotional wellbeing in every way. We provide free Question, Persuade, Refer (QPR) suicide prevention training to AVMA members, and a 100 Healthy Tips guide to help you promote wellbeing at work. You also can enroll for free in the Workplace Wellbeing Certificate Program on AVMA Axon to learn how to instill a culture of wellbeing in your workplace.
As the veterinary profession continues to evolve, so do our members' needs. We're working every day to develop the tools and resources our peers and colleagues are asking for. The best way to keep up to date on new benefits is to follow our blog: atwork.avma.org. Much of what you'll find is the result of suggestions made by members like you. So, if there's a program or service you think AVMA should turn its attention to, we encourage you to let us know. Contact your Board of Directors or House of Delegates representatives through the leadership directory on avma.org, or use the website contact form to send in your idea.
This Education Center article was underwritten by American Veterinary Medical Association (AVMA).