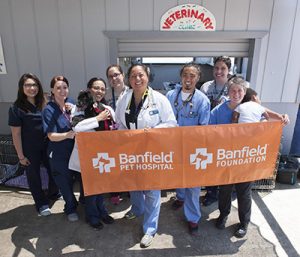 Banfield Pet Hospital has been named an honoree of The Civic 50 by Points of Light, the world's largest organization dedicated to volunteer service. As a recipient for the second year in a row, the award recognizes Banfield, including the work of the Banfield Foundation, as one of the most community-minded companies in the United States. The Civic 50 provides a national standard for superior corporate citizenship and showcases how companies can use their time, skills, and other resources to improve the communities in which they do business.
"Points of Light believes that people drive change in addressing society's growing and most profound challenges," said Natalye Paquin, president and CEO, Points of Light. "The business community plays an important role in creating and delivering innovative solutions that drive social good in the communities where they live and work."
The Civic 50 honorees are public and private companies with U.S. operations and revenues of $1 billion or more and are selected based on four dimensions of their U.S. community engagement program, including investment, integration, institutionalization, and impact.
"Banfield and the Banfield Foundation are committed to making a positive difference in the lives of pets and their owners," said Brian Garish, president of Banfield Pet Hospital. "In the past year alone, our associates have dedicated more than 20,000 hours to impact the lives of 180,000 pets and people around the country, educated more than 13,000 kids about responsible pet ownership, and, together with the Banfield Foundation, teamed up to help more than 26,000 pets impacted by natural disasters."
For more information on Banfield and the foundation's charitable efforts, read Banfield's 2017 Corporate Social Responsibility (CSR) Report and the Banfield Foundation's 2017 Impact Report.