Suggested Veterinary Products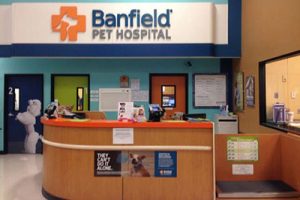 Banfield Pet Hospital recently released its 2017 Corporate Social Responsibility (CSR) Report, detailing its support of pets, communities, its associates, and the veterinary profession. The company's charitable arm, the Banfield Foundation, also released its 2017 Banfield Foundation Impact Report, which summarizes how the foundation leveraged the resources entrusted to it by donors and shares stories about the pets, people. and organizations it supported in 2017.
The company's 2017 CSR efforts included volunteer programs, championing preventive care, partnerships with animal welfare organizations, environmental stewardship, and investments in its associates, as well as the broader veterinary industry. Continued disaster relief efforts in 2017 from Banfield and the Banfield Foundation helped more than 26,000 pets and their families in the aftermath of Hurricanes Harvey, Irma, and Maria, demonstrating their commitment to the communities they serve—and in which company associates live and work.
"In 2017, Banfield grew as a company and as a corporate citizen," said Brian Garish, president of Banfield. "We provided much-needed veterinary care and supplies, as well as volunteer services, to animal welfare organizations, communities, people and pets in need. We invested in our associates and continued to use our resources, reach, and relationships to strengthen the broader veterinary profession. Our associates continue to inspire me every day with a dedication to quality and service that extends beyond our hospital walls and outside the work day, demonstrating what we mean when we say we're 'Here to Give Back.'"
To date, the foundation has supported the health, safety, and wellbeing of pets in all 50 states—even those without pet hospital locations—as well as Washington D.C. and Puerto Rico. In 2017 alone, the foundation awarded more than $2 million in grants through programs focused on accessible veterinary care, temporary shelter and disaster relief.
"We launched the Banfield Foundation more than two years ago with the belief that every pet deserves access to quality veterinary care, whether they have a loving family or are still waiting to find a forever home," said Marta Monetti, company senior vice president of corporate affairs and foundation president and chairman of the board. "Continued support from our generous donors in 2017 enabled us to help more than 250 organizations across the country expand their reach in communities that needed critical support."
Highlights captured in the report and the foundation impact report include:
$2,776,368 combined investment in pets through foundation grants, HOPE Funds, and Shelter Services
526,216 pets and people impacted by the combined efforts of Banfield and the foundation
179,990 pets and people in 204 U.S. cities impacted through the Mars Volunteer Program; as part of Mars Inc., Banfield has the opportunity to participate in this ongoing service initiative for associates looking to give back in the community
22,413 hours volunteered by hospital associates
$212,000 in sponsorships for veterinary medicine industry-wide initiatives
288 grants awarded by the foundation, a total value of $2,134,977
$533,374 in grants awarded by the foundation to support disaster relief efforts in Texas, Florida, Puerto Rico, and California
To learn more, check out the 2017 Corporate Social Responsibility Report, the 2017 Banfield Foundation Impact Report, and a 360° video of Banfield's Mars Ambassador Program assignment that helped communities impacted by catastrophic flooding.
For more CSR-related resources and insights, visit the Banfield Exchange.