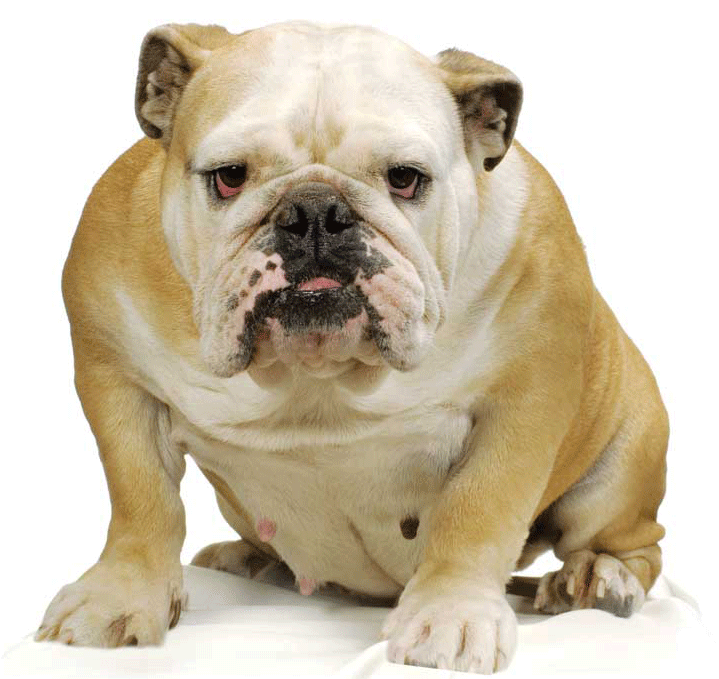 Finding significant lymphocytosis in a patient typically sends veterinarians on a search for cancer. Although there are other diseases that can cause elevated lymphocyte counts, they are a distant second to many different types of hematopoietic cancer. However, recent work done by our laboratory at Colorado State University found some English bulldogs with lymphocytosis do not have cancer, but instead a newly discovered syndrome peculiar to the breed.
BCLL
Before looking at our findings, it is important to review the basics of B-cell chronic lymphocytic leukemia (BCLL) and how it differs from polyclonal B-cell lymphocytosis.
BCLL is a common form of leukemia in dogs and people. It is a malignancy of small-sized B-cells in the blood and bone marrow. The disease tends to affect older dogs (median age 10-11.9 years) and there are some noted breed predispositions (boxers, small-breed dogs). Typical lymphocyte counts in these cases range from 5,000 to greater than 300,000.
Most veterinarians think of BCLL as an indolent disease, although past literature suggests a wide range of survival times.
In a retrospective study published this year, we took a closer look at BCLL survival and prognostic factors in a large group of dogs. As noted in other studies, including one published by us in 2008,1 the recent study found a wide range of survival times for BCLL. If we divided the study population and compared boxers with BCLL to non-boxer dogs with the disease, it was clear boxers had a much shorter survival time (median survival of 178 days) compared with non-boxers (median survival of 423 days). Dogs with clinical signs at the time of diagnosis also had shorter survival times than those without signs. We also identified several other laboratory findings, which could help predict outcome. 
A new syndrome
In the 2016 study,2 we were interested in identifying different breeds at an increased risk for BCLL. One breed we identified was English bulldogs, but the dogs had a unique presentation as compared to the other breeds. They were significantly younger when they presented and had differences (compared to other dogs with BCLL) in their B-cell surface markers as measured by flow cytometry. It made us start to wonder whether English bulldogs truly had BCLL or a different, previously unidentified disease.
We then performed a follow-up, retrospective study on 84 cases of B-cell lymphocytosis in English bulldogs,3 drawn from our database of 195 English bulldogs. The team analyzed the serum of these dogs to determine the types of antibodies they produced. Since many of the dogs had splenomegaly, the team also took a closer look to see what kinds of expanded cell lines were present. Finally, we wanted to determine if the cells were monoclonal or polyclonal. The answer to this crucial question helped us to determine if the expanded B cell population was cancerous (monoclonal) or non-cancerous (polyclonal).
We found that 70 percent of the dogs did not have cancer—the B cells in their peripheral blood were derived from many different unique clones (polyclonal). These dogs tended to be young, some just a year or two old, when they developed the syndrome, with a median age of 6.8 years. Three-quarters of the dogs were male, and more than half had enlarged spleens. Most of the cases had hyperglobulinemia as a result of the high levels of antibodies made by these B cells. Lymphadenopathy was noted in 11 percent of dogs.
The findings in this new study clarified the results from our original BCLL research. Rather than being at high risk for BCLL as originally thought, English bulldogs develop a benign syndrome that has many similarities to BCLL. The syndrome almost certainly has an underlying genetic cause and does not appear to have a malignant clinical course. We have called this disease PBLEB (polyclonal lymphocytosis of English bulldogs). 
Ongoing research
Since the publication of this paper, our team has looked at other dog breeds to see if a similar syndrome exists. We found a few cases in mixed-breed dogs and some American bulldogs. We have never seen the syndrome in French bulldogs, suggesting if a genetic component is present, the gene(s) responsible mutated after these two breeds diverged.
Because of the strong genetic component to this syndrome, we are collaborating with researchers at the Broad Institute to see if we can pinpoint the genetic underpinning of the disease. These results are pending, but we are excited to see what this team finds.
We also are looking at the long-term outcome for these dogs. One of the questions we want to answer is if these dogs eventually progress to overt B cell neoplasia. We only have anecdotal evidence of this progression in two dogs, but long-term follow up in a series of cases is ongoing.  We have observed that even in the absence of progression to neoplasia, some dogs can become symptomatic because of discomfort caused by splenomegaly and/or complications associated with hyperglobulinemia. These dogs may require treatment, which may be similar for treatment chosen for BCLL. Our goal is to learn more about the clinical course of this disease to guide veterinarians on management of these patients.
Anne Avery, VMD, PhD, is a professor of Pathology at Colorado State University. She can be contacted at anne.avery@colostate.edu.
Emily Rout, DVM, PhD, DipACVP is a research scientist at Colorado State University. She can be contacted at emily.rout@colostate.edu.
This work was made possible by a generous grant from Morris Animal Foundation (D18CA-413).
References
1 Williams MJ, Avery AC, Lana SE, et al. Canine lymphoproliferative disease characterized by lymphocytosis: immunophenotypic markers of prognosis. J Vet Intern Med 2008;22: 596-601.
2 Bromberek JL, Rout ED, Agnew MR, et al. Breed distribution and clinical characteristics of B-cell chronic lymphocytic leukemia in dogs. J Vet Intern Med. 2016;30:215-222.
3 Rout ED, Moore AR, Burnett RC, et al. Polyclonal B-cell lymphocytosis in English bulldogs. J Vet Intern Med. 2020;34:2622-2635.
Further reading
Rout ED, Labadie JD, Yoshimoto JA, et al. Clinical outcome and prognostic factors in dogs with B-cell chronic lymphocytic leukemia: A retrospective study. J Vet Intern Med. 2021; Online ahead of print.