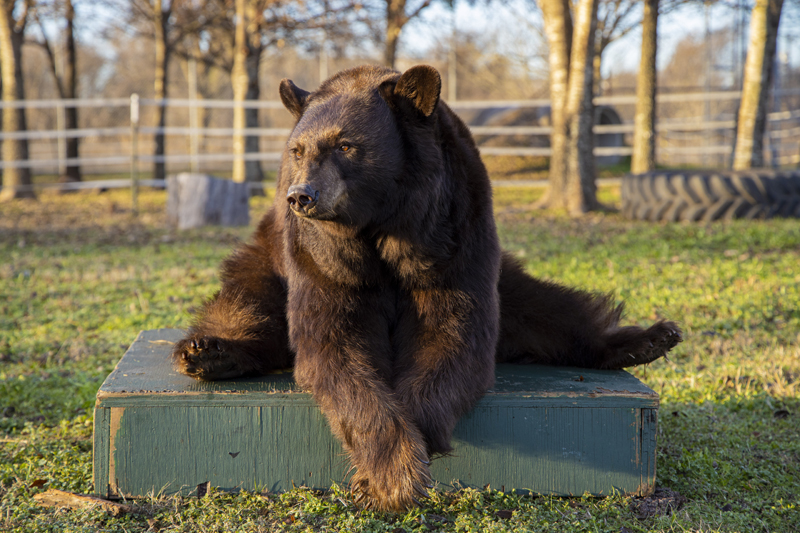 Judge Sue "Lady" Sloan, the mascot of Baylor University in Waco, Tex., is making waves as the first bear to receive TomoTherapy to treat a tumor found in her chest.
The mass was found in June 2019 during a routine wellness examination of the 17-year-old American black bear at Texas A&M College of Veterinary Medicine & Biomedical Sciences (CVM). A follow-up CT scan confirmed it was a thymoma.
"The good news for Lady is that she has no clinical signs of the mass, which means that we caught it early," says Lauren Smith, DVM, a radiation oncologist and clinical assistant professor at Texas A&M. "Thymomas are typically diagnosed when they're so large in size that they're compressing the heart and the lungs, causing difficulty breathing or lethargy. As we have been establishing the best treatment plan for Lady, the tumor has remained stable in size on advanced imaging. Being able to intervene at an early point is why we have a very positive outlook for her."
Veterinarians at the college began Lady's course of TomoTherapy in August with the goal of reducing the size of the benign cranial mediastinal mass, while simultaneously minimizing the exposure of radiation to surrounding healthy tissues. Additional treatments were administered in December.
As of now, Lady has been transferred to her home at the Baylor campus, where university officials say she will be monitored closely.
"We are grateful to have access to a remarkable team with the expertise needed for Lady's care," says Baylor president, Linda A. Livingstone, PhD. "Our priority is Lady's comfort and well-being. Following the treatments, we will visit again with the veterinary team.