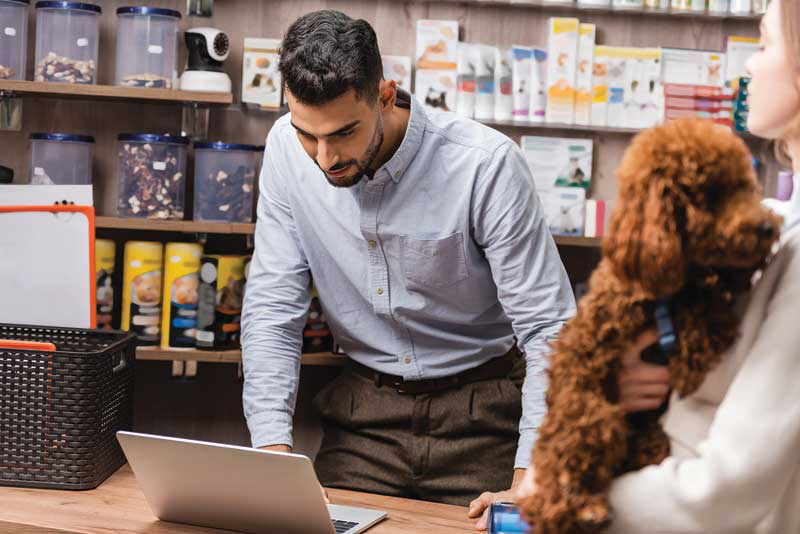 Veterinary practices often seek technological solutions to help them streamline processes and automate procurement. Automatically sharing data between supplier e-commerce stores and e-procurement solutions is key to reducing procurement workloads. However, there is a barrier making integration difficult to achieve: most veterinary suppliers do not have the technical capabilities to integrate with their customers' procurement software.
"If we tried to force suppliers to make big technology investments, we would not be as successful with our procurement program," shares Hema Sankar, director of procurement systems for Mars Veterinary Health
An e-procurement platform can be fully integrated with its suppliers' e-commerce and enterprise resource planning (ERP) systems, allowing pet care brands to achieve procurement automation without imposing complex, time-consuming, and expensive IT projects on suppliers. At the same time, Mars Veterinary Health achieved its internal integration goals and reduced friction in the procurement process.
Why integrate systems?
An integration can create a unified process for veterinary clinics to procure products and medications from authorized suppliers via an e-procurement system. With this, practices can reduce procurement friction so veterinarians and staff members could focus on their patients rather than purchasing.
Further, e-procurement integration allows veterinary practice associates to securely sign in to suppliers' e-commerce stores from within an e-procurement online platform. Once authenticated, they can access up-to-date inventory with negotiated prices on all the products essential to their day-to-day needs.
The buyer builds an order and is automatically transferred back to the online platform for approval. This approach means associates no longer need to manually enter data as the integration handles communication between e-procurement and e-commerce platforms.
This authentication and data exchange process enables buyers to search and browse suppliers' online catalogs directly from an e-procurement system. In addition to eliminating manual data entry, the process catalogs ensure buyers comply with procurement approval processes while giving them a single location to shop for all integrated suppliers.
Once an order is approved in the e-procurement platform, a purchase order is automatically sent to the supplier's e-commerce or enterprise resource planning (ERP) system. Purchase order automation ensures orders are quickly and accurately delivered to suppliers in a format their systems understand. The order management system can also deliver a purchase order acknowledgment, confirming the order price and delivery details.
Finally, once the order ships, the supplier sends an electronic invoice, closing the loop on the Procure-to-Pay integration process. The invoice data is automatically entered into the e-procurement system, making it easy for suppliers to systemically match orders and invoices, while greatly reducing the time and effort to approve and pay invoices.
Overcoming integration challenges
Integration depends on supplier cooperation. Automation is only possible if veterinary e-procurement systems can communicate with supplier e-commerce systems. The development and infrastructure work are a big ask for veterinary suppliers who lack the technical expertise or motivation to support complex integration projects.
These challenges are compounded by the fact that e-commerce systems and e-procurement platforms sometimes use custom and incompatible communication protocols. Suppliers would have to create custom integrations for many e-procurement systems. Veterinarians would have to do the same for the numerous e-commerce platforms they buy from.
"Look for a partner that has deep expertise in the e-procurement-to-e-commerce integration space. Look for both extensive technology platform capabilities —PO, and invoice automation, as well as demonstrated integration support for the amazing breadth of e-commerce systems out there," advises Sankar.
Veterinarians across the United States strive to provide the best possible veterinary care. Procurement plays an essential role as prompt and expert care depends on clinics' ability to procure medicine and equipment quickly and efficiently. The health of your business depends on it, too: you must be able to track and monitor spending while complying with financial best practices. Veterinary e-procurement integration and automation reduces procurement friction and workloads, freeing veterinary practices to focus resources on state-of-the-art care.
Kevin Kazenmayer is TradeCentric's head of channel development and is an experienced leader in building and developing streamlined e-commerce and e-procurement solutions across B2B customers and their supply chain. Kazenmayer specializes in driving penetration and adoption of digital solutions across the e-commerce and e-procurement suite.