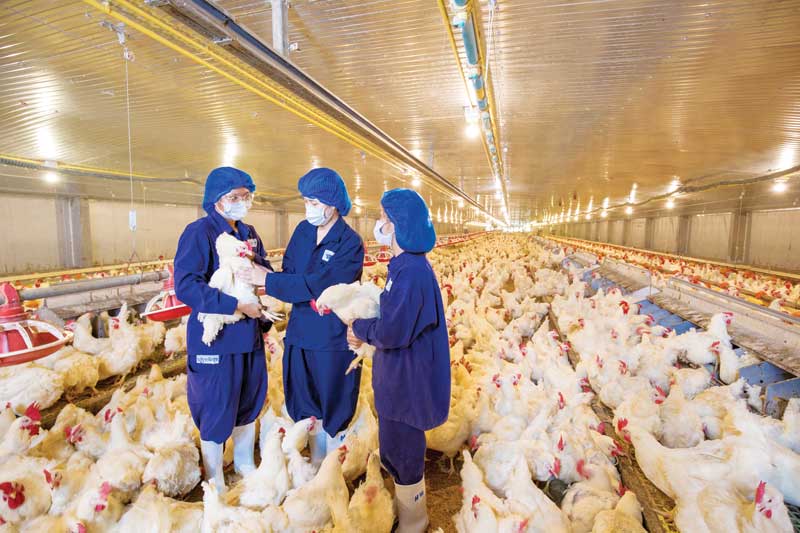 While it is true the majority of veterinarians are in private clinical practice, approximately 25 to 30 percent of veterinarians serve in a public practice capacity. It's a segment of the profession that is growing and has huge growth potential. So what do we mean by "public practice"?
Essentially, veterinary public practice refers to any practice except a private clinical one, and it can lead to tremendously diverse opportunities, including careers within the local, state, and federal government, corporate/industry, military, academia, nongovernmental organizations (NGOs), and veterinary associations. Further, public practice incorporates the following:
regulatory veterinary medicine;
zoo and wildlife medicine;
public health;
animal health at the national and state level;
food safety and security;
emerging infectious diseases;
prevention and control of foreign animal diseases;
epidemiology;
risk analysis;
risk management;
prevention and control of emergency and infectious diseases;
administration;
management; and
research.
Most would agree veterinary medicine is a profession in transition. The global society is evolving, and those changes are significantly impacting the profession. In addition, the global population is growing rapidly, new pathogens are emerging (75 percent of which are zoonotic), environmental and climate changes are occurring, and antimicrobial resistance is on the rise.1,2
These trends are evolving at a very fast pace and show no signs of reversing, calling for a much greater involvement of the veterinary profession in public health issues.2 People, animals, and products move quickly around the world, and global economies are intimately linked, increasing the opportunity for both disease transmission and resultant global economic impact. Indeed, veterinary and agriculture officials around the world are currently responding to the reemergence of African swine fever (ASF). Although not a zoonotic disease, ASF's economic impact in swine-producing countries has been momentous. The Australia's Department of Agriculture, Water, and Environment reported in September 2019 a decline in the Chinese swine herd by as much as 40 percent since the beginning of the outbreak.3 Public practice veterinarians in the U.S. and abroad have the primary role of creating and implementing exclusionary, surveillance, and response mechanisms for diseases such as ASF.
In addition, the emphasis of the veterinary medical profession has evolved over the years from one based on horses, to livestock, to companion animals, reflecting the changes in U.S. society. We are now moving to a possible new period of transition, which is based on the changing global society and an ever-increasing focus on public health issues.1 The current COVID-19 health crisis is tangible evidence of this change. COVID-19 is the third novel coronavirus in the 21st century that originated in animals and has affected human populations across the globe.4 Veterinarians again play a key role in public health crises such as this, which includes understanding the animal reservoirs of pathogens and how best to limit their spread, as well as developing vaccines, both for humans and animals.
In 2008, the Association of American Veterinary Medical Colleges' (AAVMC's) Public Health Taskforce convened a group of stakeholders representing various branches of the U.S. federal government, state and local governments, and professional societies to discuss their needs for public health veterinarians.2 Those future employers were quite frank about their concerns for the lack of availability of public health veterinarians.2
In 2013, the National Academy of Sciences (NAS) conducted a study on workforce needs in veterinary medicine. It found recent outbreaks of zoonotic diseases and a variety of food safety and environmental issues had heightened public concerns. NAS further stated that "demographic, economic, political, and environmental developments of the 21st century will profoundly change society and the services the veterinary profession must provide in order to remain relevant to the public."5
Veterinarians possess a wide variety of skills and training that make the profession well suited for an expanded role in serving society. Those skills and training include advanced science, research, public health, broad-based agricultural/environmental knowledge, problem solving, business management, and communication. Currently, there is concern about the lack of science, technology, engineering, and mathematics (STEM) professionals to fill science and technology positions within federal service to support the progress and innovation of the U.S. government. With their broad-based skills, veterinarians can be utilized to address many of these future needs.
There are several federal and state agencies employing veterinarians. In the federal government, the United States Department of Agriculture's (USDA's) Animal & Plant Health Inspection Service (APHIS) and Food Safety & Inspection Service (FSIS) are, by far, the largest employers of veterinarians. Other agencies employ veterinarians, but in much smaller numbers. Within the states, veterinarians work for departments of agriculture or their equivalents, as well as many public health and wildlife agencies. Veterinarians also are employed by and needed in corporations, nongovernmental organizations (NGOs), and in academia.
Workforce projections, emerging career opportunities
Future employers of veterinarians working in the public health sector see fast-growing demand for additional veterinarians working in areas such as emerging zoonotic diseases, biosecurity threats, and food safety, with a focus on complex global problems that span both human and animal health.2 These public practice veterinarians must be skilled in communications, negotiation, and leadership, and they must be critical thinkers who take a systems approach, including assessing, managing, and communicating risk.2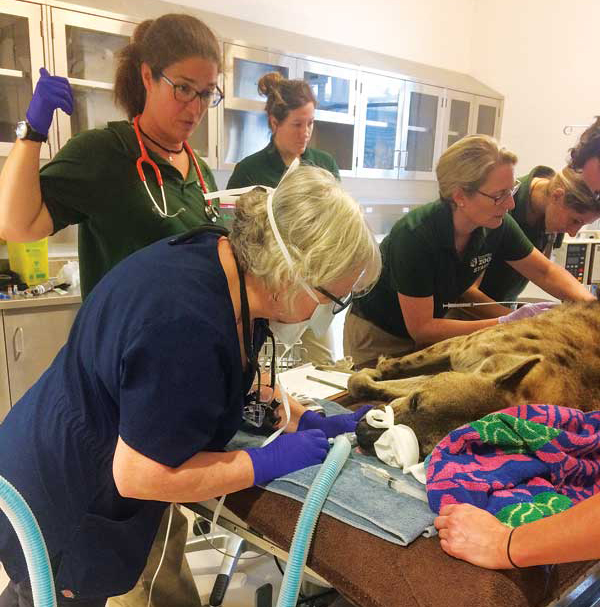 However, USDA's FSIS—the largest federal employer of veterinarians—has historically struggled with recruitment and retention issues. In recent years, the agency has experienced vacancy rates as high as a 10 percent in its veterinary positions and suffered from high employee turnover. Positions are typically available in FSIS, yet the work is not considered overly desirable by many prospective employees who are often unaware of the broader public health role within the agency.
USDA's APHIS, Veterinary Services (VS), which is also a large federal employer of veterinarians, has historically hired former food-animal practitioners to fill vacant positions; however, those individuals are few and far between at present. Instead, the agency is now predominantly hiring new graduates and former companion-animal veterinarians. Approximately 50 to 60 percent of new hires are recent graduates and the balance comprises mid-career veterinarians looking for a career change. Within APHIS, approximately 45 percent of current supervisors and managers are eligible to retire, so there is tremendous promotion potential for veterinarians willing to relocate. The challenge for APHIS is to maintain a sufficient workforce to respond to an animal health emergency.
In preparation for biological emergencies
The concern over such an emergency was highlighted at a recent hearing hosted by the United States Senate Committee on Agriculture, Nutrition and Forestry. Testifying before the committee, Kansas State University president Richard Myers said, "Much must be done to safeguard American agriculture in a globalized world. Three-fourths of the U.S. agriculture and food-critical infrastructure is not well-protected from potentially catastrophic biological events." APHIS continues to be reasonably successful in recruiting and retaining sufficient number of veterinarians to fill vacancies, but arguably, the approved number of positions is insufficient to be prepared for, and respond to, a biological disaster. As explained by Michael Dicks, PhD, AVMA's former chief economist, the need for veterinarians in terms of emergency preparedness and response exceeds the demand, meaning there is not the willingness to pay for the number of veterinarians needed. The introduction of a major foreign animal disease could rapidly convert this need to actual demand for veterinarians in APHIS.
There has been tremendous growth in the animal health industries over the last two decades. In particular, the veterinary pharmaceutical industries have grown substantially from approximately $1 billion gross revenue per year to now over $10 billion per year—and that is in the U.S. alone. This growth is attributable to several factors, many of which correlate positively with an increasing demand for veterinary services. These factors include the growth in pet ownership, as well as the increasing global demand for meat and dairy products. The demand for new and better pharmaceuticals and biologicals will continue as a result and because the opportunities for investors are lucrative.
All of this suggests a very favorable outlook relative to the opportunities for veterinarians in the animal health industries. Within pharmaceutical companies, there are positions in research and development, marketing, technical services, and regulatory affairs. For those individuals who are successful in entry-level positions, there is great potential for advancement into senior technical and management positions. The sophistication of the new products coming into the marketplace has led to a commensurate increase in the complexity of many of the new veterinary pharmaceutical positions. With more specialty products entering the market, there is a need for a greater degree of expertise within the technical support staff; hence, many of these veterinary positions require board-certified specialists. Similarly, veterinarians with program and personnel management, as well as leadership skills, are often placed on senior leadership teams within their respective organizations.
There is now a general awareness among veterinary students and recent graduates that these jobs exist in the veterinary pharmaceutical industry; this was certainly not the case 20 to 30 years ago. Although the recent "merger mania" among the veterinary pharmaceutical companies has created some flux within the industry, this is expected to settle soon and lead to a more stable environment.
Although modern food-animal production practices do not require a large number of corporate veterinarians, there are great opportunities for those who are interested in a career in this sector and are willing to get the necessary education and experience. Changes in poultry and swine medicine are creating challenges for the industry and, hence, opportunities for veterinarians. On the regulatory side, those changes include implementation of the Veterinary Feed Directive (VFD), prescriptions for water-soluble antibiotics, and increased regulation of food safety and environmental requirements. Likewise, growing consumer and retailer demands for antibiotic-free products, organic-certified products, and genetically modified organism- (GMO-) free products (non-GMO vaccines and non-GMO feed), along with concerns for animal welfare, put additional disease challenges on animals, and therefore, create a greater need for veterinary oversight.
Opportunities also exist in academia, as predictions for veterinary colleges suggest there will be a great need for veterinary faculty (especially those with specialty training). Further, all veterinary colleges are having difficulty maintaining the high-quality professors needed to prepare both DVMs and postgraduates.5
Transitioning into a public practice position
So how does one best prepare for transitioning into the veterinary public practice arena? A word of advice: don't start by "Googling" jobs and applying for whatever happens to be open. It is best to begin the process with a self-assessment, identifying personal interests, values, and preferences, which should be followed by a thoughtful career assessment. What elements are important to you in finding a career that would be a good personal fit? What aspects of your current position do you want to ensure you continue in your next opportunity? What aspects do you want to avoid in your next opportunity? What skills do you have that are translatable, and/or what skills do you want or need to acquire for a position of interest?
Final thoughts
The range of employment and opportunities for veterinarians is now incredibly diverse, and the types of employment available to veterinarians today have increased significantly.6 Indeed, a 2003 report issued by the Association of American Veterinary Medical Colleges (AAVMC) titled, "Emergency Needs in Veterinary Human Resources," indicated the very success of the veterinary profession depends on its ability to meet society's needs.2 A theme that emerged in multiple conversations with thought leaders from across the profession was that veterinarians must stop limiting themselves (e.g. "I'm only a veterinarian, so I can only do veterinary things"). Instead, we need to promote the qualifications of veterinarians (i.e. "As a veterinarian, I bring all these skills to the job") and look outside the traditional confines of our profession for employment opportunities.
References
Willis NG, Monroe FA, Potworowski JA, et al. Envisioning the future of veterinary medical education: The Association of American Veterinary Medical Colleges Foresight Project, final report. J Vet Med Educ. 2007;34(1):1-41. doi:10.3138/jvme.34.1.1
Maccabe AT, Matchett KE, Hueston WD. The need for public health veterinarians as seen by future employers. J Vet Med Educ. 2008;35(2):269-274. doi:10.3138/
jvme.35.2.269
Impact of African swine fever on global markets – Department of Agriculture. https://www.agriculture.gov.au/abares/research-topics/agricultural-commodities/
sep-2019/african-swine-fever. Accessed March 23, 2020.
Can veterinarians prevent the next pandemic? | American Veterinary Medical Association. https://www.avma.org/javma-news/can-veterinarians-prevent-next-pandemic. Accessed March 23, 2020.
Sciences NA of. Workforce Needs in Veterinary Medicine. National Academies Press; 2013. doi:10.17226/13413
Gibbs P and S. The Historical, Present, and Future Role of Veterinarians in One Health. Life Sci J. 2009;6(4):23-27. doi:10.1007/82

Valerie Ragan, DVM, director of the Center of Public and Corporate Veterinary Medicine at the Virginia-Maryland College of Veterinary Medicine, works to train veterinary students for careers in veterinary public practice. She can be contacted via email at vragan@vt.edu.

Ron DeHaven, DVM, MBA, is the principal in DeHaven Veterinary Solutions, LLC. He was previously the chief executive officer at the American Veterinary Medical Association (AVMA) (2007-2016) and administrator of the U.S. Department of Agriculture's Animal & Plant Health Inspection Service (2003-2007). He can be contact via email at DeHavenDVS@gmail.com.