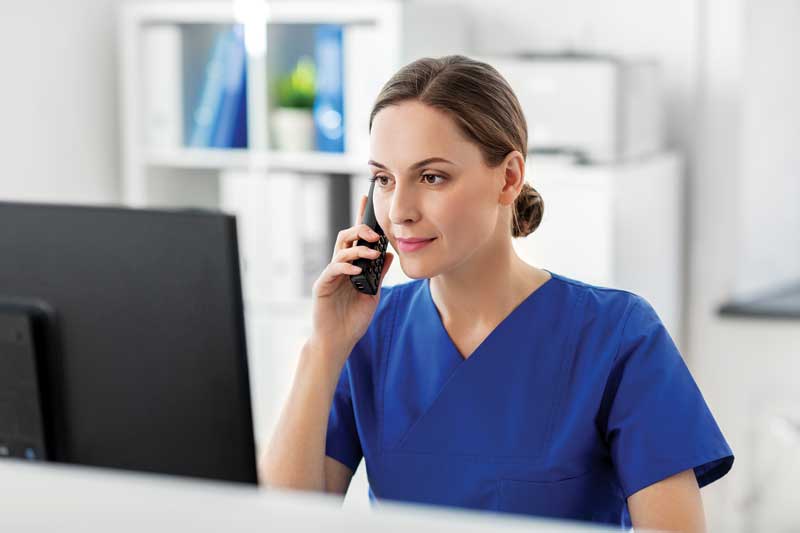 Most teams use their practice-management software as glorified cash registers and seldom customize features. Relying on defaults programmed by software engineers is a bad business strategy. Your software can actually make you money! Let's start with three money makers.
1) Customize exam codes and reminders
Do not put every exam under the category of "office call." Create distinct reminders to prompt clients to return for pets' timely care. Because exam lengths vary, you also need to charge more for longer appointments. Time is money. Set up these exam codes with corresponding appointment lengths and fees. Suggested fees are national averages from The Veterinary Fee Reference (See Table).1
Disease-management exams are for patients with chronic health conditions, such as renal disease, cardiomyopathy, arthritis, diabetes, and others. The veterinarian will set exam intervals based on the disease stage and frequency of reassessment. For example, a senior cat with advanced renal disease might be examined every three months with appropriate diagnostics such as blood work, urinalysis, and blood-pressure checks.
Create two levels of progress exams
A level 1 progress exam is a 10-minute follow-up exam on a minor or single problem, such as an ear infection. A level 2 progress exam is a 20-minute follow-up exam on a complex problem, such as a skin infection or other chronic condition. To create a perception of value and emphasize the need for follow-up care, I advise using the term "progress exam" rather than "recheck," which clients may perceive as free and optional.
Send reminders 60 days ahead
Given many hospitals are booking three to six weeks out during the pandemic, send reminders 60 days ahead rather than 30. You will have more appointment availability. Prompt clients to use online and app scheduling tools. The average healthcare scheduling call takes eight minutes.4 Research shows 70 percent of consumers prefer to schedule appointments via text.5
Here's a text/app template: "<Pet name> will be due for a checkup Sept., 15. We are experiencing increased appointment requests. Book now to ensure your first choice of time, day, and doctor. Click here to book online or download our app." Use benefit statements, such as "first choice of time, day, and doctor" to motivate clients to reserve appointments early. Lead pet owners to online and app booking tools to reduce call volume.
Forward book the next care
Forward book progress exams, preventive checkups, and surgeries. If you see a dog today for an ear infection, lead the client to book follow-up care now with the yes-or-yes technique: "<Pet name> needs a progress exam for his ear infection before <date>. Do you prefer 9 a.m. <date 1> or 2 p.m. <date 2> with Dr. <Name>?" Use the term, "progress exam" instead of "recheck." The word "progress" communicates you are moving forward in resolving the health concern and sounds more urgent and important. Some clients may perceive "recheck" as a free, optional service.
On the last puppy or kitten exam, forward book the spay or neuter surgery. My mom adopted an 8-week-old tuxedo kitten named Bandit from a shelter during the pandemic. I referred her to Dr. Jeff Denny of Ark Animal Hospital in Liberty, Mo., whose team takes my online classes. During Bandit's last kitten exam at 16 weeks, the team at Ark Animal Hospital scheduled her spay two months in advance when Bandit would be six months old. Forward booking the surgery let my mom pick her preferred surgery day and guaranteed future hospital revenue.
2) Send diagnostic reminders
You already send reminders for heartworm/tick and intestinal parasite testing. Apply the same principle to any diagnostic test that will need to be repeated. Let's say you perform an early detection screen on a senior patient every six months. Use the term, "early detection screen" rather than "preventive test," which clients may assume is optional and not medically necessary. Clients are familiar with the term "early detection screen" in human medicine and understand its importance for routine health monitoring. The Veterinary Fee Reference reports an average of $158.68 for a CBC with 16-24 chemistries and T4.1
The International Renal Interest Society advises to measure blood pressure and urine protein to creatinine ratio (UP/C) for chronic kidney disease (CKD) in cats.2 The veterinarian would set retesting intervals based on the stage of CKD. The average fee for urinalysis with UP/C ratio is $99.96, while blood pressure evaluation is $33.66, according to The Veterinary Fee Reference.1
Studies advise veterinarians to perform drug-monitoring tests at least every six months on dogs receiving NSAID therapy for management of chronic pain from arthritis.3 When filling the initial NSAID prescription, create reminders for both refills and drug-monitoring tests. Here's an email template for drug-monitoring testing:
Subject line: <Pet name> is due for a lab test before next refill | Click to book
Email body: <Pet name> is due for a drug-monitoring test before the next refill of <brand> on <date>. Drug monitoring is necessary every six months for your pet to continue to safely take this medication. The test also allows the doctor to make any adjustments in dosages. Click here to book online or download our app to schedule this 15-minute nurse appointment for the blood draw. If you have questions, reply to this email. We want to ensure timely refills and medication safety for <pet name>.
3) Send medication refill reminders
Most clients wait until the last pill is gone and then need "emergency" refills the same day. End the frustration of last-minute requests. Turn on refill reminders for drugs, such as flea/tick and heartworm preventatives, NSAIDs, insulin, allergy medications, phenobarbital, and other long-term drugs. Send reminders one month before doses will run out, which allows ample time to refill through your online store with home delivery or curbside pickup at your hospital.
Missing refills is costing your hospital thousands. Only 55 percent of dogs get year-round heartworm preventatives, according to an AAHA compliance study.6 In a two-doctor practice that sees 2,160 canine patients annually, 1,188 dogs are getting year-round preventatives while 972 dogs are unprotected. Undispensed doses for these non-compliant pet owners represent potential income of $116,640 to $291,600 annually ($10 to $25 per dose depending on brand). If you increase refills from 55 percent to 75 percent, your hospital could gain an additional $5,400 to $13,500 in pharmacy sales. Because pets need a lifetime of protection, preventatives are recurring income.
Here's a text/app refill template: "<Pet name> needs a refill of <brand> for heartworm protection. Click here to refill in our online store with home delivery OR reply Y to refill and get curbside pickup at our hospital. <Brand> offers a rebate of $XX when you buy 12 months."
In addition to sending refill reminders, print the number of refills available on prescription labels. Clients will see the number of refills available each time they administer the medication. Let's say a client gets monthly refills of her dog's NSAID, and you perform drug-monitoring tests every six months. Print the number of refills available on each prescription label, letting the client see the countdown of 5, 4, 3, 2, and 1 refill left. On the last refill, apply a "Blood work required before next refill" label.
Pharmacy sales represent 25 percent to 30 percent of hospital revenue.7 Make it easy for pet owners to purchase medications from you with refill reminders, an online store, and curbside pickup.
Start with these three money-maker strategies and brainstorm additional reminders to add with your veterinarians and hospital manager. Besides enjoying recurring income from improved reminders, clients will appreciate prompts so they can be the best caretakers possible for companion animals.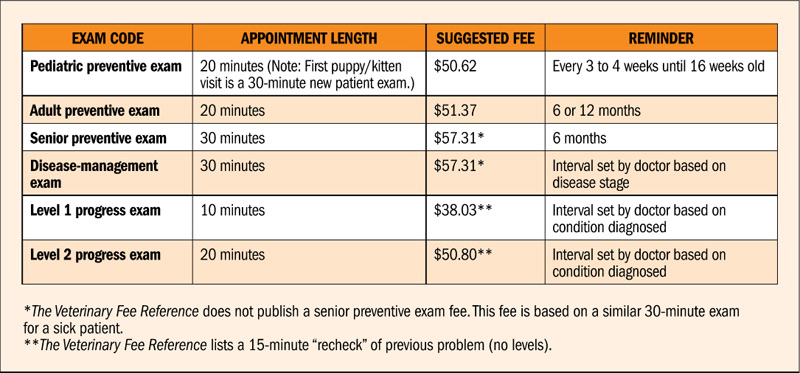 Wendy S. Myers, CVJ, has been training veterinary teams for 21 years as owner of Communication Solutions for Veterinarians. She teaches teams to become confident communicators, so more pet owners say yes to medical care. Wendy shares her expertise through conferences, online courses, and monthly live CE credit webinars. She is a certified veterinary journalist and author of five books. Her passion is to help practices like yours thrive and grow through effective communication skills. You may reach her at wmyers@csvets.com or www.csvets.com.
References
1 The Veterinary Fee Reference, 11th ed., AAHA Press, 2020:59,50,51,161,192,201.
2 International Renal Interest Society Treatment Recommendations for CKD in Cats. 2019. Available at: http://www.iris-kidney.com/pdf/IRIS_CAT_Treatment_Recommendations_2019.pdf. Accessed May 5, 2021.
3 Murrell J, White K, Visser K. Monitoring of Dogs Receiving NSAID Therapy for the Management of Chronic Pain. Veterinary Practice News. November 2011. Available at: https://veterinary-practice.com/article/monitoring-of-dogs-receiving-nsaid-therapy-for-the-management-of-chronic-pain. Accessed May 6, 2021.
4 Insight Driven Health: Why First Impressions Matter, Accenture, May 2013. Available at: https://www.slideshare.net/AdamBurke5/accenturewhyfirstimpressionsmatterhealthcareprovidersscheduling. Accessed May 6, 2021.
5 Park, A. 70% of consumers prefer to schedule appointments via text: 5 tips for safe, effective patient texting. 2020; May 4. Available at: https://www.beckershospitalreview.com/consumerism/70-of-consumers-prefer-to-schedule-appointments-via-text-5-tips-for-safe-effective-patient-texting.html. Accessed May 6, 2021.
6 Compliance: Taking Quality Care to the Next Level. American Animal Hospital Association, 2009:11,19.
7 Gavzer K. How to Profit on a Hospital Pharmacy. Today's Veterinary Business. Published August 2017. Available at: https://todaysveterinarybusiness.com/profit-hospital-pharmacy/. Accessed May 6, 2021.