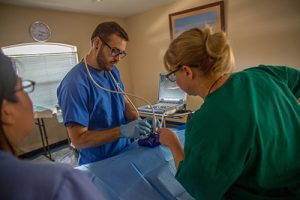 BluePearl Veterinary Partners has launched a new program—EmERge—that provides intensive training, one-on-one mentoring, and three years of employment to aspiring ER clinicians.
It's also aimed at developing more ER clinicians, both for BluePearl and the veterinary profession as a whole, said Rita Hanel, DVM, DACVIM-internal medicine, DACVECC, who is BluePearl's vice president for clinical operations and recruiting.
EmERge is a program with a three-year commitment open to recent veterinary school graduates, as well as doctors who have worked in general practice or other veterinary fields who want to move into emergency medicine.
Participants are paid throughout their training, which works like this:
Participants start with an intensive four-week boot camp at BluePearl's Tampa, Fla., hospital. The camp includes classroom instruction and labs, and covers emergency medicine, communication skills, and clinical leadership techniques.
In the fifth week, EmERge members are sent to one of BluePearl's more than 65 hospitals throughout the country, where individual mentors provide hands-on training.
In the 16th week, participants begin working full-time ER shifts. They continue to meet virtually through web-based seminars and rounds.
After the first full year in the program, participants are considered fully trained and are paid at the full market rate for their home hospitals.
Participants agree to continue as ER doctors for two more years, for a total commitment of three years.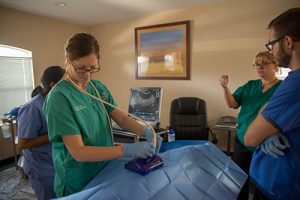 Seven people enrolled in the first EmERge class and are now working in 24-hour BluePearl hospitals in Kentucky, Illinois, Oklahoma, Texas, and Virginia.
EmERge has some similarities to a small animal rotating internship, another program that BluePearl offers, but there are important differences. EmERge is a three-year professional program focused solely on emergency medicine. It is not part of a residency program. Unlike an internship, EmERge veterinarians gain substantial pay increases during their first year.
EmERge participants say mentorship is a key part of what drew them to the program.
"I'll be able to go out to clinical practice and have a mentor, someone I can look up to, so they can help direct me," said Brittany Parsons, who graduated from veterinary school last year and is now working for BluePearl in Virginia Beach.
"I like the guidance; I like the support," said Carley Czuba, who graduated from veterinary school in 2010 and worked primarily in general practice before signing up for EmERge and is at BluePearl's Oklahoma City hospital. "I wanted to continue to grow and develop as a veterinarian, and I wanted to challenge myself."
Dr. Hanel, who designed the curriculum, said the mentorship and training is a key part of this effort to bring more clinicians into emergency medicine.
"We're arming them with the clinical acumen and the communications skills they need so they can be successful," she said. "There's a national critical need for ER doctors, and we feel it's our responsibility to ensure that the people that we're hiring in those positions have the skills they need to be successful."
Find more information about the EmERge program here.