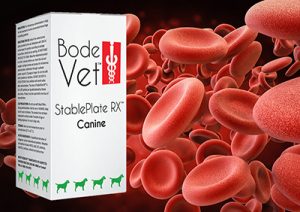 BodeVet, a company that develops novel blood products for use in hemostasis and regenerative medicine for the veterinary industry, has partnered with Blue Ridge Veterinary Blood Bank, HemoSolutions, and Northwest Veterinary Blood Bank to support distribution of its first product, StablePlate RX.
Billed as the world's first injectable freeze-dried platelet derived product, StablePlate RX Canine is used to treat acute uncontrolled hemorrhage in bleeding canine patients, according to Anne Hale, DVM, chief technical officer for the Rockville, Md., company.
Last year, BluePearl Veterinary Partners, Friendship Animal Hospital, Cornell University, the University of Georgia, and Iowa State University participated in clinical trials; Ethos Veterinary Health and North Carolina State University recently joined the clinical trial group, as well.
Findings are to be released later this year.
For more information on BodeVet, StablePlate RX, or its team of experts in veterinary transfusion medicine, visit bodevet.com.