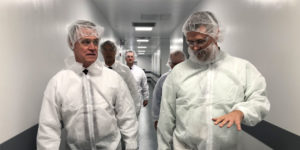 Boehringer Ingelheim has injected $76 million into expanding its manufacturing plant in Athens, Ga., allowing it to double the facility's capacity to produce vaccines.
"[This] announcement is representative of the growth and investment Boehringer Ingelheim is making around the U.S.," says company president, Everett Hoekstra. "It also signals our commitment to a world in which no animal suffers from preventable disease."
Headquartered in Duluth, Ga., Boehringer Ingelheim's U.S. Animal Health Business amped up its manufacturing capacity at several sites in recent years, both in Georgia and in St. Joseph, Mo., where the company has maintained operations for more than a century.
Boehringer Ingelheim employs about 440 people in Athens. The site produces more than 150 vaccines for pets, poultry, and wildlife, which are sold in more than 80 countries.