Suggested Veterinary Products
America has lost one of its heroes: Bretagne, a golden retriever and believed to be the last surviving FEMA Search & Rescue Canine from 9/11, passed away peacefully in Cypress, Texas. She was 16 years old.
When she was 2 years old, Bretagne was deployed with Denise Corliss, along with other members of the Texas Task Force 1 (TX-TF1), to help out at the World Trade Center in 2001. Bretagne has just been recently certified as a FEMA Search and Rescue canine and the time.
From the very beginning, Bretange had "rescue dog" in her blood, according to a Texas A&M Engineering Extension Service (TEEX) press release. They write:
"Bretagne was 8 weeks old when she met Corliss, a volunteer firefighter with the Cy-Fair Fire Department, who was seeking a special dog to train for disaster work. Soon Bretagne and Corliss were fast friends. When Bretagne was 12 months old, she and Corliss began formal training with Texas Task Force 1 to become a FEMA-certified canine team. Bretagne's drive, determination and personality were well-suited to her career as a Search and Rescue dog."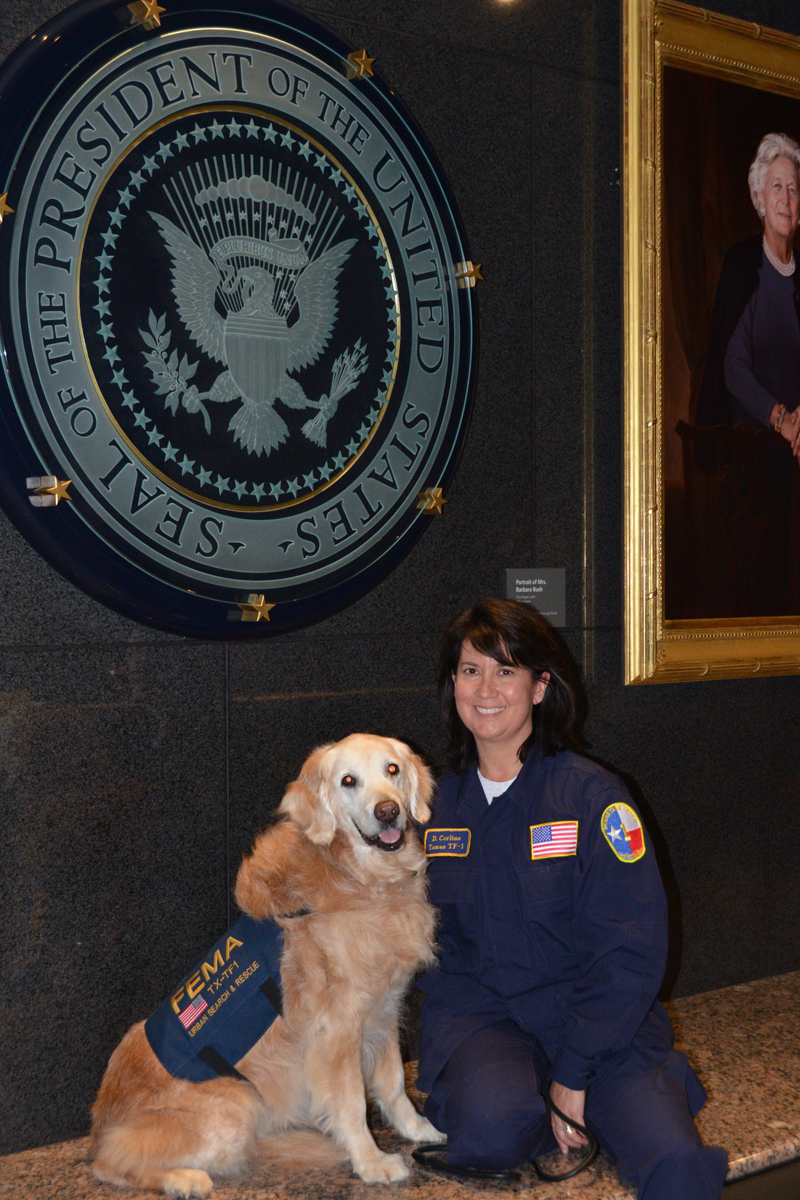 Over the course of her career, she helped at several other disasters, including Hurricanes Katrina, Rita and Ivan. She retired at the age of 9, where she then served as an ambassador at her local fire department. Along with that, she also served as a reading assistance dog at an elementary school near her home. Bretagne was also the star of a nonfiction book about senior dogs. She met some high-profile politicians and journalists, including: Tom Brokaw, Texas First Lad Cecilia Aboot and former President George H.W. Bush. In 2014, Bretagne was nominated for the American Human Association's "Hero Dog Award."
A teammate wrote this of Bretagne, referenced in the TEEX press release: "If you ask anybody whoever knew or trained with Bretagne, they would tell you 'Oh she just loves me!' That's the kind of dog she is, affectionate to everybody, and fiercely devoted, never takes her eyes off her handler. She has always taken her job as a search dog seriously, but herself not so much. Always ready for a belly rub, or a treat. In remembering her first deployment at the World Trade Center, there are images of her going to where she was directed to search, the unknown, the chaotic environment. But even then, she knew who needed the comfort of a dog, which firefighter needed to hold her close and stroke her fur."
In her older age, she was starting to slow down, and on Monday, June 6, 2016, she was euthanized. She was taken to a local veterinarian's, where, according to NPR, "Firefighters and search and rescue workers lined both sides of the sidewalk, solemnly saluting as Bretagne was carried out of a vehicle and set on the ground for a final slow walk to the animal hospital … Then they bid a tearful farewell to her body, carried out draped in an American flag."
After her death, the CY-Fair Volunteer Fire Department shared a moving memorial on their
Facebook page
, saying:
"FIREFIGHTER DEATH: (Bretagne)
It is with heavy heart that the CFVFD must say 'Goodbye' to our beloved Bretagne.
Bretagne became a full member of the CFVFD in 2000, and was the founding canine member of the K9 Search & Rescue Team; with a certification as a FEMA Disaster Search Dog. She and Denise responded as members of Texas Task Force 1 to the World Trade Center immediately after the September 11th Attack. Among the dogs who responded to the World Trade Center, Bretagne is the oldest surviving member of that group of Canine Heroes. Throughout her heroic career, she also responded to a number of notable disasters, all over the country, including Hurricanes Katrina and Rita.
Although Bretagne retired from active duty at the age of 10, she continued to serve her community, often serving as an ambassador for the CFVFD at public events, and assisting other search dogs in their training. For the past 3 years, until just a few weeks ago, she was a regular visitor to Roberts Road Elementary School in the Waller Independent School District. Each week, she would visit a first grade classroom and listen to young readers, providing a non-judgmental ear, and soft paw. She also visited students with special needs, such as autism. Her calm demeanor and warm heart helped the young and old through their own difficult moments."