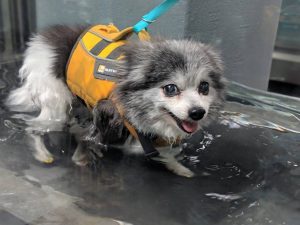 A Southern California-based clinic has now installed a third water treadmill and a full-sized pool to its recovery resources.
Two Hands Four Paws, a canine rehabilitation center in Los Angeles, Calif., uses hydrotherapy to treat a number of dogs varying in levels of ability.
"Water is one of the five elements in Chinese medicine that has great healing power," said Masami Seplow, DVM, CVA, CCRP, a veterinarian at Two Hands Four Paws.
"I love having hydrotherapy as a complement to the acupuncture and Chinese herbs we do. It lets us offer our clients something truly unique."
For two decades, the clinic has provided mobility aid and various therapeutic modalities for animals, including hydrotherapy, acupuncture, massage, cold laser and ultrasound therapy, and Chinese herbs.