Suggested Veterinary Products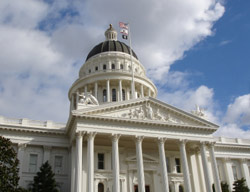 The California Legislature passed a 17-month budget on Feb. 19 that does not include a sales tax on veterinary services.
Gov. Arnold Schwarzenegger had proposed taxing veterinary services as well as auto, appliance and furniture repairs, golf fees and amusement parks as one way to help fix the state's $11.2 billion budget shortfall.
The budget plan passed on Feb. 19 still requires the governor's signature.
The California Veterinary Medical Assn. launched a statewide campaign in November and asked its more than 6,000 member veterinarians to write to the governor to explain the hardships the tax could impose on pet owners and crowded pet shelters.
William Grant II, DVM, president of the CVMA, called the tax discriminatory because it singled out only one healing arts profession.
On Feb. 19, the CVMA issued a joint press release with The Humane Society of the United States thanking the governor for responding to the public's opposition to the veterinary tax.
"Requiring pet owners to pay a tax to care for their animals is bad public policy," Dr. Grant said. "We are pleased members of the 'Big Five,' including the governor, recognized that and the proposed tax was removed from the final budget bill.
"The opposition of veterinarians, pet owners and concerned citizens was so intense, a special extension was added to the governor's budget voicemail line to handle the opposition to the tax on pets," Grant said. "We believe the overwhelming number of calls delivered an emphatic message to the governor that taxing pet owners would be hugely unpopular and inequitable."
The proposal to extend the sales tax to veterinary services could have added up to 10 percent to the cost of caring for animals in California, according to the state Legislative Analyst's Office. The CVMA maintained that this would have endangered the health and well-being of animals kept as pets, raised on farms or sheltered by humane agencies.
The CVMA said it monitored a commission appointed by the governor to restructure and modernize California's tax system and watch for any tax proposals affecting veterinary medicine.
"We know the fight to protect animal care from taxation is not over," Grant said. "Our membership remains firmly opposed to taxes that will force our clients to make untenable decisions affecting the quality of life for their pets and that might put our food supply at risk. It was wrong last week and it will be wrong next year."