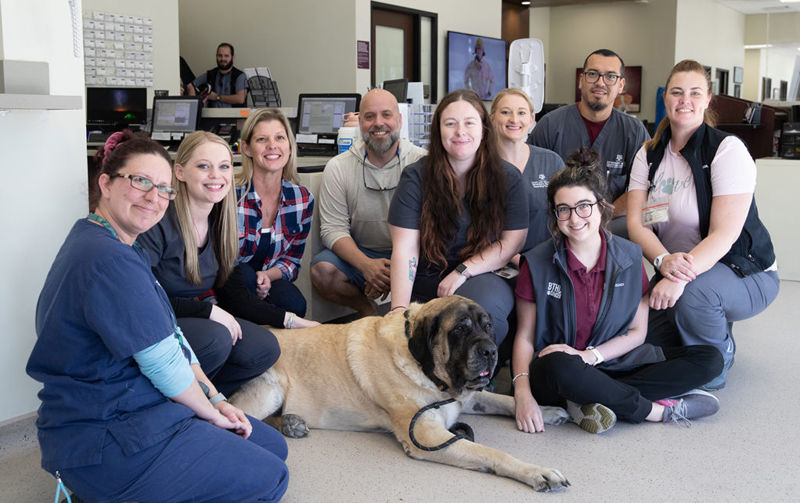 A seven-year-old mastiff named Henry was recently honored as the first patient to ring Texas A&M Small Animal Teaching Hospital's (SATH's) new "BTHO Cancer" bell.
Modeled after a similar tradition used in human medical institutions, the bell, which was built by SATH veterinary technician, Julio Peraza, signifies a patient's completion of either chemotherapy or radiation treatment.
"The completion of therapy is always the most emotional day for our owners," says Jaclyn Christensen, a veterinary technician in SATH's oncology service. "The bell signifies they've done it—they've hit this milestone and started a new chapter. Most owners feel pretty defeated by the cancer diagnosis, so this is an opportunity for us to turn their mindset around."
Henry was first examined at the clinic in October 2021 after his owners, Robin and Derrick Newkirk, noticed the 210-lb dog had swollen lymph nodes.
"We didn't think the swelling was anything at first because he had just gone to the veterinarian in August and his bloodwork looked perfect," Robin says, "but we ended up getting an appointment to get more work done at Texas A&M and, two weeks later, they confirmed he had multicentric lymphoma."
Additional shock followed, as it was discovered Henry's cancer was most likely stage five. This gave him just four to six weeks to live if he did not receive treatment, Texas A&M reports.
"We just sat there and couldn't even talk for a minute," Robin says. "We were listening to the doctor, but I think I just blanked it all out because afterwards, I'm like, 'I have no idea what just happened.' I don't really remember the rest of that day."
Henry received his first round of chemotherapy on Nov. 1 and returned to SATH for treatment at least once a week for the next six months. He experienced several side effects from the treatment, including infections and gastrointestinal issues. Despite this, Henry remained in good spirits, Texas A&M reports.
"If he was suffering or not doing well with chemo, we would've stopped to preserve his quality of life, but he stayed happy, loving, and sweet," Robin says. "Even though he had a lot of side effects, they were short—just a day or two. There were only a couple days in the past six months when he didn't feel well enough to play."
The lymphoma disappeared in December and has not returned, Texas A&M reports. Henry finished his last treatment April 6 and celebrated the ringing of the bell with the SATH staff.
"It's bittersweet for us because all of a sudden we're not going to see this patient we built a relationship with as often," Christensen says. "But this is exactly what we want—to be able to finish treatment and send them off to live their lives as they did before chemo."
"They love him so much there, truly love him," Robin adds. "They have tears in their eyes when they talk about him. I know when he goes there, Ashley's (Wiley) going to sit with him on the floor and clean his ears at least every other week, and my husband says the way Liz (Wood) puts her face up to his and nuzzles his forehead is just like what I do, even though she's never seen me do it."
With Henry's treatment completed, Robin looks forward to his routine returning to normal.
"I think he's going to be really happy, and hopefully, the cancer stays away as long as it can," she says. "Henry's not ready to go anywhere."